Experimental singer-songwriter Lyndsey Lawlor is returning to the stage at the Workman's Club for the first time since the release of her debut EP 'Sake'. Jumping between modern spoken word stylings and more traditional acoustic songwriting, her debut single, Eat The Money arrived on streaming services in the summer of 2019 and ever since, Lawlor has been marked as an artist to watch.
Growing up on a series of music-related children's TV shows, including the likes of Drake and Josh and The Naked Brothers Band, Lawlor was inspired to be a performer from an early age. When it came to Christmas one year, she was so enamoured with the shows that she asked Santa for the exact same guitar model that Drake Bell played. "Poor Santa, whom has very little knowledge on musical instruments as I would later come to know, had to figure out what that was, and smashed it to be fair", Lawlor laughs as she recalls the tale.
Lawlor took her first guitar lesson at the age of 9, learning hits such as Wonderwall chord-by-chord. From there, she began participating in the Subsounds songwriting course in Tallaght. "It was founded by a load of legends" Lawlor recalls, "These lads didn't allow you to not write tunes. They showed you how easy it can be and I just ran from there. I fell in love with songwriting and just haven't stopped since".
On the eve of her return to the stage, Lawlor sat down with GP to discuss her earliest songwriting endeavours, her debut EP 'Sake', and what the future holds for the Dublin native.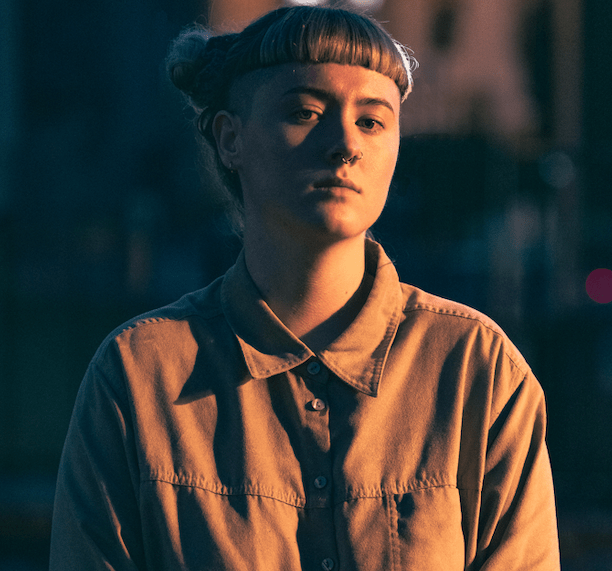 GP: What inspired you to start writing your own songs?
"Well again, doing that course when I was so young and being surrounded by so many inspirational mentors as well as other young aspiring writers
It became such an outlet for me. It was like any time I wrote a song about pain or whatever feeling, the feeling was removed from myself and placed into this external piece. I could see it and I'm aware that it's there, but it's like I no longer carry it on my shoulders. Genuinely it's what keeps me in good health."
GP: Tell me a little about your debut single Eat The Money; what inspired the track and what pushed you to start releasing your music?
"Eat The Money was inspired by that shocking newspaper article that warned us of the fact that we only have 12 years to change our ways before climate change is gone to the irreversible stage and we're all fucked basically. Needless to say, this scared the living daylights out of me. This was followed by Donald Trump's bogus exclamation that he does not believe in climate change, and hence was born the opening line "The dozen years, the doesn't cares, the I am not a believer".
"At the time, I'd been dying to release a debut single, and this song is what came out. I was delighted with it, so I said let's do it. It was something I was passionate about and wanted to vent on. I hoped the reference to the Indian proverb would resonate with people and push them to think twice about their actions. "Only when the last tree has been cut down, the last fish been caught, and the last stream poisoned, will we realize we cannot eat money"."
GP: When did you start work on your debut EP 'Sake' and what inspired the project?
"'Sake' became a thought process in the middle of making Eat The Money." I realised that I just had so much to rant about, and that one song just wasn't going to cut it. 'Sake' is a collection of songs that symbolise the past, present and future things that make me say "Uh, Sake". Things that annoyed me, upset me or worry me. Past pain being the Magdalene laundries, present being the level of danger we live in, moving into climate change and how the world is falling to pieces, and then future being phones and technology and how people fall into the creation of new personas online, hence losing and forgetting who they actually are. I write songs as an outlet, and 'Sake' was a massive outlet for me to vent about these issues I felt so passionately about."
GP: You're performing in Workman's shortly, how does it feel to have live music back?
"It's mad actually. So, during the pandemic, I just accepted that there were no gigs and that there wouldn't be for a while. A few weeks ago then, when I was working away in the restaurant, who comes in only Vinny, who deals with the bookings for Workman's. He was all "hey long time no see" and "how are you keeping" and "do you want to play a gig?" No joke, the anxiety that came over me at that moment was nuts. "Do I know how to play anymore?", "What if I mess up?", "SO MANY PEOPLE WILL BE LOOKING AT ME!" And then I kind of sat down with myself and said "Look Lyndsey, you've been working your entire life trying to be a performing artist, you may grow up and get back on the horse! So, that's what I did. I got my bits together and here we are. I can't wait to get up on the stage now for the first time in 2 years and show 'em what I've got."
GP: What do you want listeners to take from your music?
"Every voice has a story, and every story is a piece of art. Everyone is worth listening to. Art is everyone's calling. Do what you enjoy. Vent when you need to vent. Write shit down, speak. Every voice has a story, and every story is a piece of art. That's what I've been saying recently."
It's true. There's a beauty in storytelling. Everyone has a unique way of telling stories, and some people have some crazy stories to share. I want listeners to not only listen to my stories, but to take inspiration to share their own. Speaking heals us. That's why people go to counselling. That's why we chat when we're in a hard situation. Speaking genuinely heals us. I'd like listeners to take that on board and utilise it. Write stuff down alone or share it with people. It's probably saved my life. Every voice has a story and every story is a piece of art."
GP: And finally, what can listeners look forward to in the coming months?
"The next few months are looking very exciting for me. Not to spoil anything, but there is a large body of work in the making, that I hope to show very soon, some of which will be exclusively teased at tonight's show. Expect lots of poetry, spoken word and ranting. All shall be revealed soon…"
Lyndsey Lawlor plays The Workman's Club, Dublin on Tuesday September 21st.