London Astrobeat Orchestra bring the sound of Africa to Western audiences by utilising African drums and the kora, a West African harp-like instrument to cover acts such as The Beatles, The Police and Talking Heads.
The group's latest project sees them tackle the Talking Heads seminal live concert 'Stop Making Sense' winning rave reviews for their fun-filled arrangements of classic tracks such as Burning Down The House and This Must Be The Place (Naive Melody).
The group features Julian Burdock (Jocelyn Brown, Dave Stewart (Eurythmics), SEAL), Mosi Conde (Young Fathers, Sandy Shaw), West African session musician legend Badou Ndiaye (Cheikh Lo), and band leader and bassist Edd Bateman.
The London Astrobeat Orchestra will bring their take on David Byrne's most loved record to Ireland for shows in The Grand Social, Roisin Dubh and All Together Now festival in Waterford over the next ten days. We caught up with Edd ahead of their visit to Ireland.
How did the London Astrobeat Orchestra come to be and why did you decide to rearrange western songs in an afrobeat style?
We've all been performing African music in various projects all of our lives. We put this band together to focus on Talking Heads because the wider appeal could involve a larger audience into what we do. We've still got the same deep Congolese grooves and Senegalese backbeats but adding the fresh new element of 'Stop Making Sense' has driven our popularity.
Can you give us a brief rundown on the musical history of the members of London Astrobeat Orchestra?
King Fire deserted his army post in Congo and ran to Angola as he just wanted to play the guitar and not make war. He toured around Africa before coming to the UK. Mosi Conde grew up in a musical household in Guinea and trained from the age of 5. Julian Burdock is a UK guitar hero with a huge list of recording and touring credits. Badou Ndiaye played drumkit everywhere with Cheikh Lo for 25 years before coming to London. And myself, I grew up touring with bands from Zimbabwe before heading to West Africa and did my training with three months of nightly five-hour concerts each year.
Some of the instruments that you guys play will be unfamiliar to many people. Can you tell us a little bit about them?
Mosi Conde's kora is a West African harp. Before the times of pens and paper and even a written language, it was the job of Griot families like the Condes to pass on current news, messages from leaders and kings and to preserve the culture by informing people about the past. These families were and still are the oral historians that have been hugely important in West Africa for the last 700 years. Many Griots play traditional kora but ours plays Psycho Killer.
Why do you feel The Talking Heads material lends itself so well to being arranged in such a fashion?
It seemed to make sense to our audience that mixing Talking Heads and West African music was an obvious thing to connect
What was it specifically about Stop Making Sense that made you guys want to focus on that live recording and those songs?
That was (and maybe still is) hailed as the best live filmed concert ever and it's got most of their best hits on so we knew it was popular material that had influenced many people.
Which songs are your favourite to perform live and why?
I like This Must Be The Place. The original version is very different from a lot of their other songs and it's a favourite of mine.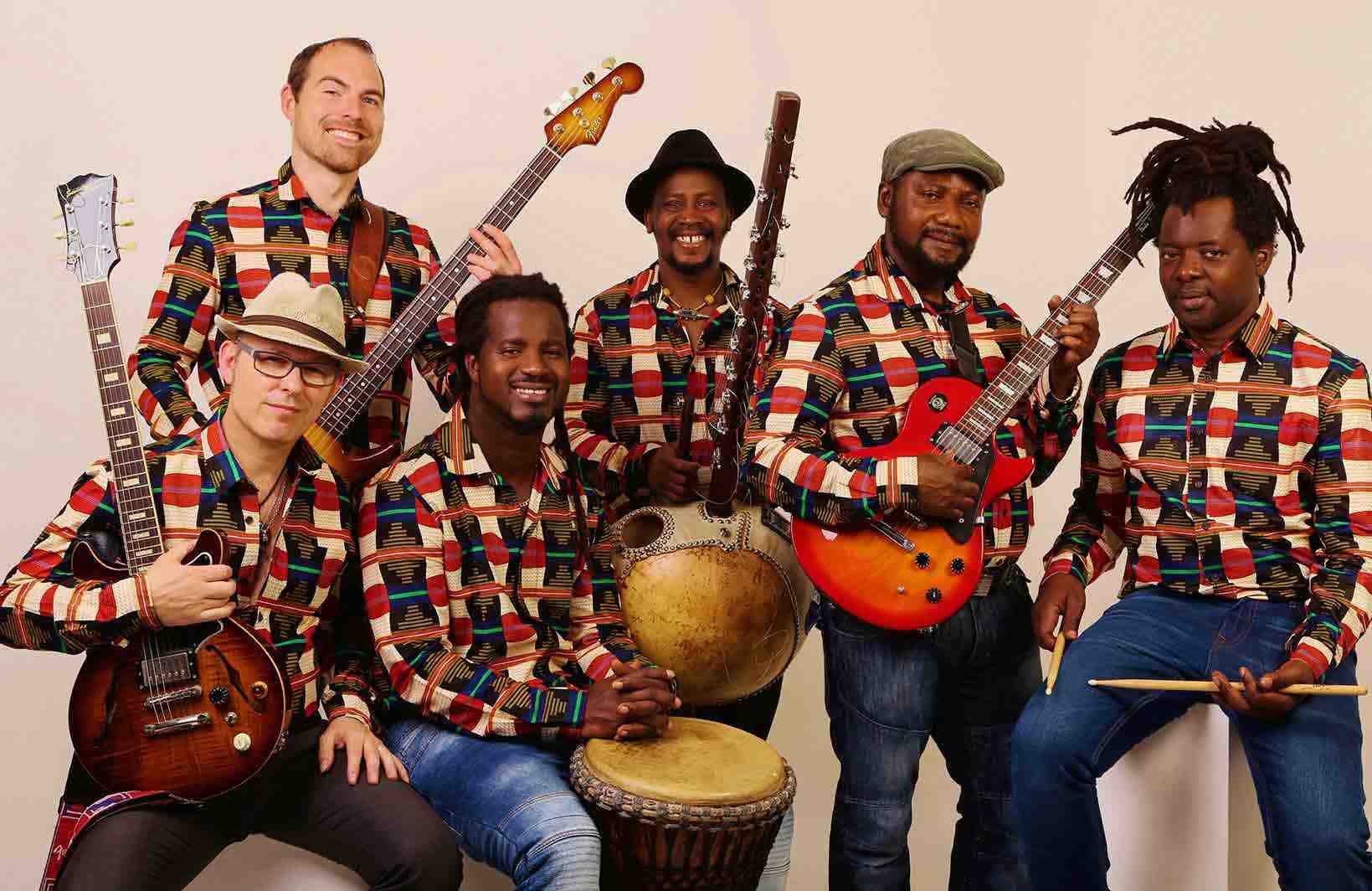 You guys are also about to play an Abbey Road show to celebrate its 50th anniversary. Why do you love that Beatles album so much and will you be taking that show on the road?
They're all great albums and often when you listen to one you haven't heard for a while you remember how there are so many huge songs on each album. Yes, we'll be touring that show throughout this year.
You guys have also done Police shows. What other band's music would you like to tackle in the future?
We've got to be careful not to overdo it or we could risk getting classed as a covers band. Anyone who sees the band will know what we do is very unique and the focus is always on energy. We do have plans to continue reinventing but I'm not allowed to give it away yet.
What kind of response, if any, have the acts you guys received from the acts that you have covered to date?
We're still waiting for the call from David Byrne.
Can we expect to see any official releases from the London Astrobeat Orchestra any time soon?
We're producing a live album of the Talking Heads set which will be out this year.
How would you describe a London Astrobeat Orchestra show to someone who hasn't seen you perform before?
Imagine Talking Heads crossed with Kanda Bongo Man. The show is wild. If you're not dancing Mosi Conde will jump off the stage with his cowbell and come and get you!
You guys are playing several shows in Ireland soon including several festivals. Do you guys prefer playing festivals or club shows?
Festivals are great as everyone is always in a good mood and it's a very mixed audience but for the club shows we're playing to mainly to people who are specifically Talking Heads fans and interested in hearing how we're going to reinterpret their favourite songs.
London Astrobeat Orchestra Irish Dates:
The Button Factory on July 27. Tickets €16.00
Roisin Dubh July 29. Tickets €25.00
All Together Now, Waterford  Tickets €208 (Sold out)