The early noughties saw the arrival of a new archetype for British pop that audiences hadn't heard before in Lily Allen and Amy Winehouse.
The pair burst onto the music scene in 2005 and albeit making different styles of music, defied staple pop conventions amidst the likes of Girls Aloud, Britney Spears and Gwen Stefani. Both were mouthy and brazen, and Allen was one of the first mainstream artists to embrace and sing in her British accent (which my friends and I happily swapped our Irish accents for when singing along).
Both Winehouse and Allen acted inadvertently as big sisters for a lot of millennials via their CD players; there was something so compelling about the bold personalities and humorous anecdotes that were so prevalent in their music. Both Alright, Still and Back To Black proved to be both singer's major breakthrough albums and both won numerous awards and critical acclaim – they were most definitely the zeitgeist of the early noughties and the music industry was theirs for the taking.
Fast forward a few years and one of them is tragically dead and the other is a recovering addict and survivor of attempted murder. Come again?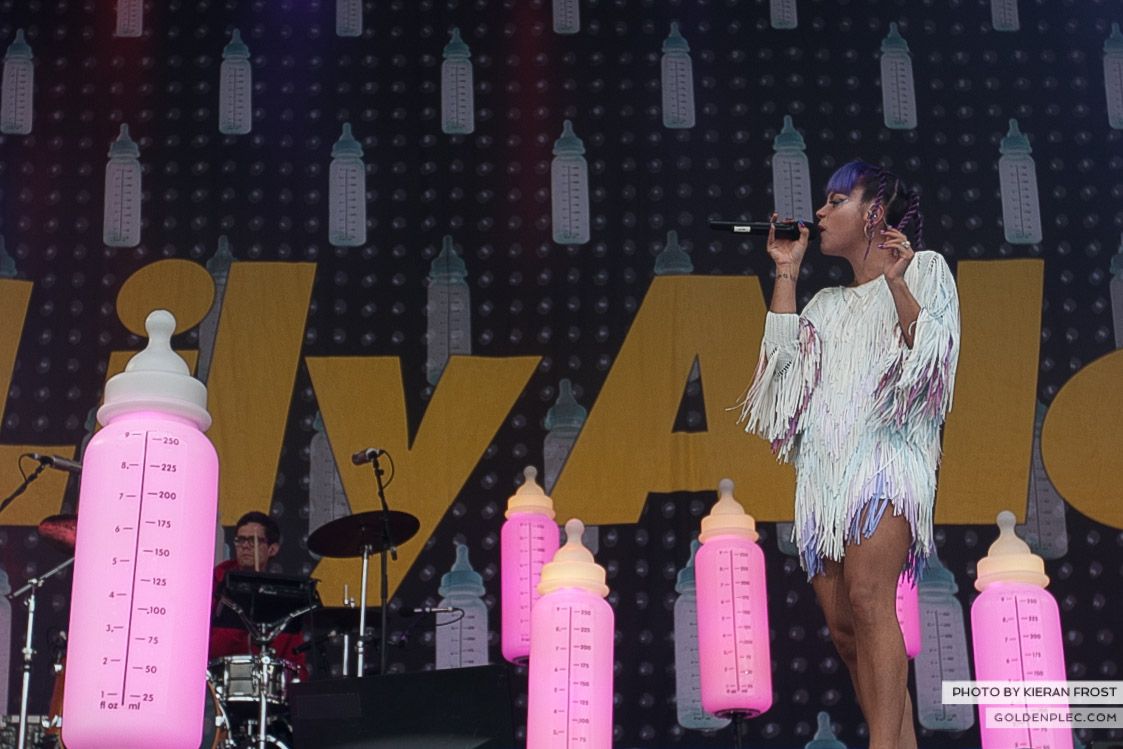 A lot of this is explained in detail in Allen's new memoir My Thoughts Exactly, which saw release one month ago. Allen wrote the book for the benefit mainly of her two daughters Marnie (5) and Ethel (6), whom she feared would grow up reading false news about her. But she also wrote it for you; the omnivorous media consuming individual to clear up falsities that she has been accused of since she stepped into the public eye in 2005.
Allen is known for her candidness; in 'Not Fair', she complains about a lover who fails to satisfy her sexually while in 'Knock Em Out 'she side-tracks a man by telling him she "has herpes". Allen is famous for her blatant honesty in her music but her book takes it to a whole new level.
My Thoughts Exactly is written chronologically from Allen's childhood years all the way up to the present day, and trouble stems from early on. Her early years consisted of both parents taking drugs (her dad - the comedian Keith Allen - would deposit the kids in a room in the Groucho Lounge while he got drunk downstairs), failing to pick her up after school and a lot of relocating after her parents' divorce. Her parents do not come out of the book looking good; Allen says of her dad "I've learned over the years that everything is about him, so fine, that's the deal... I've stopped trying to fight or bustle about trying to find a spare slot in his universe." Her mom gets off marginally lighter despite a tumultuous on/off relationship over the past few years. She credits these turbulent early years for long-lasting issues with abandonment and what she coins her "raging co-dependency" later on in the book.
Allen attended nine schools in total yet left at the age of fifteen having not sat her GCSEs or A levels, leaving her with no official qualifications. In the years preceding her record deal offer, she spent her days taking drugs, drinking a lot of alcohol and having a lot of sex before her mom finally intervened and checked her into hospital (a narrative that is repeated several times throughout the book). When she was offered a five album £25,000 deal from Polydor in 2005, she jumped on it albeit it being a very small advance, especially considering the money she would generate for the label in years to come (four albums in, she is still bound to this deal today).
Polydor had bigger fish to fry with their recent singings Coldplay and Gorillaz, so Allen took to My Space to self-promote her early demos including LDN and Smile (which were the first songs she ever wrote). Within hours, the songs racked up thousands of plays which, combined with a feature in The Observer, convinced the label to invest more interest in her.
While Allen's career sky rocketed from here, the following years would only see her personal life and relationship with herself become more destructive. She would endure debilitating traumas in the years to come including the loss of her first child, attempted rape by someone she refers to as "Record Industry Executive", falling victim to a stalker (who would break into her house one night while her children slept with a knife), as well as self-care issues with bulimia and depression. The whole book feels like one tragedy after the next.
Allen documents exactly what was happening in her life with each album released, most notably 2015's Sheezus where she voluntarily rid herself of any creative control (apart from the songwriting) and instead lost herself to narcotics and alcohol. She felt guilty for not seeing her kids thanks to a busy touring schedule, and delayed their family reunion after the tour for the guilt trumped the want of seeing them.
On her eventual return, Allen was forced to sell her stately home in the country-side that she had bought with the intent of raising her kids in after failing to pay her mortgage, and some months later would end her marriage with husband Sam Cooper. Celebrities are so often viewed as untouchable beings with infinite amounts of cash at their disposal, and to hear one admit they squandered their money is eye-opening. After moving back to London, media often set up camp outside her house in anticipation of her appearance.
A lot of the paparazzi chasing and tabloid ambushing that Allen speaks of seems almost farfetched to read now, but it must be noted that to be famous was very different in the early noughties to what it is now; this was pre-Instagram and tabloids were the salient method of celebrity news sharing. The internet in 2018, despite its faults and pitfalls, has at least allowed celebrities to share their side of the story and narrative. Allen didn't have that outlet back then, so when newspaper moulded her into a caricature of herself - what she coins "cartoon Lily" - she had no medium through which to display an alternate presentation of herself.
If nothing else, My Thoughts Exactly serves as a warning to young females entering the music industry about it's potential pitfalls - in fact, it would make useful reading for any one entering music. It provides an accurate documentation of serious mental health and abuse problems, problems that have already claimed the lives of so many artists in the music industry and beyond this year. It's just a shame that Allen had to make the mistakes so that we could learn from them.