Every year the GoldenPlec community of writers and photographers (50+) come together to vote on their ones to watch for the upcoming year. After pulling the votes together, we selected our 'Plec Picks' for 2019. We have classical artists alongside rap, jazz, pop, electronic, punk and anything in between. Our list strives to encompass a broad spectrum of Irish music in order to highlight the thriving and evolving music scene that exists in Ireland.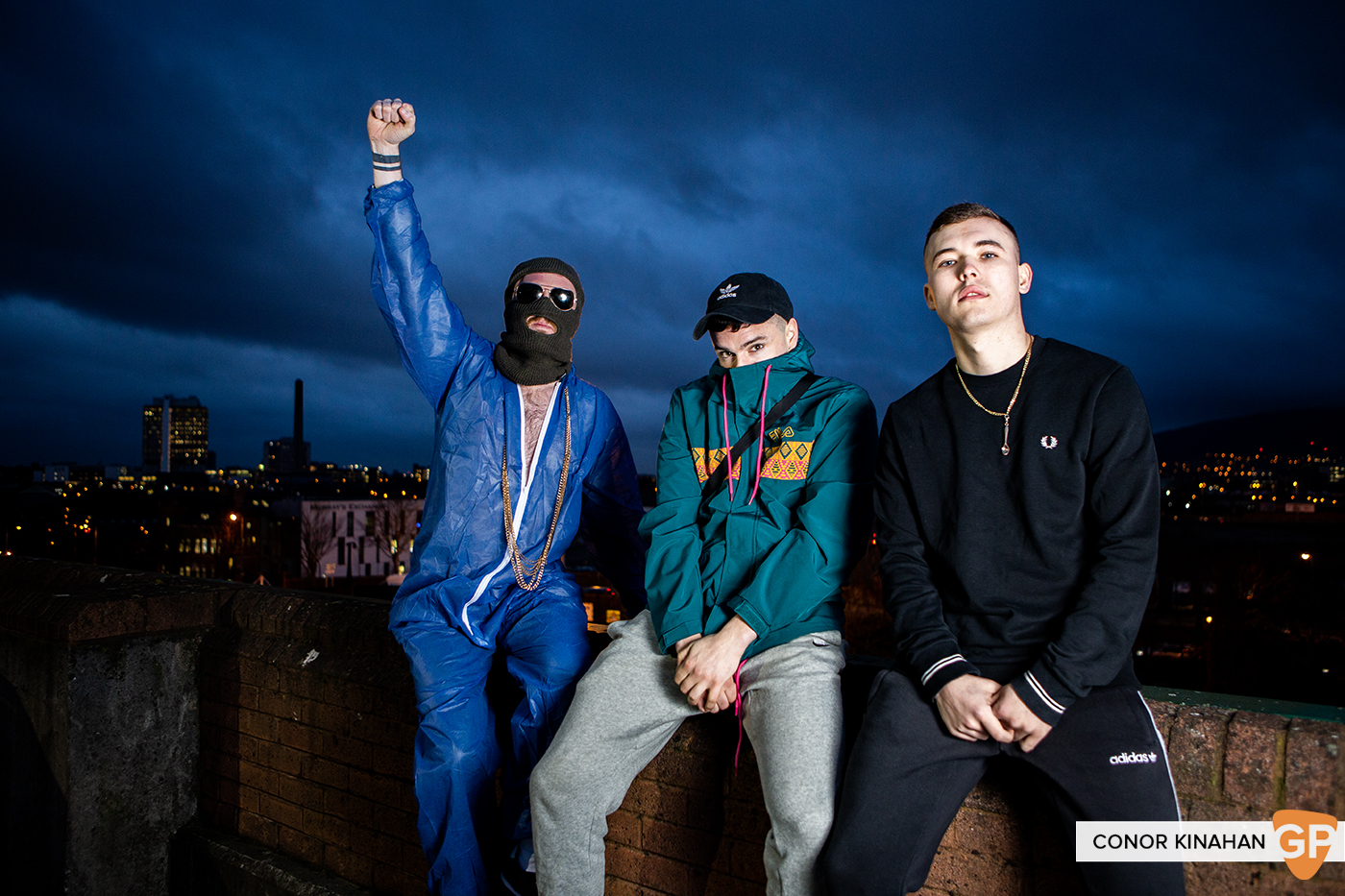 Ná focain éist le RTÉ
Even just a cursory glance at the musical line-up of the Bulmers Stage at last year's Body & Soul festival spoke volumes about the calibre of the contemporary Irish underground: Post Punk Podge; The Altered Hours; Jinx Lennon; Wild Rocket; Spekulativ Fiktion & Mankyy; Woven Skull; Sebi C; Pow Pig…the list went on, eclectic, erratic and provocative.
It was an incendiary northern invasion, though, that brought the place to its knees and then dragged it back up on its feet. The sound of the underground. West Belfast life distilled into a volatile torrent of linguistic dexterity.
That sweltering marquee tent was this writer's first encounter with Kneecap; reverberating the canvas and wrecking the place in two languages. Who would have thought it? That a bilingual hip-hop outfit from Belfast would provide one of the absolute highlights of an already exceptionally curated festival.
Kneecap built the crowd from the first focal and from there escalated things to the point that a half-filled tent became a full tent, and a full-throated crowd sang back the words in Irish and English, or whichever of those two languages they could get their heads around.
The tirade was as satirical as it was sustained: fuck RTÉ, fuck the bouncers, fuck the queen, but aye…most of all and most heartfelt: fuck RTÉ. It was a statement of intent - Mo Chara, Mógalí Bap and DJ Provaí took aim and verbally annihilated those that they felt deserved it. No prisoners. No compromise. Ná focain éist le RTÉ.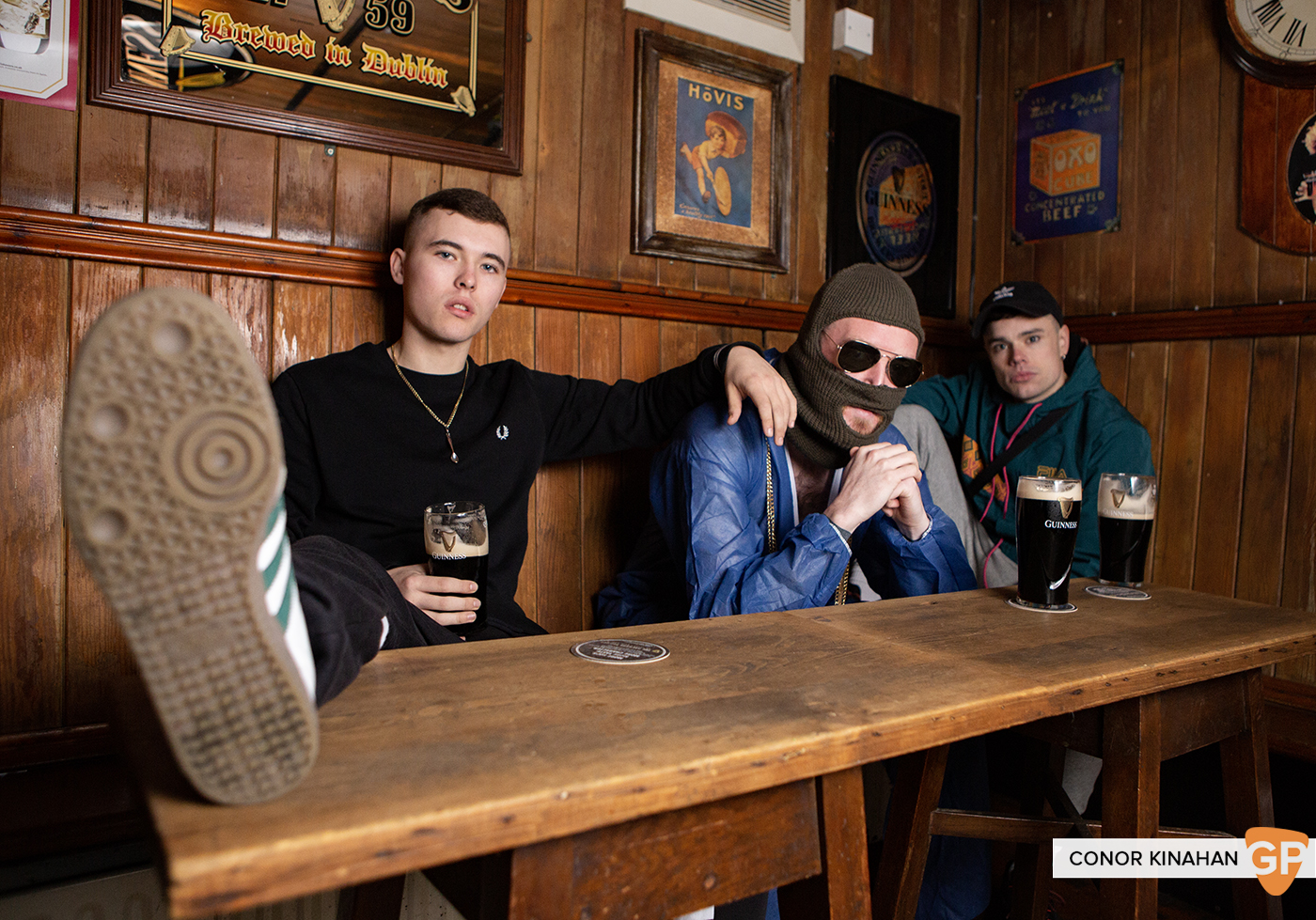 Live & Dangerous
Kneecap are fully aware of the impact that a live gig can have, and that Body & Soul gig still resonates with Mógalí Bap who recalls that "A fresh batch of bouncers came in midway through the gig and stood in front of the stage to keep the peace. Some baldy bouncer got an ear-bashin' from me, think he enjoyed it though."
Mo Chara cites a set at Oireachtas na Samhna in Killarney as a personal favourite, "From getting hit in the jaw with some poor cunt's knickers to landing on a Carlsberg glass three and a half songs in, had to limp about like I had diabetes for the remainder of the gig…good craic though."
The balaclava-clad DJ Próvaí is the man behind the beats, the man Mógalí Bap and Mo Chara decree to be their full-time time DJ and bodyguard, "On the run from the Brits since '73 so he is quite highly regarded in our community. No one messes when DJ Próvaí is about."
His recollections from their live career to date are less mired in detail ("Can't even remember all my daughters' names for fuck sake.")
Incognito at all times, for whatever reasons you want to believe, it's DJ Próvaí who provides the live launch pad for the tracks from their '3cag' mixtape (released in the summer of 2018) to come to life with all the spit and humour that feeds best off a crowd. "You can't beat a big, live, dirty, sweaty gig. Studio time can be sweet but frustratin' as fuck, DJ Próvaí farts like a cunt."
"You need to build a reputation in live gigs, and your presence is properly felt then. We're all about the live gigs. And we love a bit of social media so it's important to build your own platform because promoters are robbin' bastards."
The DIY ethic runs through the band, who have already had an education in being wary of outside forces and money men. None other than the national broadcaster gave them an early lesson in looking after No. 1. when it removed one of their tracks - with its tongue-in-cheek references to drugs, dealing, and the RUC - from its playlist.
"Aye, so we stuck out our first tune C.E.A.R.T.A in December 2017 and it was to be played on RTÉ's Raidió na Gaeltachta. But it was pulled out last minute. Some mad cunt made a petition to get the tune on the radio and next thing we're in the Sunday Times. Who even reads the Sunday Times? Fuck RTÉ though."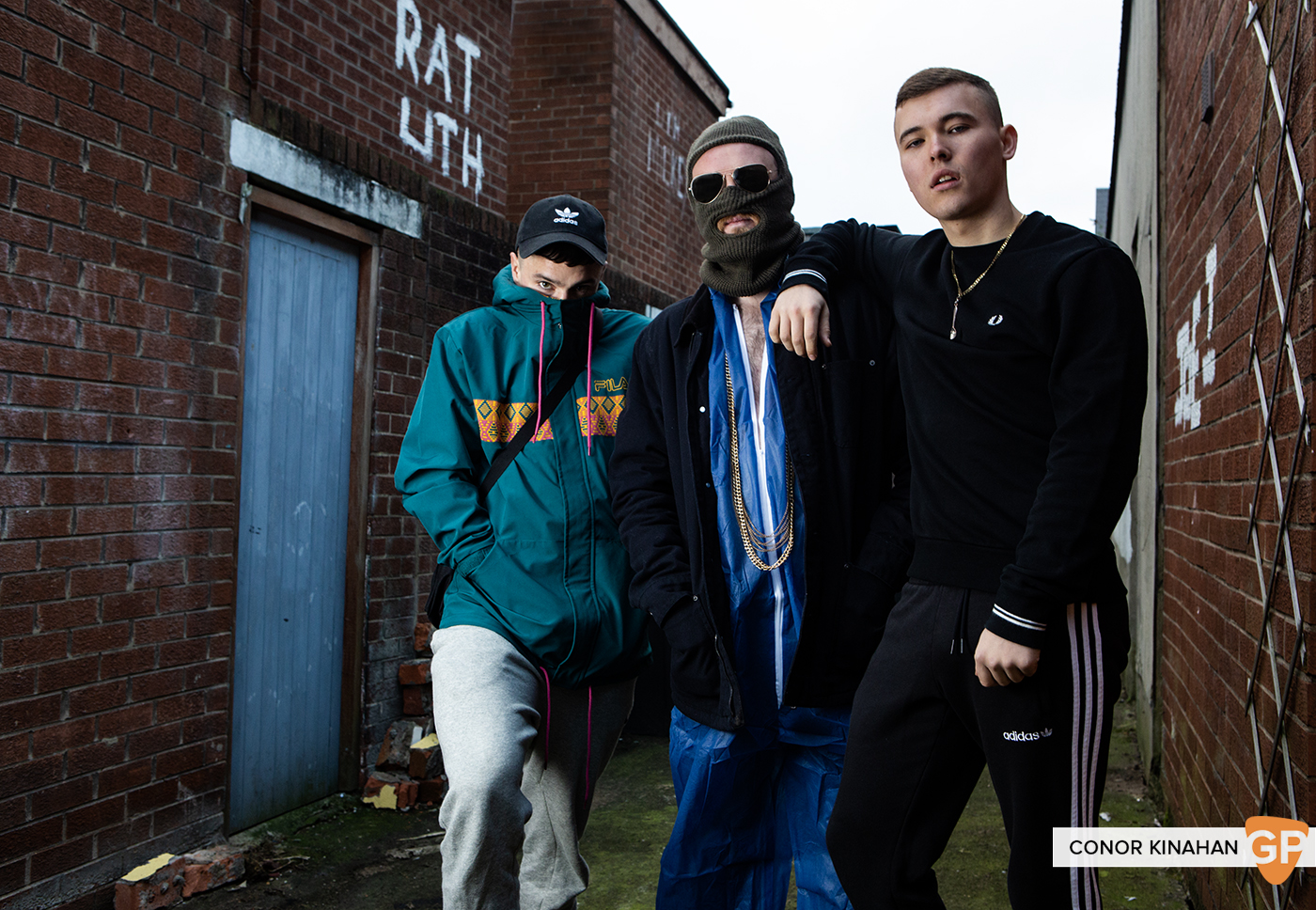 Ket & Tipp-Ex
Kneecap always seemed destined for a bit of controversy, from their name derived from a favourite pastime during The Troubles, to the subject matter and lyrics of their songs, something that the band take a stoic stance on - "We have found many people that don't like what we have to say, but there's nothing we can do about borin' bastards."
The bilingual aspect is almost incidental. There was no contrivance at work, no strategy to marry the languages. They've always rapped in two tongues, "whatever comes out", and so seamless are the transitions between Irish and English - as much in one breathless sentence as in a single track - that non-Irish speaking listeners will be able to give an educated stab at filling in the gaps in the rhymes.
"I think they're curious what the fuck we're saying but I think they have a rough idea what's goin' on. Duolingo should be giving us a few quid for the amount of cunts that have downloaded it to see what we're sayin'."
Aspiring gaeilgeoirí should just take a listen to 3cag's rapid-fire crash course in Irish, Incognito, a song that will give you more useful applications for the language for a weekend in the real world than a lifetime in the Irish school system ever will.
Far from seeing themselves as ambassadors for the Irish language, though, and despite any kudos they receive for bringing it to a wide audience, Kneecap's motives are more characteristically rooted in taking a hand at the authorities. "Aye we get a lot of praise for rappin' in Irish, but we only do it so cops up here don't know what we're sayin'. They hate it when they don't understand something. And to be honest we don't get enough criticism."
As verbose and illustrative as they are on record, Kneecap are just as astute when it comes to getting the point across more succinctly – there are thoughts on bottles of Buckfast ("Green one for starters and brown for dessert"), Brexit ("A British-made shite heap), and the current state of Belfast's hip-hop scene ("Fuck all happenin' in general since Primark burnt down").
But sure, who cares about any kind of scene when you have your own well to draw from? "We have quite a lot of influences, which span across many genres, but it's mostly the Ket."
Seems legit, given that the band claim to have  spent most of their pre-Kneecap free time "Findin' abandoned trolleys and bringing them back to get the quid out of the trolley and buyin' Tipp-Ex with the money. But we're off the Tipp-Ex now to focus on the music."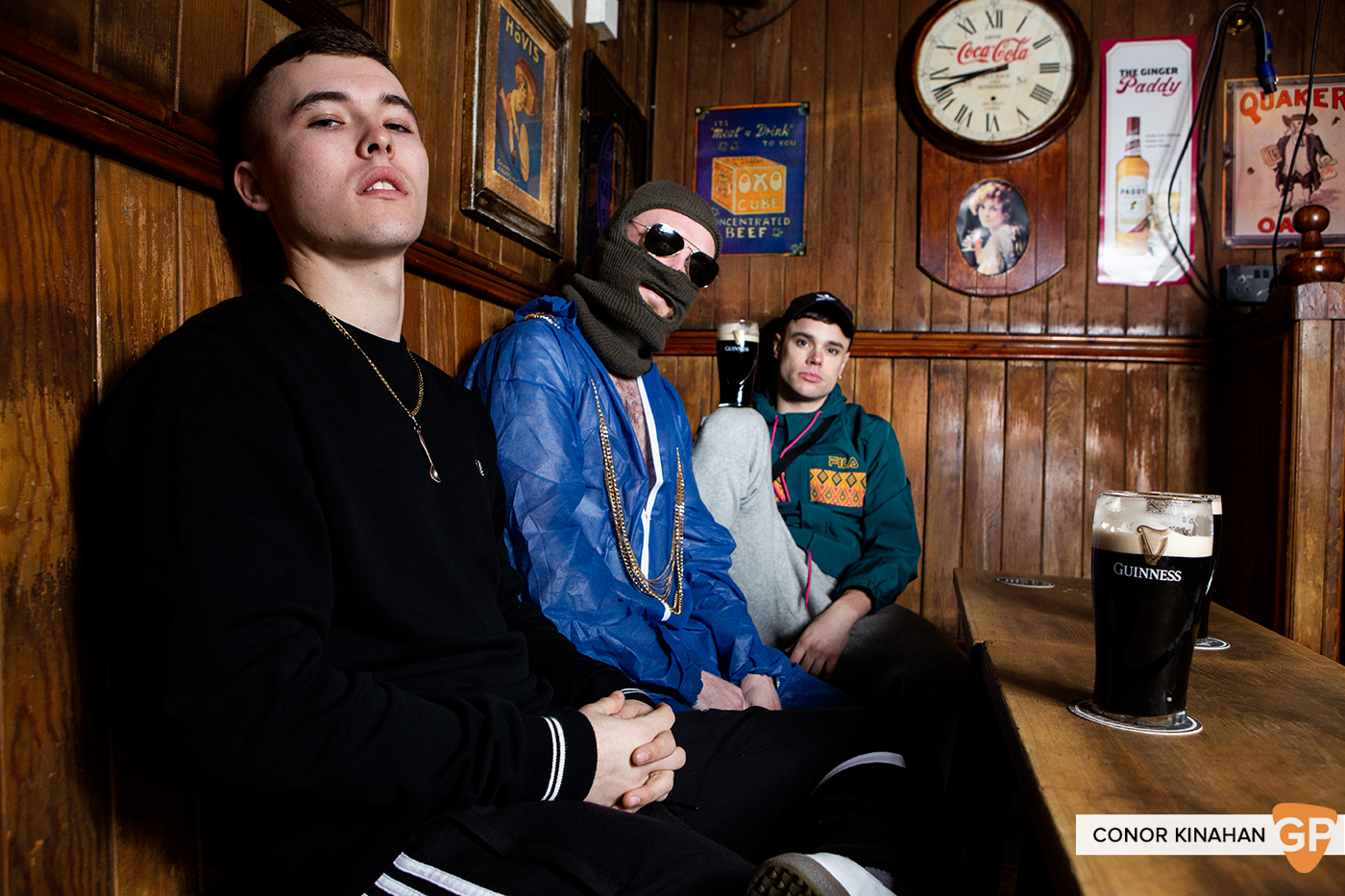 Old habits die hard
In the short-term, Kneecap have 2019 to take care of, with a few boxes to tick and some other boxes to handle with more caution. "First on the agenda is our tour in February and we have a few big announcements coming as well. But in the end we hope to have no kids."
The February tour takes in Limerick, Cork, Monaghan, and Belfast, with two already sold-out Dublin shows in The Workman's and another in the Róisín Dubh in Galway; a tour with a manifesto - "every gig is another bullet towards Irish freedom."
All of the gigging and baby dodging is a short-term goal - ultimately their long-term ambitions are loftier, but the crux of them is more or less realistic.
"We want to make enough money to fund our drug habits and never lift a finger for work again. Jobs are shite."