Nothing good ever comes of immigration does it? Nah, of course not!
Following in the illustrious footsteps of Freddie Mercury is Her's bassist Audun Laading. The Norwegian travelled to Liverpool to study music and soon hooked up with another out-of-towner, Stephen Fitzpatrick (from the exotic, Barrow-in-Furness), to form Her's.
As strangers in a new town, the pair soon bonded over their shared love of music and as if by accident, Her's were born. Before they knew it they were booking shows before they even had enough material for a set.
But before they knew it they were leaving festivals such as Green Man, The Great Escape and SXSW in their wake and had the likes of Radio 1, The Guardian and NME enthralled by their strange, jangle heavy musical brew that has drawn comparisons to Mac Demarco, ELO and The Smiths.
Lyrically, there's kitchen sink observation at play, think Squeeze's Up The Junction - the kind of happy sad neurosis the British excel at.
And just like the majority of things classed as best of British there's an Irish element at play in Her's sound. Their drum machine is named after Ireland's James Bond, Pierce Brosnan.
Catch Pierce Brosnan and Her's Upstairs at Whelan's on October 27th.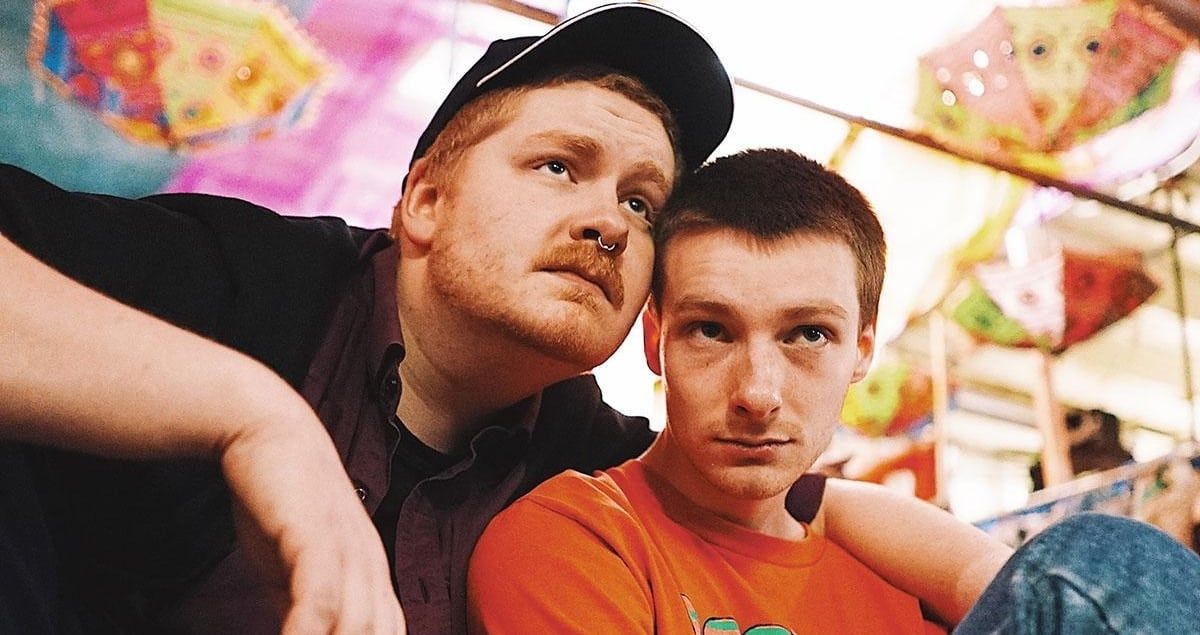 <<GP>> You guys met at University, Norwegians are popular in Liverpool, especially at Anfield, but what brought you both to Liverpool over say London?
It's true Norwegians are popular in Liverpool! We both chose to study in Liverpool as it seemed like a decent place to meet like-minded people. It was also an opportunity for both of us to leave the small towns that we're from. It's nice being up North in a place like Liverpool as it's cheaper and much easier to navigate, but saying that we probably won't stay there forever.
<<GP>> Presumably you both had very different musical upbringings. What brought you to your respective instruments? What did you bond over? And how did you meld those various influences together?
Audun's musical roots lie in electronica and house music. He discovered guitar music at the age of 15 and then decided he was going to spend all of his savings on a Rickenbacker bass because he liked the look, and that's what brought him to the bass, basically.  Ste was originally a drummer from an early age as a result of being born into a musical family. He'd always tinkered a little bit on guitar but it wasn't until around 16 that he started taking it more seriously. We initially bonded musically as the rhythm section in a band called 'Sundogs' (now 'Brad Stank') whilst also discovering the common ground we had in artists like Mac Demarco and The Smiths. Once we decided to make music together it happen quite naturally, there wasn't much plan to it really!
<<GP>> Why did you guys opt to go with the drum machine over adding a third member? Were you worried about spoiling the chemistry?
Like we said previously, it came around pretty naturally. We'd booked a gig before there was a set together and Ste had this drum machine his Dad had bought him in the mid 2000s, so we improvised a bit with that. Having a drummer in the band; we feel like we have that added perspective so for now we're happy with it and like you say, we can preserve the dynamic that the two of us have.
<<GP>> Why did you name your drum machine after the Irish James Bond, Pierce Brosnan? Any plans to try and get the real deal into a music video in the future? Maybe you meet up in Dublin?
This one links to the drum machine actually. We originally felt as though the drum machine needed a bit of charisma so we stuck on a small photo of Pierce that Ste had lying around. Little did we know that this in joke would become a life size cut out of 007 towering and watching over us on stage at every gig. More recently we've complimented on our music by his son and Pierce himself even gave us a like on a photo. So yeah maybe we'll hang out in Dublin, you never know (if anyone knows him, invite him to the show and he'll have VIP guest list).
<<GP>> How open was the Liverpool music scene to two out of towners making a sexy racket in their backyard; especially one you'd most likely associate with Manchester than Liverpool?
I guess it's not super easy being well received in Liverpool when you're not a local and like you say, our sound doesn't totally lend itself to Liverpool. However we still feel very at home in the city thanks to a vast group of friends who all relate musically.
<<GP>> Speaking of Manchester, there is a clear influence of The Smiths, more specifically Johnny Marr and Andy Rourke, but who are your guitar and bass inspirations?
Andy Rourke is definitely an influence for Audun's bass playing, the way he plays very melodically and driving is something he's trying to emulate. Neither of us are really instrument buffs, but anyways Ste's inspired by people like R Stevie Moore, David Carriere from TOPS and Robert Smith.
<<GP>> Why did you feel the need to call out toxic masculinity on Low Beam?
On Low Beam I think the masculinity side of it came pretty naturally as a result of writing about a made-up character, it wasn't necessarily the initial goal. However it's an important message that we care about as we don't really subscribe to masculinity in its traditional form and like to embrace the feminine sides of our personalities.
<<GP>> It's important that pop is political and brings difficult subjects to the fore, and it's especially important that men talk about toxic masculinity. Are there any other unusual pop song subjects you'd like to tackle in the future?
We actually feel like our music should be a place of escapism where you can take a break from the hustle, bustle and unrest of everyday life. But when we write about things that matter to us, based on experiences or made up situations, there's always going to be some sort of truth in there, it might just be in a different context.
<<GP>> One of the great things about Her's is you never know what you are gonna hear next. Blue Lips stands out in this regard due to the juxtaposition of Roy Orbison-esque vocals and a timeless sweeping melody. How do you guys constantly arrive at such unusual sonic combinations?
We feel like we're able to draw inspiration from all kinds of music (anywhere within the last 70 years) and apply them to the template that we've created. On Blue Lips, for example, we were heading in the direction of The Beach Boy, The Beatles, Harry Nilsson, Van Dyke Parks, Randy Newman and Burt Bacharach. We felt we were able to mould them inspirations into the Her's world, adding drum machines, chorus guitar, driving bass, layered vocals and synthesisers.
<<GP>> What can Irish fans expect from a Her's show other than an introduction to Pierce "The Beat" Brosnan?
For the live shows we try and make a relaxed hang out kind of situation. Imagine you're sat by the fire with a book titled 'The Joke Compendium, 1000 Jokes you've never heard' and you're with a lot of your mates, all of them with a pint; one of them's trying to tell you about his/her previous night out, screaming to try and drown out the music. Additionally there's two guy loudly playing music in front of you. We reckon its a winning combo!
Her's play Upstairs at Whelan's on October 27th. Tickets €15.00.