Every year the GoldenPlec community of writers and photographers (50+) come together to vote on their ones to watch for the upcoming year. After pulling the votes together, we selected our 'Plec Picks' for 2019. We have classical artists alongside rap, jazz, pop, electronic, punk and anything in between. Our list strives to encompass a broad spectrum of Irish music in order to highlight the thriving and evolving music scene that exists in Ireland.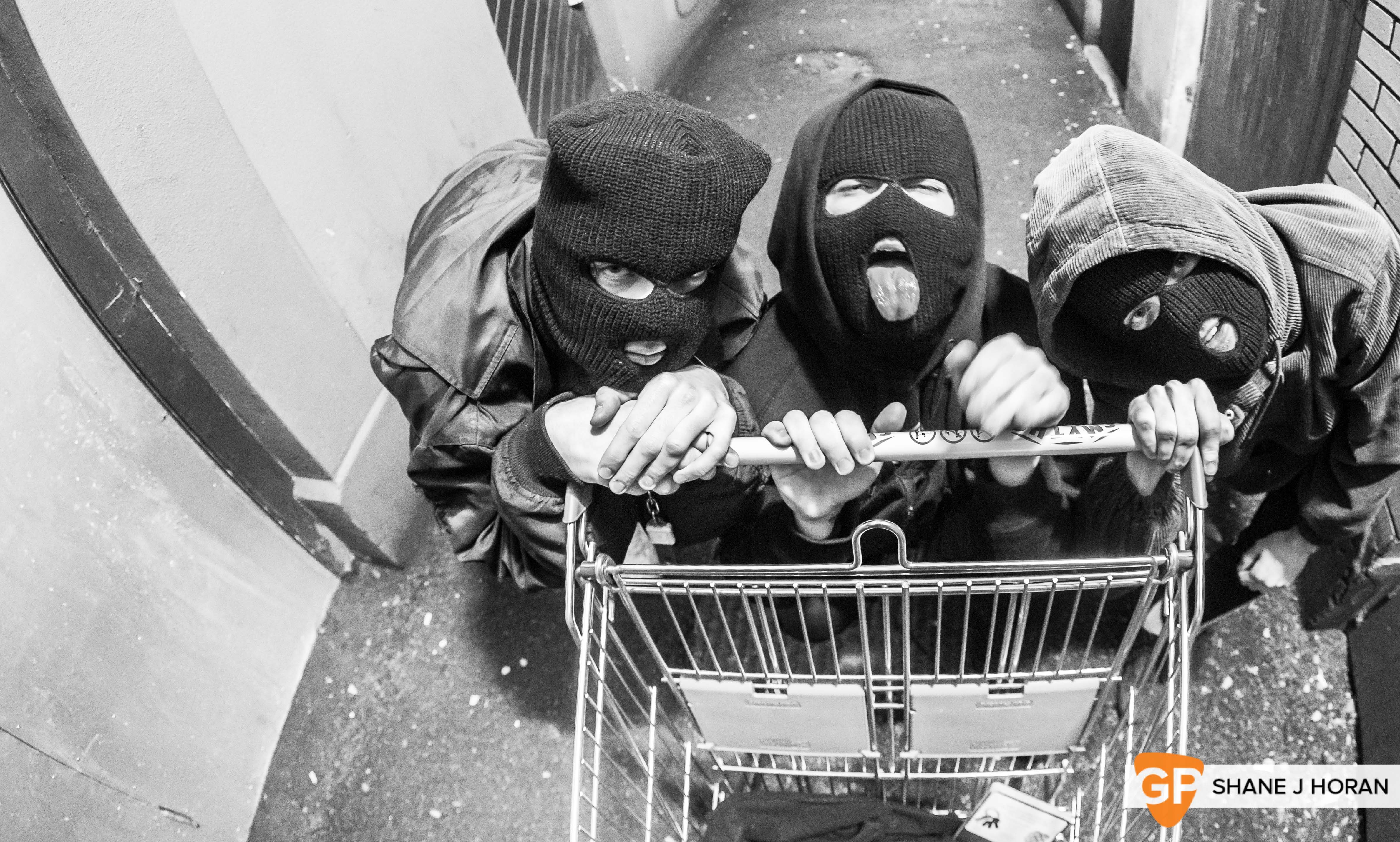 "It's consumerism! It's capitalism!". So says Slee of Happyalone.
To an unsuspecting passerby, the statement might sound a bit odd. After all, the group, fresh off stage and basking in the warm din of an adrenaline comedown, look a bit like any three young men enjoying a Saturday night in Dublin city - beers in hand.
Those in the loop know that Happyalone. are one of the country's most promising musical prospects.
Musically, the band have enjoyed the full flush of inspirations and influences made available by mass streaming platforms. There is no one tribe Happy Alone. belong too. At some stages, they verge on trap-hop, at others its grunge and in an instant even country & western. Always present however, is the omniscient influence of DAW software such as Ableton which allow the band to loop, distort and manipulate any sound they so choose.
Happy Alone. are riding the current sensibility of young music fans. One that says the idea of genre is dead, worse still, that it is totally irrelevant. Nothing more than a label applied by marketers so they know which demographic to pitch a band or artist to. Pin me down if you dare.
In the space of just over a year, the group has released six singles, won the Play The Picnic competition and topped RTE presenter Dan Hegarty's best Irish track of 2018 ("Dan's the MAN!"), with standout track Bodybags. All this, while building an astute social media presence, uniquely formatting their releases and developing a distinct persona.
So with all that in mind, picking a highlight is no easy task. "It's probably Electric Picnic," says Baxter Robot. "Getting to play the Picnic was nuts, we didn't expect it. When we were playing on that stage, we knew we were made for playing big stages. It's actually kind of strange whenever we play smaller places now".
The group's performance at Other Voices this year gets an honourable mention too. "Our friends couldn't even get in it was so packed."
"People were actually listening to the music, even if it was a slow song" interrupts North Head. "Yeah, there was no one who just kind of stumbled into us like you would a tent at a music festival," says Slee. "Everyone was there specifically to see us".
The foundations for the group's newfound popularity are laid in blending aspects of electronica, trap-hop, nu-R&B and much more. Happyalone have impressed many with the flair and diversity of their music. The group have also shown an aptitude for the nuances of modern music release techniques.
Happyalone. have a strong social media presence. Bodybags was billed as being part of a 'season 4' release, a small detail, but one which adds another layer of uniqueness to the band. "It's started off as a meme... Now we can't escape and it's horrible" says Northhead, tongue firmly in cheek.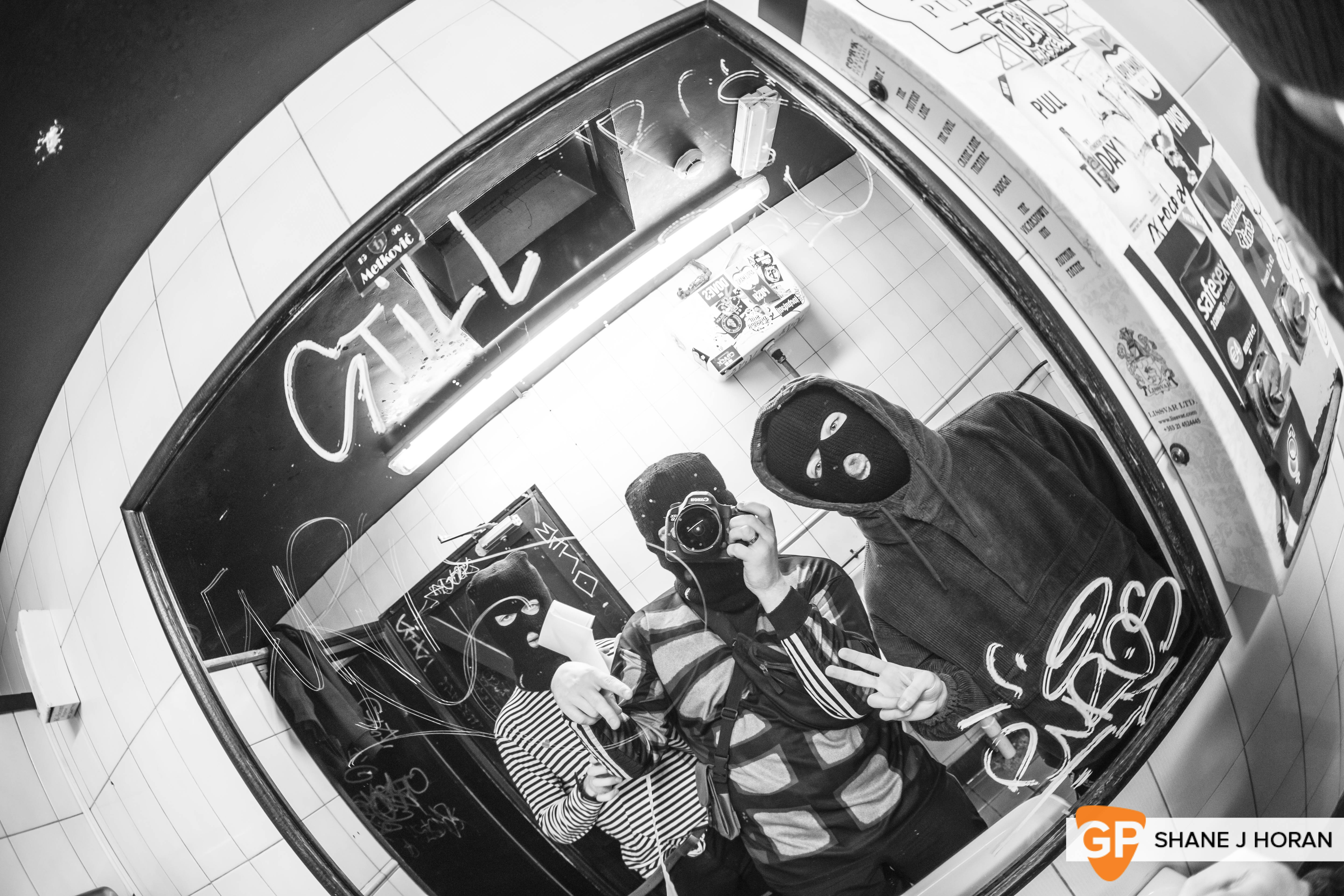 "It's a bit like Fortnite; actually I think season 4 came out at the same time as season 4 of Fortnite. People asked us if it was related, we were like yeah?". A laugh is shared among us all. The lads take their music seriously, everything else is subject to ridicule. This, refreshingly, includes themselves."I think season 13 is next, it's a bit of a Star Wars job."
"You actually end up paying way more than you would for a normal video game, you spend about €20 euro for a new skin. You end up buying a new one every 2 weeks." Baxter Robot explains and the other two lads nod their heads. "It's class, it's consumerism! It's capitalism!"
"It's the same as iPhone games. You play and you think it's unreal, it's free. Then a message tells you that if you wanna be really good you have to pay 20 quid for 400 coins. Adult marketing is insane. It's a lot like Spotify, you release songs for free. People give out about it all the time, but it's a proper tool. You give people music, essentially for free, so that'll they'll pay money into your concerts. People think that it's so negative and it's not. Ariana Grande just charged 100 quid for a ticket for her concert. It's fair enough cause everyone can listen to her music for free online."
It's striking how well thought out their approach to the industry is. The group have grown up as part of a generation that's been fully immersed in social media and hyper-consumerism. While most see the nuances of this time as a negative, Happyalone. have, in a way, weaponized them for their own gain. Right on.
The band describe themselves as "genre fluid". "We have so many inspirations. There's no real formula." This is self-evident when comparing the vast difference in style and approach throughout their singles. Take their guitar-laden debut Colours vs. the auto croon heavy Bodybags.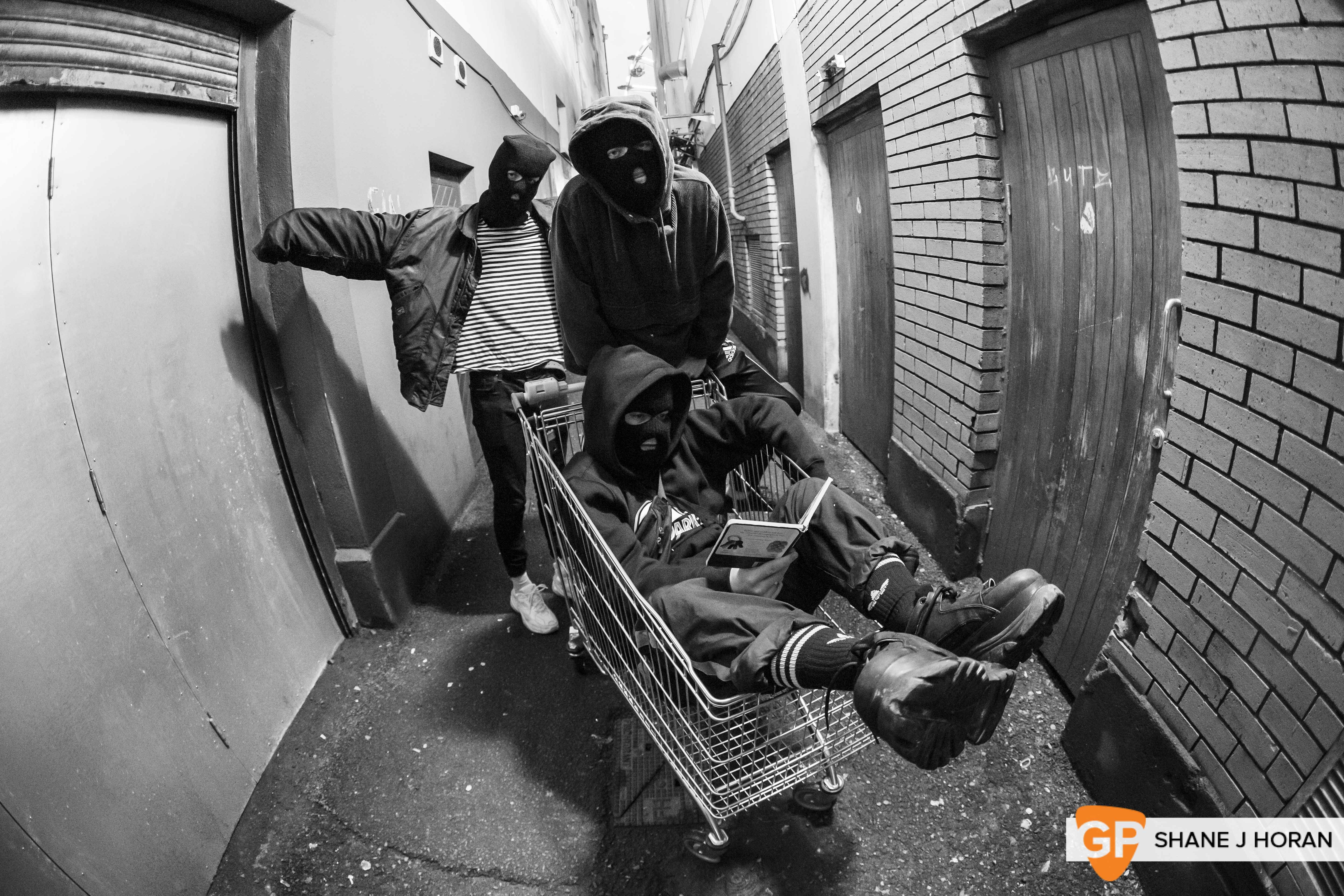 "It's always natural, it's everyone and everything. Colours is strangely bluesy, it's got that twang. Whereas something like Bodybags is very inspired by Travis Scott. Your Eyes is a fair bit techno, I think we were listening to a lot of Bonobo at the time."
Baxter emphatically explains, "It just happens. Every song is different. There's no one way of writing a song. If the music moves me, then I'll write lyrics. But I hate writing lyrics so it always comes after." Slee interjects, explaining "The song is the most important thing, the melody happens and then the lyrics follow. You can have the best lyrics in the world and if the songs crap it doesn't matter".
"I actually get a hard-on for dissonance." Another laugh. "Dissonance creatives frisson, the ear orgasm. Dissonance and then resolving is the best sound ever. Our whole thing is chaos and beauty - you'll hear it more in the stuff we haven't released yet. It's there in the resolution of dissonance."
Don't be fooled into thinking this is part of some elaborate theoretical construction. For all their talent and skill, Happyalone are not a group well versed in the theory side of music.
Instead, they opt for a songwriting approach that emphasises feeling and instinct. "We write a song, we might wonder for ages about the key that it's in. Oh, it's only white keys, we're in A minor. That was after about 40 minutes, it comes purely from feeling. The chords come first and the feeling of the song from them."
Then there's a genuine sombre moment as the group talk about the inspiration behind Bodybags.
"The song was already there and I was literally about to put lyrics to it, it was the Tuesday of RAG week and a lad had died the week before, he'd overdosed. It was so weird to see. People that knew him were still going on a bender cause it was RAG week. I wrote the lyrics in about 5 minutes. It was so surreal, all my friends were taking drugs and this guy had just died. I'm not judging them, it was just a weird scenario. A pure feeling. Northface asked me to do another vocal take and I couldn't, I'd just blown out my voice."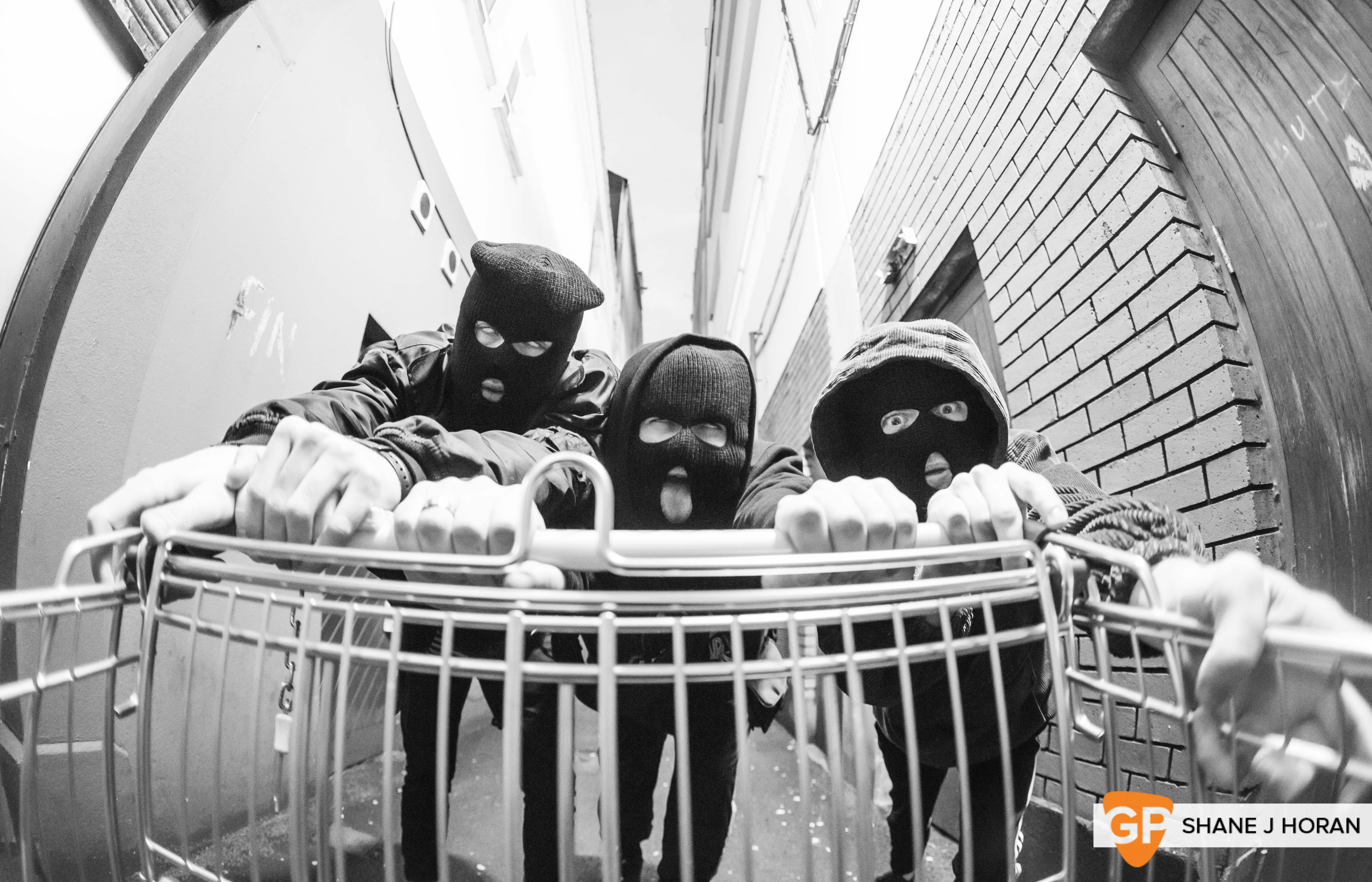 So what about the year to come? The lads certainly aren't going to get complacent.
"I think people are sick of four lads, two guitars. It's shit to be confined ... why would you pigeon-hole yourselves...genre is dead"
"We're going away for a little while. We want to work on our live set and we're going back to writing for a while. We're going to be doing a lot of mad shit next week. I can't say too much cause I don't want to give it away, but next year is the year when we're going to actually get recognised."
Slee caps it off with a grin, saying "Happyalone will be born in 2019, properly".