Born in Ireland, raised in Scotland, for many years now based in Paris, violist Garth Knox is something of a latter-day minstrel for contemporary music. Having performed with high-profile groups Ensemble InterContemporain and the Arditti Quartet in the past, in the last twenty years he has forged his own independent career, his work crossing borders in time, space, and—especially—music. As a string player, his curiosity has led him to seek out not only the medieval fiddle but also the baroque mysteries of the viola d'amore, an instrument he clearly adores.
A regular visitor to Ireland, Garth Knox next comes here in March on a Music Network tour, this time as part of the Saltarello Trio, playing alongside Agnès Vesterman (cello) and Sylvain Lemêtre (percussion).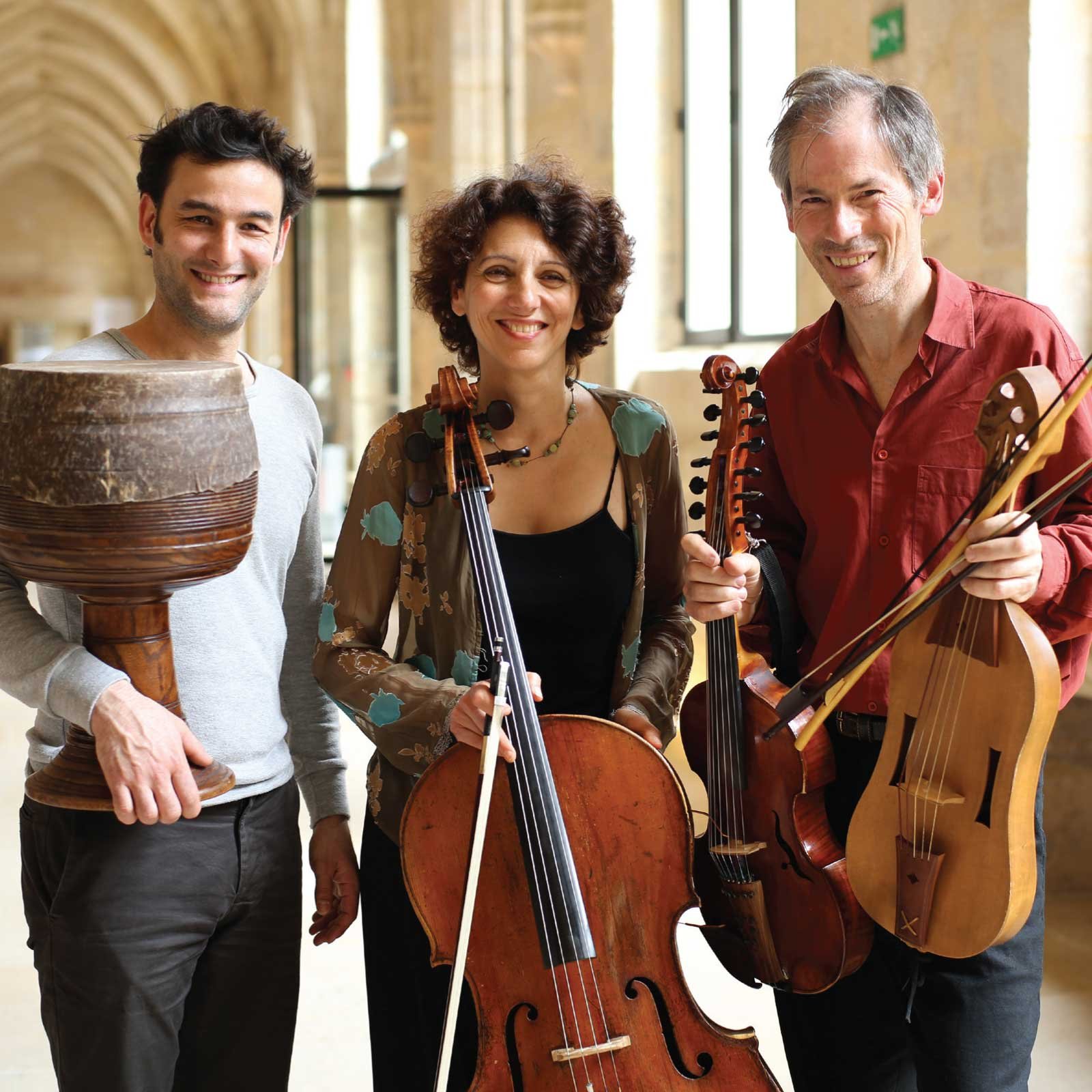 This collaboration began a few years ago, as Garth explains: "with Agnès it goes back a long time. When I started playing the viola d'amore seriously I then started playing with Agnès, because with cello and viola d'amore you can cover a really complete sound—the cello can do the bass and the viola d'amore the melody and the harmony—and when we looked to expand it further I started playing medieval fiddle, for which the obvious thing to do it with was percussion.
In this tour, actually, Agnès will be playing dulcimer, so we'll be growing into a medieval trio for those numbers, then a baroque trio with viola d'amore—and then new material with viola—so we can cover most things with that combination of instruments."
His interest in medieval music has itself grown organically, and developed into a way of thinking about sound and instrumentation – "I was asked to come and play in a medieval group a while ago, they were looking for a different kind of player—it was interesting to have someone with a contemporary feel come play in a medieval group. I liked it a lot, and what I find interesting is to find what people played before they played violin, and many things become clear when you start playing those old instruments.
"You can see the seeds of what was coming, and you see the sacrifices you have to make to arrive at the modern violin, which is a wonderful instrument, but you make choices and some of the choices mean leaving things behind—and I like to go back and make them live again. When you take folk music back onto those old instruments you see where the ideas come from, it's very clear, the traditional tunes and the way they play—the sounds you hear explain the music to you in a way."
All of this feeds back into his approach to composition. "I try to keep it as natural as I can. I think the greatest music is the music that comes from nowhere, like folk music—no-one writes these tunes, they just came into being! When I'm writing a piece I try and let the instruments speak for themselves, let the things that are here make music."
This tour features three pieces by Knox, including a new Music Network commission, 'Cloak' – "for this piece I started with four Tibetan bowls, which make this beautiful sound, and I wanted to make a piece out of those bowls and have the sound expand to our string instruments. I had an inspiration about St Brigid, thinking about the story of her cloak, how her four helpers each take a corner and start walking, and the cloak magically expands to cover acres and acres of land.
"This piece is like that, the four bowls, played by Sylvain, are the four corners of the cloak. At the beginning of the piece they just play together and gradually we pull the piece out and separate things and you start to hear what's going on and create this space that wasn't there before."
Matched with two other pieces of his, 'Song from the sea' and 'Black Brittany', this forms a trilogy, "it starts with the written piece, 'Cloak', then we move to the misty sea, the 'Song from the sea', and out of the mists comes this 'Black Brittany', which is a compilation of folk material. My hope is that this will introduce folk music in a completely natural way into a concert situation, so that people can appreciate it for the music it is—a little journey from written music to the folk tradition."
The idea of the programme is that everything in it overlaps, building layers and connections—"the resonances of the medieval material set a way of listening which continues throughout the concert, so at the end the medieval music will still be there, in a way. It should all add to the whole, rather than having a series of snapshots."
At the heart of the programme is the viola d'amore, an early bowed string instrument with sympathetic strings adding a whole extra layer to the sound. Its shape, sound and appearance resemble the older treble viol, suggesting a mixture of the two.
"It's basically a small treble viol which has been turned the other way, to be played like a violin. So you have the virtuosity of the violin mixed with the resonance and harmony of the viol, a perfect hybrid instrument between the two, so it allows you to do many different kinds of music, while the sympathetic strings bring a whole other dimension to it. It's been a rich source of inspiration for me."
Garth not only plays the viola d'amore in music of the high baroque—Marais and Vivaldi—but also in a pairing of two early English pieces, John Dowland's 'Flow my tears' and Henry Purcell's 'Music for a while'.
"The English music of that period is so good—the best time in English music!—Purcell is one of my favourite composers and Dowland is perhaps the favourite, and I wanted to include them. I thought the vocal material would be the way into that music. Dowland wrote for the lute, and you can imitate the lute a bit with viola d'amore, and the cello can be a beautiful singer. And the Purcell works as an answer to the Dowland, it's a nice mixture. We're stealing vocal music, but people did, all the time!"
As well as music from the past, Saltarello Trio also presents two works by living composers, with David Fennessy's 'Three Movements from Five Hofer Photographs' for solo cello, and Gérard Pesson's 'Tafelmusik' for solo percussion. "They add a different colour to the mix, and a very welcome one."
The approach of this ensemble is one that is very much open-ended, aiming to make connections and open doors to different ways of hearing and understanding music. "We'll be carrying on, trying new ideas, absolutely, it's an ongoing story."
Music Network presents Garth Knox's Saltarello Trio on tour nationwide, with concerts in Clifden, Castlebar, Wexford, Dublin, Cork, Waterford and Castlepollard as well as several dates in Northern Ireland Feb 25th – 7th March 2020 – further details at musicnetwork.ie
TOUR DATES:
Tues 25 Feb – Centre Culturel Irlandais, Paris +33 1 58 52 10 30 / centreculturelirlandais.com
Thurs 27 Feb – First Presbyterian Church, Belfast +4428 -9024 8818 / movingonmusic.com
Fri 28 Feb – Great Hall, Ulster University Magee, Derry
Sat 29 Feb – Flowerfield Arts Centre, Portstewart
Sun 1 Mar – 8pm – Station House Theatre, Clifden €15 / €12 095-21699 / clifdenstationhouse.com
Mon 2 Mar – 8pm – Linenhall Arts Centre, Castlebar €17 / €14 094-9023733 / linenhall.com
Tues 3 Mar – 8pm – National Opera House, Wexford €17 / €15 (+ bkg fee) 053-9122144 / nationaloperahouse.ie
Wed 4 Mar – 7pm – Lutherhaus, 24 Adelaide Road, Dublin 2 €20 / €15 / €10 01-4750224 / musicnetwork.ie
Thurs 5 Mar – 7.30pm – CIT Cork School of Music €20 / €15 / €10 / €5 (students) corkorchestralsociety.ie
Fri 6 Mar – 7.30pm – The Large Room, City Hall, Waterford €17 / €15 / €5 (students) Waterford-music.org
Sat 7 Mar – 8pm – Tullynally Castle, Castlepollard €25 / €12.50 087 6839061 / derravaraghmusic.ie