Getting sued is an age-old rock'n'roll tradition, but there's something significantly uncool about being sued by McDonald's. Just as Happy Meal Limited (or HMLTD as they are known today) know, the fast food chain are not big fans of musicians using any of the words associated with them. Glasgow's Free Love, who operated under the name Happy Meals for several years, found themselves in a similar situation when "whispers on the wind" told them that the burger chain had them in their sights. "We were more anticipating it, they had McDonald's on their backs and we became aware of it" says Lewis Cook, but he claims those whispers were a blessing in disguise.
"As much as we like the name Happy Meals, we decided with that in the air and a general feeling it might be nice to change (anyway), so we went from one stupid name to another stupid name," he jokes.
Happy Meals and Free Love are two instantly recognisable phrases, but that's exactly why Lewis Cook and Suzi Rodden chose them.
"Happy Meals for us was like two really basic words: Happy and Meals. Obviously there's the connotations of the McDonald's thing, but there was also a re-appropriation of those words. I felt like that idea was a bit elusive, it wasn't directly obvious, but it was an idea that we've both always been excited about; exploring the idea of reclaiming things which have been bastardised. Freedom and love are overused, they've become disposable - almost meaningless - but at their core level are some of the most powerful words there are."
Although Free Love have abandoned Happy Meals the music remains, and they've not disowned it. "We're still the same band we very much wanted to keep that material under the name Happy Meals, it's an earlier guise," says Suzi.
This line of thinking influenced the group to leave their previous releases online under the Happy Meals moniker rather than change them to Free Love.
"We wanted our music to be chronologized as it always has been. When we play live, we still play some of those tracks. So, it's not like that band is dead, there's a lot of crossover; as much crossover as a band might have from one album to the next might have, but we wanted to keep the old name on those songs for the sense of posterity," says Lewis.
Free Love's interest in reclamationist wordplay is also evident in their first major release, the 'Luxury Hits' EP
"Luxury's just become bollocks, it's somebody lying to you to try and create a sense of decadence. We liked the idea of using the Greatest Hits idea. So, this is like the luxury range of our songs, it's not the economy version. We just wanted to play with that idea, Luxury was a word that kept popping up."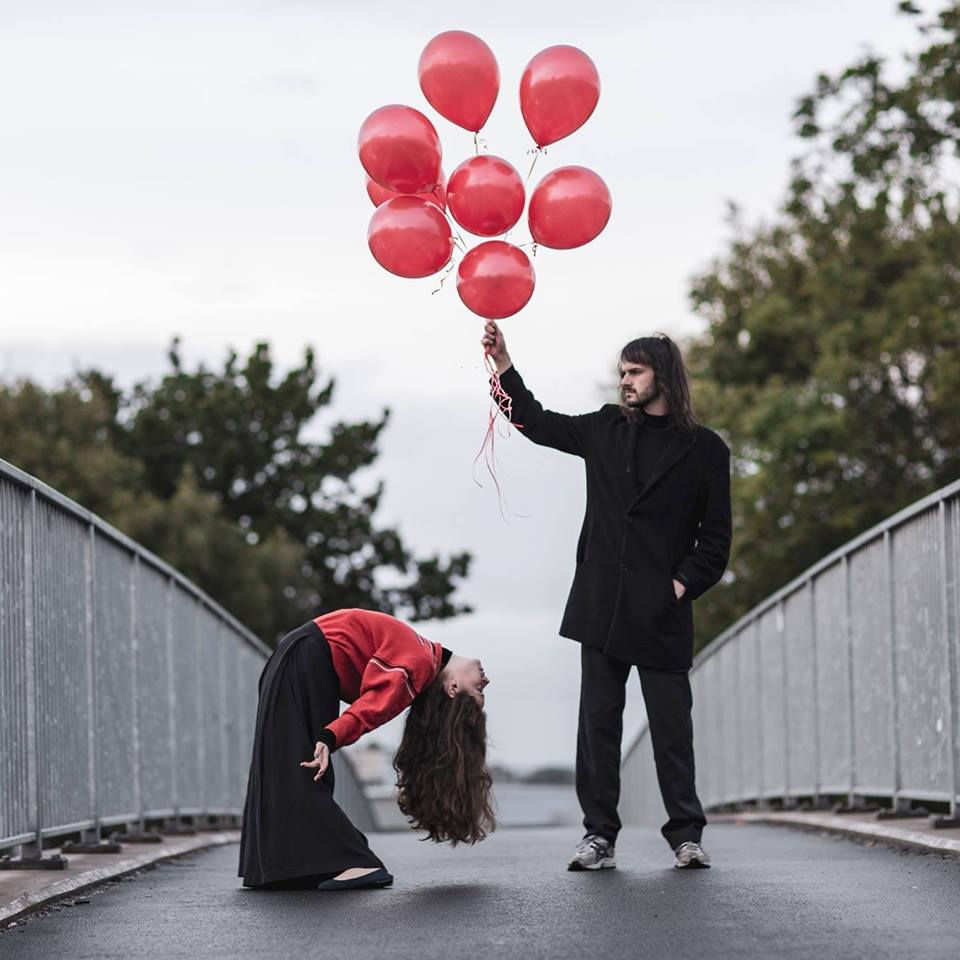 When we mention that the place you are mostly likely to find the word luxury these days is in the toilet roll isle of a supermarket, they concur.
"That's the parody," says Suzi, laughing in agreement. "Everyone's idea of luxury is so different. We're not recording in a studio with velvet on the walls or anything. We're recording at home with the heating off because we've got no money. It's funny to have that sort of background and create our own idea of luxury within music."
At eight tracks 'Luxury Hits' feels more like a mini album than an EP and is an indication that the group are currently in a good space creatively, which is further edified when Lewis tells us "The new record's out tomorrow, but we're already working on the next one."
Five of 'Luxury Hits' tracks are brand new, something which in the age of Spotify is becoming a novelty.
"One of my favourite ones is Depeche Toi - for me there's something quite dreamlike about it, but it's also quite upbeat. I've got lots of fun imagery attached to that in my head for whatever reason. Recording it was quite fun," says Lewis, when we ask the synth duo to pick their favourites from the new tracks. For Suzi, it's Et Encore. "The lyrics are unintentionally almost religious, unintentionally, it's a joyous ending, I guess. I like singing like that, belting it out."
Despite both members using words like joy and fun to describe recording and playing tracks, there is also a certain darkness that permeates 'Luxury Hits'.
"There's a lot of conflict in the record," explains Lewis. "It's quite reflective of our experience of making music and trying to exist making music and being alive at this time."
"Brexit, Brexit, Brexit," interjects Suzi, noting that the political horror show has permeated into their music. "We didn't vote for Brexit in Scotland so it's a really weird time to be alive."
Free Love's most successful track to date is Playing as Punks and the track brought them to new and unexpected audiences. "It's cool that Spotify put us on playlists," says Lewis. "It's great to see it spread that way. When you're an artist on Spotify you get a break down of where people are listening to your music. Glasgow is 46 on the list, Jakarta is above it. Germany is the highest." As well as being unexpectedly well received in Germany, Russia has become an unexpected consumer of Free Love.
"Someone tagged us on a video of Russian Saturday night TV dancing on ice or something like that and they are playing Pushing Too Hard," says Lewis, laughing noting the unexpected nature of their prime time Russian debut. "They did contact us, but we were like 'I don't really know what this is', so we never really answered them, but they used the song anyway."
As an independent group, Free Love see the benefits and the pitfalls of the way we consume music today. "It's cool that people are listening in Germany and Jakarta, but there's a difference between people listening to your music and making a living out of it," says Lewis. "Even record labels are offering less and less money or nothing at all, but are asking for more and more from the artist, and you can understand why, because where they traditionally made money was selling records. I think the technology is absolutely liberating, but the politics and economic infrastructure that goes with it is very difficult for artists."
"As a musician you are no longer just writing music, you are a graphic designer, you're a video maker," adds Suzi. "A lot of the time traditionally spent on creativity can be taken up by all the extra things that you have to learn to do yourself, I think it's interesting that the role of a musician is so different to what it was traditionally, even to ten years ago."
Free Love have been designing their artwork under the pseudonym Henri Caudel, who also happens to be a French war hero. "The name has always been in the background, there's a Henri Caudel record which was before Happy Meals. I hope that guy isn't a fascist or anything, I hope he's one of the noble war heroes," says Lewis.
The DIY aspect of Free Love also extends to their videos, and their latest one, Synchronicity, was a celebration of the Glasgow music scene. "I thought it worked well because it's the first song under Free Love, so people couldn't tell who was or wasn't in the band," explains Lewis. "We went into this little recording studio for two days. They didn't ask questions despite the smoke pouring out of the room. They were just like, 'fuck it, go for it.'"
Upon its release Synchronicity instantly drew comparisons to '80s synth pop legends The Human League. "From a production point of view we definitely take a lot of inspiration from some of those sounds. If you listen to Being Boiled, it's so raw all the synthesizers sound like they are about to break. There's always an attempt to put a little of that into (our music), also I love the fact that they were not afraid to make a pop song as well."
Making synthesizers sound like they are going to break is a skill which Free Love have also mastered. "We're comfortable working with just enough broken gear to bring a little bit of chaos and not quite know where the songs are gonna end up. We use a lot of analogue synthesizers live to get that raw sound, to make it slightly unpredictable," says Suzi.
"You don't have to be a total electronic music dork to get it. The casual listener hears it and understands it because of the psychoacoustic or psychoelectronic properties of it," adds Lewis. "It's taken a lot for us to get to the golden ratio. We used to have a '70s Korg Delta, a big, beautiful synth. We couldn't afford a hard case so, we used to wrap it up in layers and layers of bubble wrap, but we had to stop because it was getting hammered and they don't make them any more, so you can't just go and buy another one."
"I think we both really like trying to mess with the idea of a gig," says Suzi, when we enquire how the avoid the static feel that often permeates electronic live shows. "It's a joint experience between us and the audience as opposed to a one-ended relationship."
"It's about performing music in a way that can be a more visceral experience, but also one that allows people to open up themselves - it's not about breaking down any sorts of barriers, it's about trying to create a space. It feels like for a long time in music or any form of expression, that there's an idea of what it should be and then there's what it actually is. I think a lot of the time artists live up to what they think it should be, rather than what it's there to serve and I think when we perform, we try to create a space where people are able to express themselves," says Lewis.
Lewis and Suzi have used some unusual tactics at live shows, including putting on 12-hour bring-your-own-plant shows, making them the world's foremost, if not only, horti-tronic act.
"People came along with their sleeping bags and slept overnight through the music. It was mostly meditative music. People might think that's a million miles away from playing a club set where people are dancing and there's lots of high energy, but the philosophy is the same, creating a space so people can interpret and resonate with the sounds and energy of the music," explains Lewis.
"It's not really a decision," explains Suzi at the mention of the use of French throughout Free Love's music. "It's about the scope of what I'm trying to say with the lyrics and which language fits better. English is a very direct language, I think if you try and talk in similes or colourfully it comes across more whimsical and a bit shite, whereas, quite often French is a lot more poetic. Quite often when we've started a track and I've felt the music it's at that point that I'll start writing in French or English. It's about how I'm feeling at the time and how I want to express myself. It's nice being able to have those two different tools. For example, How Do You Feel sounds really cheery, but the lyrics are quite dark. I like being able to put that mask on it - obviously Francophile speakers will be able to understand - when I write in French it's a much more colourful artistic version of the language. It's never absolutely perfect 'cause I write in the moment."
Update: Free Love play Upstairs in Whelan's on Wednesday November 21st has been cancelled refunds available at point of purchase.