It's been a whirlwind few years for 20 year-old Southampton-born popstar-in-the-making Caity Baser. In 2020, she penned and performed her song 'Average Student' in the space of an hour and published it on Tik-Tok, thinking nothing of its potential. By the next morning, she had potential managers in her DM's, thousands of likes and millions of views. All of sudden, a world she had only ever dreamed of was opening up in front of her. Her moment had come.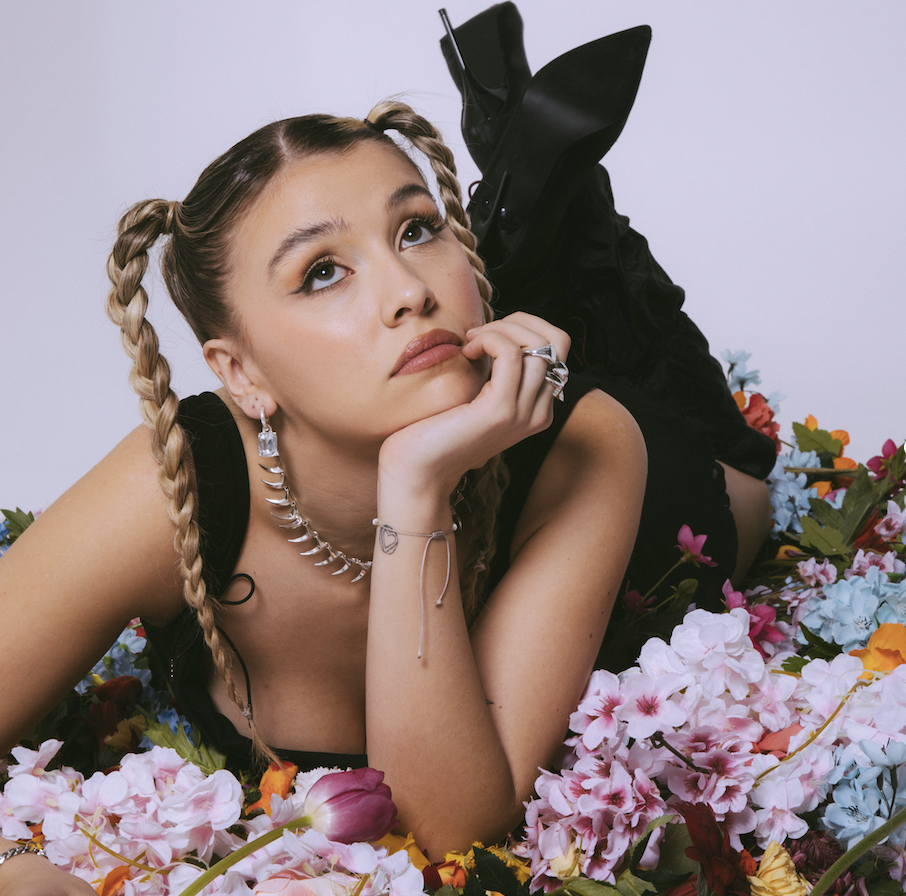 Three years later, as she sits in her label's office completing press straight from a sold-out UK and Irish tour (which included a show in Dublin's Academy) and off the back of her hugely successful debut EP 'Thanks For Nothing, See You Never', it's a lot for Baser to take in.
"Every second of it has been iconic" she smiles as she thinks back on her journey to now, "I keep forgetting what I'm doing because I'm always doing something so I never get a chance to take it all in".
Her most recent pinch-me moment came when she realised fans in Birmingham had been queuing since 9AM to see her, something she herself thinks is mad. "It was raining all day, but I kept going out and chatting to them every once in a while to make sure the were okay; then some more people queued up to see me after the show, which was amazing".
Growing up, Baser was raised on everything from Ella Fitzgerald to Bowling For Soup and Billie Holliday to Rizzle Kicks. "I'd listen to anything" she recalls, "I loved it all". One of her earliest loves, however, was Katy Perry, and seeing her live at eight-years-old provided the motivation to get into music.
"We were right at the back" she explains,"but I remember sitting there and thinking how has this tiny lady on stage made everyone in this room feel like best friends and like we've all experienced the same thing. I'm 8-years-old crying about heartbreak, I didn't know what that was".
"I told my Mum I wanted to be like her when I grew up and she said 'go for it'" she adds, "and so I have".
As for many new artists, lockdown provided both the motivation and time to begin working on her craft. Nine months in, however, and after the brief opening of the world before it was abruptly shut once more, a whole generation of artists felt robbed of the opportunity to connect, to work, and to start touring.
Baser was no different, wondering how she was going to pursue her dreams of being a world-renowned singer when she can't even go out her front door. Tik-Tok was the answer, and after posting and promptly deleting a few songs, she threw up an original track and quickly turned off her phone.
"My friend picked me up and we went to a car park, which was the extent of fun we got up to in lockdown" she laughs of the night her life changed, "and I turned my phone back on and the video had gone crazy.
"I remember being with my mate, we plugged the phone in the AUX, opened all the car doors and windows and belted out this one minute video as loud as we could and then literally the next day I got a call from a lady who is now my manager who told me to come to London and here I am".
Within two months she was in the studio with producer Future Cuts and writing tracks that would become her 'Lil CB mixtape', and for the first time in her life she felt like she was where she was meant to be.
"It solidified everything for me, I felt like I was meant to be a singer" she adds, "and I've heard so many stories of people being fucked over in the music industry and I've just met the nicest people, I feel so lucky".
Now, Baser is back with a new project, and it's the beginning of a shift towards writing songs about boys (see hit single 'Friendly Sex') to tracks about feelings, and what it means to have your heart broken. Despite the heavy topics covered on the project, unlike other artists she isn't one for tying herself up in metaphors, preferring instead to speak it as it is.
"All the songs on the EP are about experience I've had with this boy" she notes; "the roller-coaster of being unsure, then falling in love a little bit, then being heartbroken, needing my friends and then being determined to figure it all out; it's just the ups and downs of my year last year and saying thanks for nothing, see you never".
As well as her penchant for writing catchy, relatable pop hits; it's Baser's sparkling, outgoing personality which has marked her out as a star for the ages, with the Lily Allen comparisons coming in the hundreds. How important is it for Baser to be her true self, regardless of who or how many may be watching?
"It's the most important thing" she replies, "For 18 years of my life I don't think I was myself. Through school, through college, through university, I knew who I was always but I was never…in that time I never felt accepted for who I was, everyone thought I was a bit loud, too much energy, a bit annoying so I shied away from that. Now it's all changed, I've got this platform now that I've made myself from being myself and it's amazing, it's so exciting".
As the summer comes ever closer, Baser will be embarking on her biggest festival run so far, taking in everywhere from BBC's Big Weekend, Reading and Leeds, and a support slot in Hyde Park for Blackpink. It's everything she could ever have hoped for.
"Growing up all I wanted to do all summer was go to festivals but I could never afford it; I'd get to go to one a year and I'd always choose Boardmasters which I'm playing MAIN STAGE this year; whereas this year I'm literally doing every festival I've always wanted to go to, it's a dream. It's going to be the best year ever!".
'Thanks for Nothing, See You Never' is out now on Spotify.