Brian Fallon doesn't want to talk about Trump.
"Politics is far above my pay grade", he says. "It's not what I thought was going to happen. But the question that I'm really looking at now is, 'what are you supposed to do?'"
He jokes that he could be considering a move to Dublin following the election - not a crazy proposition considering his affections towards the city. He's played here regularly with old band The Gaslight Anthem, and now he's planning a solo return in support of his album, 'Painkiller'.
He doesn't offer much about himself - he answers every question promptly and politely. He's a straightforward guy - a trait he says he recognises in Irish people.
"Americans, no matter what you release, they tell you whatever you want to hear. They tell you it's the best thing they've ever heard.
"I don't know", he says, laughing. "There's an excitement that comes from Irish kids that I really like. Maybe it's 'cause they're so similar to me - they have this excitement but they have this fire too."
His Painkiller tour is taking him across Europe, including several dates in Germany, where he says crowds aren't to dissimilar to those here. However, he stills considers the Olympia Theatre one of his favourite venues.
"It's so cool - you've got all these people on the wall like Noel Gallagher and David Bowie. Everyone's up on the wall," he says.
He begins to digress a little as he gets caught up in the thought of the names on the wall.
"Some of those bands are a big deal to us, and you know there's some bands like The Beatles - you know you're never gonna be The Beatles. No matter who you are as a kid, you never think at 16 years old, starting out, "I'm gonna be the fucking Beatles!"'
"When I was seven years old, I heard I Still Haven't Found What I'm Looking For, and foolishly thought, "well, I could do that. That doesn't seem so hard. That's just four guys in a band." That's what encouraged me."
Tangents aside, Fallon's fully invested in his current path as a solo artist. But after 10 years with The Gaslight Anthem, the big question is - why now?
Fallon's reasoning is pretty simple.
"I didn't have anything else to do", he deadpans. "When the band decided to take a break I was left without a job. I could have done other things - cleaned the house, fixed up a car, I can do all that … The problem that I have, whether I have a band or whether I don't, is that I'm always writing songs. I always have something to prove. I temporarily lost the outlet to write the songs.
"So I thought, 'well, what am I going to do here? If I don't do something I'm going to be sitting at home with all of these songs not coming out'. You can't just turn it off, you know?"
He approached writing as a solo artist as a clean slate - as if he was learning to write songs from scratch. Fallon said he had "no other choice".
"As you band gets bigger, you get more options and you could sit in the studio and record all day. I think options sort of cloud the picture. If you can call up a string section and say, "Hey, I'm working on this song - can you bring all your violins down?" I don't think that that helps anything."
He's quick to say that he has never done that as an artist. It's clear the more a song moves away from the bare bones of a composition, it becomes indulgent and inauthentic.
"The truth of the matter is, you have to write good songs." This is something he is adamant about as an artist. How others choose to write and produce their music is of no concern to Fallon.
"The more basic you keep things when it comes to art, the better it is. It doesn't matter what you put on top of it."
He's clammy when he wants to be, mind - when pressed on his most difficult writing project, he dismisses the question as simply too difficult to answer. Not entirely surprising, giving the loaded, often emotionally bruising titles he gives his records. Gaslight's last record was called 'Get Hurt', after all.
He laughs it off when it's suggested that Painkiller is a similarly loaded title. However, he speaks begrudgingly about those who can write songs quickly
"All of them are difficult. I just watched that Oasis documentary where Noel [Gallagher] is talking about writing Live Forever in five minutes - that doesn't happen to me. I wrestle with this stuff. I struggle."
"Maybe I should start writing songs faster, you know", he muses. "Live Forever's a pretty good song, I'll take that one."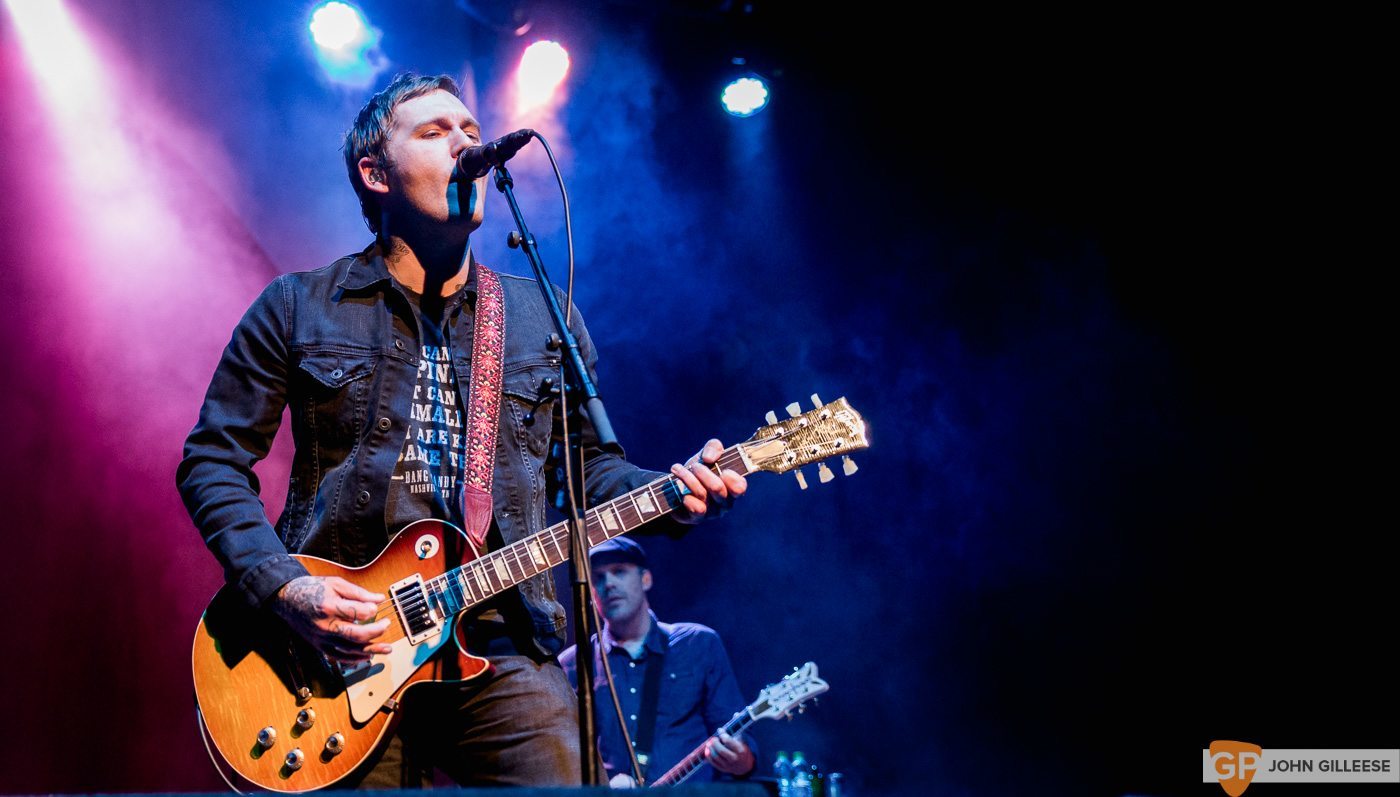 Touring must be a breeze for him so?
"Well no, because I like punishment," he deadpans again. "I'm constantly writing while on tour. I just put the finger right in the cut. I don't know what my problem is. I don't relax. That's not in my vocabulary. I've come to terms with my constant state of turmoil".
Music has been Fallon's 'painkiller', hence the title. Some people turn to drink, drugs or religion - he always found music to be a more cathartic experience, which is what he wanted his record to reflect.
"With music, there is no decision to be made. It either helps you or it doesn't. It either resonates with you or it doesn't."
'Get Hurt' was Gaslight's most divisive LP critically - Pitchfork gave the record a score of 3 (out of 10, not 5), and called the record "inherently funny". Is it possible to go into a solo career with a different mindset when it comes to handling critics?
"I don't read them [reviews] anymore. I'm not writing for them. If you stay the same, people are going to say you sound the same. That's not good. If you don't stay the same, you'll be told "well, you should have stayed the same". It's just something you have to ignore.
"On this record, and probably every record after this, I'm taking the mindset that you have to do what you love. If that's not what people like, that's life. Changing for the sake of making a record popular is a very short-sighted game … It's not a good idea."
Steve McQueen is the most evocative song on the record, but a simple song for Fallon to write. He and Dan Wilson worked on the musical composition within 45 minutes, exploring finger-picking techniques and writing lyrics.
Along with Wilson, Butch Walker worked on Painkiller and served as producer. "He's a fan of rock 'n' roll. He's inspiring. He's not a negative guy and he never gets down about anything." But the influences go beyond rock 'n' roll. Fallon leaned on more worldly influences, swapping electric sounds for something more organic. Smoke is probably the best example of this - a swampy country jolt featuring mandolins.
The obvious answer comes when quizzed about a potential second solo record: "I'm constantly writing songs - I feel like my life has no brakes." But surely leading that kind of lifestyle has an effect on those closest to him?
He stiffens at this suggestion. "You can't ignore people to do work. You can't sacrifice one for the other. You have to do them both and learn how to do both. I don't hear from people that I have to take a break … I take a day off here and there. But I'm good at not ignoring my responsibility."
Fallon says his solo stuff has allowed fans of Gaslight to see him as a real person. He's struggled with identity throughout his entire career - Gaslight's breakout hit The 59 Sound drew immediate comparisons to Bruce Springsteen.
In his Twitter bio, he's included the words 'assistant manager'. In an old interview Springsteen was asked who'd fill in for him if he ever got sick, having himself previously filled in for Bono at a gig.
He said: "Probably the kid from The Gaslight Anthem."
"So I figured if he's The Boss, I'm the assistant manager," Fallon very much getting the last laugh on this.
BRIAN FALLON AND THE CROWES PLAY THE OLYMPIA WEDNESDAY NOVEMBER 23RD. TICKETS PRICED AT €26.50 INCL BOOKNG FEE.