Bleeding Heart Pigeons - Digging In The Shed
If it ever comes to the point that Bleeding Heart Pigeons inspire a manically devoted cult following, it's not hard to tell where the main parts of the band's mythology will come from. The disused shed in rural Co. Limerick, where the three bandmates, who met while still in school, rehearsed. The splendid isolation they existed in for years, developing their sound and their direction unencumbered by the vagaries of an established scene, before an EP and, now, an album, began to alert the world to what the trio could produce.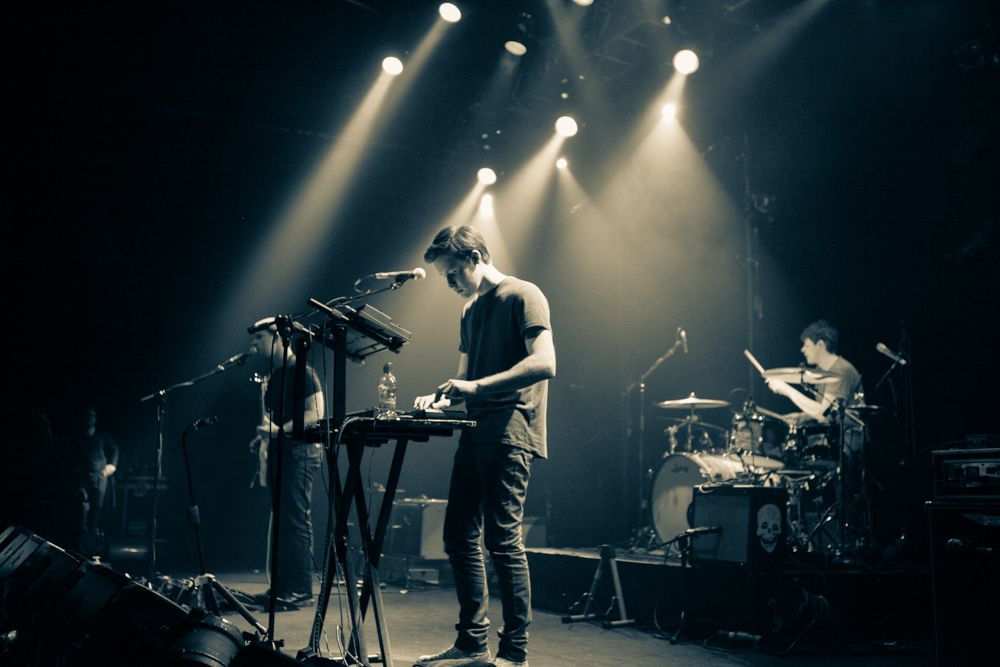 Like all mythologies, this one is probably a bit exaggerated and simplistic, but frontman Micheál Keating is the first to admit there's something to it. Referring to that shed, and its role in the band's early years, Keating says that "I think it played a big part, it helped to develop our band in a very specific way". Rather than cutting their teeth "gigging around town or whatever and meeting other bands and learning things that way", Bleeding Heart Pigeons were contented to be left to their own devices. "It was more just a very 'alone' kind of way of doing it, we were kind of just mining our way through all this stuff that we liked, and we had lots of time and space to develop which I think was really good for us".
There's many who would seem to agree. Debut album 'Is' was released earlier this year, and even in such a mighty year for Irish music, it already seems something of a stand-out. Over more than an hour of complex, forcefully delivered indie, dealing with some themes of serious depth and darkness, the band mark themselves out as among the most accomplished young acts in the country.
Both 'Is' and previous EP 'A Room in Littleton, Colorado' were produced under the auspices of Virgin Records, to whom BHP signed in 2012. Keating seems pleased with the way the label interacted with such a young band as themselves. "To be honest with you we didn't hear much from them during the album, they sort of left us to our own devices which was really good". The album was recorded at home, so the band proved of minimal cost to the company, who obliged with flying the group to Liverpool to record the pernickety drum parts in a studio there.
Keating says that the band have been delighted with the album's reception. Talking about the fact that the album is already being mentioned in the same sentences as this year's Choice Music Prize, the singer plays down any expectations. "I'm really delighted that people are talking like that. I won't really expect anything or bank on anything but we'll take whatever comes". They've spent time of late touring in support of Andrew Bird, and will repeat the trick with Pixies and Father John Misty later in the summer.
Of course, the influences and forbears standing behind Bleeding Heart Pigeons in their artistry are in some ways a far cry from the usual ingredients poured into a debut rock album. Outside of musical influences, Keating cites the books and philosophy he's read over the years as informing the outlook expressed in the work. He cites existentialists like Sartre and Camus, the more surreal work of Kafka and the postmodern madness of Thomas Pynchon as playing a role in this regard. "I had never been a reader as a child really, so I was sort of delving into classic books, especially modern classics".
These influences, along with Keating's own personal experiences, combine to give the tracks on 'Is' a particular slant. The record has more than its share of isolation and death in the lyrics. More specifically, earlier EP 'A Room in Littleton, Colorado' deals extensively with the story of the Columbine massacre in 1999. As with most of the material to end up in the band's repertoire, it came as a result of deep personal engagement. Keating found himself drawn to the incident. "It was just something that was really compelling, imagining this kind of hypothetical story and imagining what happened. But just being drawn to the darker things, and just being drawn to the potential of a human being, you know? … the guy was the same age as I was at the time I was writing it. I wouldn't say I was murderous or anything like that, but it was just a compelling story".
The material which ends up in the songs is normally a result of Keating's own experiences and perspectives, he says, but he believes also that the other members of the band appreciate what he's getting at. "It's more my own personal kind of expression", but "the three of us have been under such similar conditions together for such a long time that I'm sure it speaks to the two guys quite well as well, and I'm sure you can tell that as well in the way the music gets played".
This engagement does seem to result in something that increasing numbers of people can identify with and appreciate. Keating says that for now, the aim is simply to get the music out to more audiences, while making moves towards a second album. Bleeding Heart Pigeons appear at Body & Soul this summer, and Keating agrees that Irish music as a whole is in fairly decent nick, even if they themselves remain in some sense at a distance from it. "I'd say that Irish music is really, really thriving at the moment. I wouldn't say I feel very part of it, but I'm proud to be generally kind of part of it". A relative isolation has always been important to how the band operate. It hasn't hurt them yet.