Post-punk emerged, naturally, from punk, and has proved to be one of the most enduring and influential strands of rock music. The very first post-punk bands tended to be punk bands that slowly developed their sound away from the intense guitar playing style into a more sophisticated genre that explored moods beyond the anger of punk. Key post-punk bands include Joy Division, U2, The Cure, Echo and the Bunnymen, Bauhaus, The Fall, Gang Of Four and Siouxsie and the Banshees.
Although post-punk itself begin to lose prominence during the '80s, it did provide the starting point for many other sub-genres in rock and electronic music, with alternative rock, Goth, industrial, new wave and post-hardcore all stemming from the original post-punk movements. Post-punk also experienced a revival in the '00s, with bands such as Editors, Bloc Party, and Interpol exhibiting many of the traits associated with post-punk bands.
As a genre that was quite experimental, it is difficult to pin down what constituted a typical post-punk sound, but there are several characteristics that are associated with the genre. Post-punk bands tended to have very prominent rhythm sections with basslines that did more than just fill out the sound, and often carried the main melody. Guitars regularly used distortion and often used riffs and power-chords rather than fuller chords. Synths, which were relatively unused in pop/rock music up to this point, were utilised to great effect, and lyrics were generally political and quite poetic.
Below we take a look at just ten of the numerous brilliant albums that were released during the initial post-punk period of the late '70s and early '80s.
1. Joy Division - 'Unknown Pleasures' (1979)
Joy Division is regarded as the quintessential post-punk band, despite their short career they are widely regarded as one of the greatest alternative bands ever. 'Unknown Pleasures' was the first full-length album released by the band and is a stunning collection of brooding post-punk tracks.
High, melodic basslines anchor the band's sound, while airy guitar riffs and breathless drums combine with some excellent production to create a wonderful sense of space without sacrificing any of the band's punkish intensity. Ian Curtis' brooding vocals and poetically heartfelt lyrics infuse the album with a wonderful emotion and energy.
The band went on to release just one more album before Curtis' death in 1980, aged just 23. The remaining members of the band went on to form New Order who achieved greater commercial success than Joy Division, but never quite recreated the same aura as Joy Division had.
Key Tracks: Disorder, She's Lost Control
2. The Cure - 'Seventeen Seconds' (1980)
Shedding the brightness and relative catchiness of their debut 'Three Imaginary Boys', 'Seventeen Seconds' saw The Cure develop the dark and gloomy sounds that were to characterise the band's sound for years to come.
Sparse and bare, 'Seventeen Seconds' is very much an atmospheric album that moves slowly and deliberately with a tight rhythm section, that revolves around single notes from the synth and distorted guitar riffs.
Perhaps not The Cure's best or most accessible album, 'Seventeen Seconds' captures the idea of the dark and moody strand of post-punk that ultimately evolved into Goth It also marks the beginning of The Cure's growth onto one of the most iconic bands in alternative music.
Key Tracks: A Forest, Play For Today
3. Echo and The Bunnymen - 'Crocodiles' (1980)
Echo and the Bunnymen came from a poppier strand of post-punk, and were able to achieve a good deal of commercial success because of it. 'Crocodiles' is the band's first offering, and it is a delightful and melodic record.
The instruments fit together with ease and find their own space in which to excel. McCulloch's vocals are brash and powerful, radiating energy and excitement. The band released a string of excellent albums after this record, peaking with the marvellous 'Ocean Rain' in 1984. After the high the band petered out somewhat, but have existed in various forms ever since.
Key Tracks: Do It Clean, Pictures On My Wall

4. Bauhaus - 'In The Flat Field' (1980)
Black, gloomy and miserable, Bauhaus were undoubtedly the forefathers of Goth. Hypnotic drums rumble sinisterly and guitars hiss and groan discordantly throughout. Peter Murphy's charismatic baritone screams with fury, but also mutters with malice over the course of this crazed and manic record.
Bauhaus released several other albums throughout the early '80s before breaking up in 1983. Despite their short career, Bauhaus left quite the legacy and retain a cult following to this day. 'In The Flat Field' is a brilliantly dark record that explores the most depressing reaches of post-punk.
Key Tracks: Dark Entries, The Spy In The Cab
5. Gang Of Four - 'Entertainment!' (1979)
Wacky, exuberant and in your face, Gang Of Four's debut offering twitches and moves like an agitated child; Stop-start drums, robust basslines, squawking guitars and, most importantly, the speak/shout vocals create a very liberating sound.
This is an album that says "I don't care about conventions, or rules, I'm going to do what I want to do", and this radical freedom pervades the entire album.
Gang Of Four released another two quality albums, and one not so good one after 'Entertainment!' before dissolving in the mid-eighties. The band reunited in the '90s and again in the '00s, and 'Entertainment!' offers an ideal entry point into the band's music.
Key Tracks: Anthrax, Damaged Goods, Ether
6. Wire - 'Pink Flag' (1977)
Showcasing the more angular and chaotic side of post-punk, Wire's debut album was filled with songs that were incredibly short even by punk standards; often falling short of the two minute mark.
Not that the band leave anything out, every song is filled with catchy riffs and well thought out arrangements, all topped with Newman's aggressive snarl. They just subvert the traditional verse/chorus structure. Ideas are rarely repeated, and songs snap at you in incredibly short bursts. It's weird and wonderful, you find yourself replaying it repeatedly because you can't possibly grasp onto the songs in the brief moments they ring out.
Wire moved onto a more ambient and atmospheric sound after this biting effort, and continue to this day, but they'll be remembered most fondly for this brilliant effort.
Key Tracks: Three Girl Rhumba, Lowdown, Fragile, Mannequin
7. The Sound - 'From The Lion's Mouth' (1981)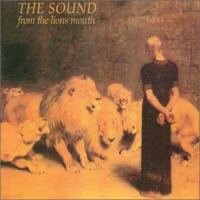 The Sound was perhaps one of the most under-rated bands of the post-punk genre, with a sound that's commonly described as a cross between Joy Division and Echo and the Bunnymen.
'From The Lion's Mouth' is the slicker and smoother follow-up to the rugged 'Jeopardy', with a strong keyboard presence that settles itself cosily between the stability of the basslines and the wildness of the guitars. Borland's singing roars with a rabid urgency, and his lyrics attack with wit and aggression. This is an incredibly strong record, with a set of songs that consistently deliver energy and excitement and bristle with a ferocious intensity.
The Sound's career never did pick up. Label issues and Borland's increasingly severe depression ensured that The Sound never rose above obscurity, and Borland eventually committed suicide in 1999.
Key Tracks: Winning, Judgement, New Dark Age
8. Television Personalities - '...And Don't The Kids Just Love It' (1980)
Television Personalities' debut offering was a delightfully charming slice of minimalist post-punk. Daniel Treacy's upbeat little ditties are surprisingly chirpy for a post-punk record, but there are plenty of gloomy tracks thrown in just in case you're in risk of enjoying yourself. The recording on the album is very lo-fi, but the hissy production just adds to the easy-going and fun nature of the record.
Television Personalities enjoyed a long and prolific lifespan, going on to influence the twee and c86 movements that emerged later in the 80s. Perhaps not fitting in with some of the other bands on this list, TP's loose playing style and quirky songs have all the trademarks of the post-punk genre.
Key Tracks: Geoffrey Ingram, Silly Girl, Diary Of A Young Man
9. The Raincoats - 'The Raincoats' (1979)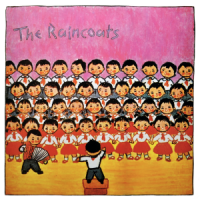 The care-free energy and lacklustre playing that typified the original punk movement is on full display on The Raincoats' debut album, but a slightly slower and more exploratory style places it firmly in the post-punk category. Its wonky arrangements border on collapse throughout the whole record, but despite its seemingly flimsy structure, The Raincoats keep it together and deliver a suitably well-rounded yet, raggedy record.
The band released three equally awesome albums in their original incarnation from 1977-1984 before achieving a revival in the '90s due to Kurt Cobain's fondness of the group.
Key Tracks: Adventures Close To Home, The Void
10. U2 - 'Boy' (1980)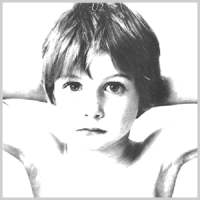 Before they became superstars and before they forced their music into our iTunes libraries, U2 were an exciting young band with a bare sound that was typical of the post-punk movement.
'Boy' captures U2 at their most innocent and fresh-faced, but already their sound hinted at the stadium rockers they would become.
The Edge's guitars hiss with a distinctive distortion, while Bono's powerful vocals soar and yell triumphantly. The band may not be quite fully formed at this stage, but 'Boy' is still a hugely impressive post-punk album.
Key Tracks: Stories For Boys, I Will Follow