Recent years have seen some conversation – and more importantly some action – around gender inequality in music. From an industry perspective, the Keychange initiative aims to see music festival line-ups achieve a 50:50 gender balance by 2022. Dublin's Hard Working Class Heroes festival has signed the pledge and the initiative is endorsed by the Irish Music Rights Organisation. From a fan perspective, groups like Girls Against and Safe Gigs for Women in the UK were set up to tackle sexual harassment at live shows.
While this progress is welcome, it is clear that the kind of social and cultural shift we need to see in and around the music industry is not one that will happen overnight. Instead it is one that requires targeted and sustained support systems, for creators and consumers alike.
Angry Mom Collective is one such support system.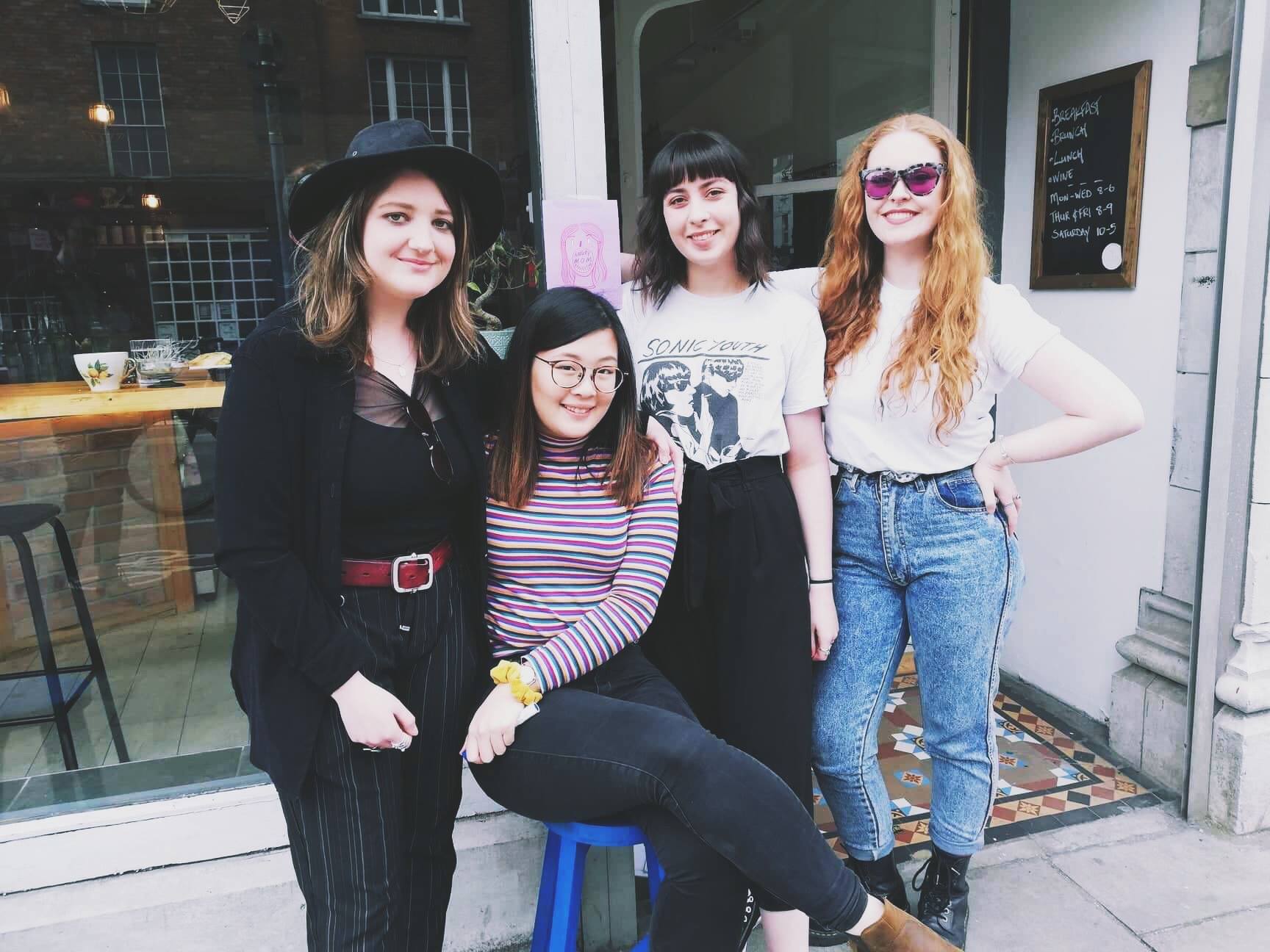 Angry Mom Collective, left to right: Abbey Blake, Shirley Lam, Caoimhe Coleman, Ellen Franklin
Newly formed and Cork-based, Angry Mom Collective aim to raise awareness of and address gender inequality in the music and art industries. Sadly, it born out of the members' own experiences of sexism. Abbey Blake, founder of the collective and member of local band Pretty Happy, found that while gigging on the live circuit she was treated differently than her two male bandmates. Sound technicians would take liberties in re-tuning her instrument, assuming she wasn't capable of doing so herself. Staff would request the backstage greenroom be vacated, because "no girlfriends allowed".
Knowing something needed to be done, but busy with gigs and student life, one particular incident spurred Abbey to take action. "I went out for a second after playing a gig to put stuff in the car, and when I came back to get my amp the bouncer stopped me and was like 'get out, bands only; get out'. I was like 'yeah I just played the gig I'm getting my gear' but he just said 'no, get out'. So Arann [Abbey's bandmate and brother] had to be like 'come on, she's in the band' and [the bouncer] then apologized to Arann, not to me."
Having learnt from friends and peers in the industry that this was far from an isolated incident, it proved the catalyst for recruiting Shirley, Ellen and Caoimhe to come together as Angry Mom Collective.
Having held a number of positions in the UCC Music Society, it was a musical household that originally fostered Shirley's love of the arts, "Mam would say when I was a kid I'd be sitting in the supermarket in Hong Kong at three years old, swinging my legs, singing along to Westlife" she recalls fondly. Ellen immersed herself in the local music scene from a young age and could often be found helping out on the door or taking on roadie duties for local bands, "that's kept up with me to this day; I always try to go to local gigs because supporting local talent is really important to me".  Caoimhe was 2018/2019 PRO of UCC Music Society and the Music Editor of UCC Express.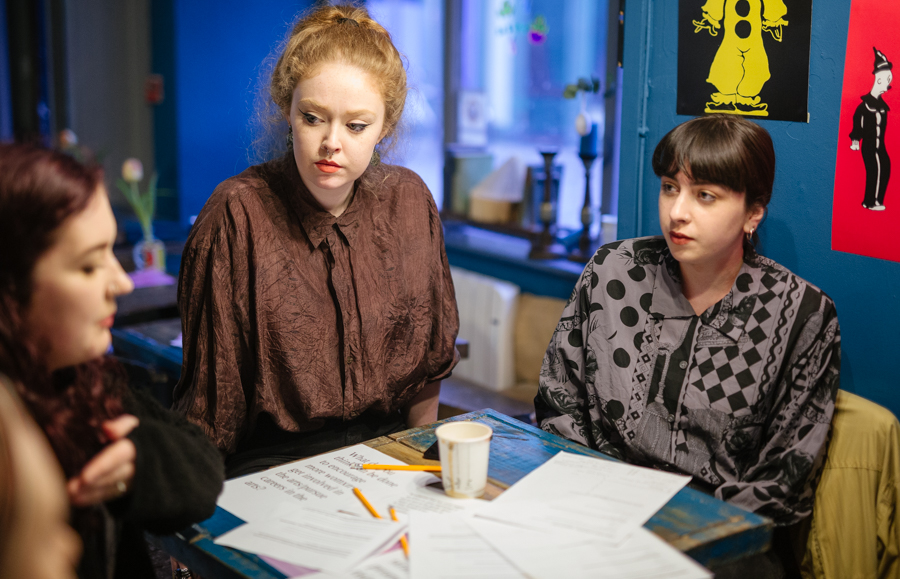 Together, they share a passion for making music and the arts as kind and inclusive as possible. "I want to help young artists starting out, even going to sound checks with them and stuff if they're afraid and can't get their voice across, I want to mind people in the industry, we'll be your moms, you know?" Abbey explains. "We don't want young girls to feel the way we felt when we were teenagers, being like 'what's the point of being in a band, nobody will take me seriously I'll just be looked at as a gimmick because I'm a girl in music', we don't want people feeling like that anymore, because it's so outdated" adds Ellen.
The collective isn't solely music-focused either. Having noticed a trend of women feeling disempowered and in need of recognition and support within other creative industries, Angry Mom Collective decided a broader arts-focus would be more fit for purpose. Similarly, they're eager to make space to collaborate with and support LGBTQ+ artists and creatives. "We really want to expand into the LGBTQ community as well; it's not just about women, it's about queer people, non-binary, trans – we really want to be part of the queer community here" Abbey explains "It's not just for women, it's for people who feel like they can't speak up" concludes Ellen.
It's imperative people understand they have the power to foster this culture of respect in their own communities; be that on stage or off. "I make sure when we gig that there's a safe environment, and if I see someone having trouble in the crowd I've no issue stopping a gig and being like are you alright, cause there's chaos that goes on sometimes" offers Abbey as an example. "It's small changes, your attitude … Everyone in the arts community is working hard because you have to, it's a hard industry to get into be it a career or a hobby, it's so hard, so just go in and support people no matter if they're a girl, if they're queer - and call people on bad behaviour."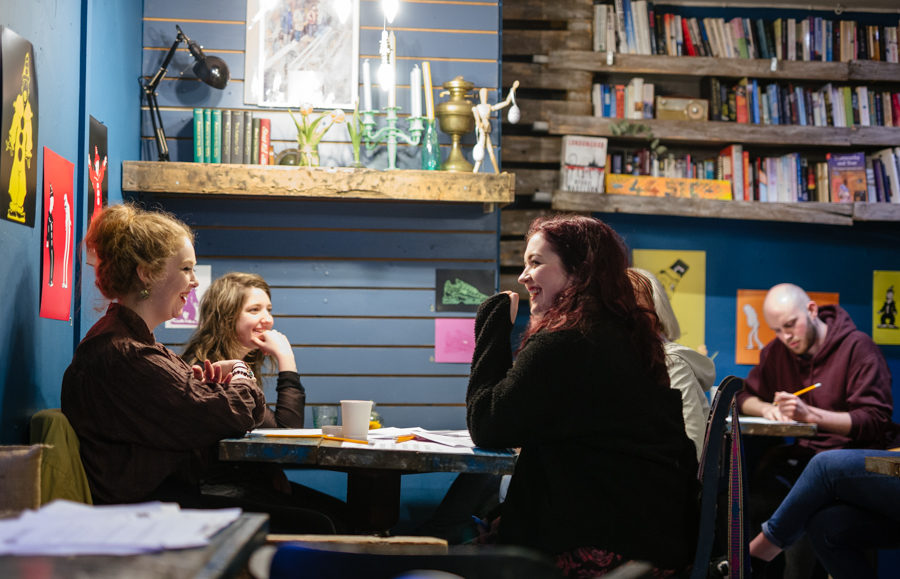 The collective have already held a number of successful events, including table quizzes and a night of acoustic music with Elaine Malone, Laura Duff, and Electric Limes in aid of Sexual Violence Centre Cork. "The response has been phenomenal, everyone reaching out saying yeah this was needed on the Cork scene."
Many more events are in the pipeline; July will see a collaborative event with Boundless & Bare for a night of poetry, spoken word, and comedy and an art exhibition in the Friary showcasing Cork-based artists Alex Paradisi, Martha Lyons, and Emer Kiely who designed their striking logo (July 18th).
Angry Mom Collective have big plans, but recognise change will come gradually, as will the trust and support of the community. "We have big ideas, but we do have to take things slowly since we don't want it to be a burn out kinda thing – we want it to last and actually make a real difference on the scene."
Watch this space.
Angry Mom Collective are on Facebook, Instagram and Twitter. For events and updates check out their new website www.angrymomcollective.com. Email or DM them for information, advice, collaboration proposals etc.