"If I decide it's exciting, it's exciting" says Conor Adams, towards the end of our conversation. It is a very simple refrain but one that sums up this duo's approach to music. All Tvvins are in it to make music that they enjoy and if you are along for the ride – great. If not, they won't lose any sleep over it.
"All my favourite bands, their albums are always different. That's beautiful because you can go back to the record if you're in the mood for it."
"I think if we had of played it safe and taken the risk of recreating the first album we would've been fucked," adds Lar. "Because it probably would've sounded crap. It's like the transition from our old bands into Tvvins – we're not just gonna do the same band again so from album to album we've got to entertain ourselves"
"I'd hate to do the same album again. There's no point in doing it," Conor agrees.
One way of insuring that new album 'Just To Exist' was different, whilst remaining true to themselves, was to work with a new producer. In this case All Tvvins have brought in James Vincent McMorrow, who they had previously worked with on the stand-alone single Alone Together. This time around the collaboration was 'mostly by email', with limited time in the studio.
Initially, McMorrow challenged them to outdo Alone Together, but the results – Hell Of A Party –planted the seeds for a much bigger collaboration.
"James got onto us a few months after, and said did we want to do another song. Were we up for beating that song (Alone Together)). He has a room in the Concert Hall, and we went in there and did Hell Of A Party in the space of two days."
The pair were blown away by McMorrow's work ethic and attention to detail. "I'm gonna say he's a visionary, that sounds kind of cheesy, but it's true," says Conor. "Because he's an artist he plays all the instruments, he sings, he's got that voice but he's so good at production as well. He just knows cool sounds. He's very tasteful and that's something we've learnt and are learning from him."
The prospect of working with McMorrow further was just too good to turn down. "It was a no-brainer. We did Hell Of A Party and it sounded really good and it was easy. He said: 'I'm free January- February if you wanna do an album.' So we said 'great'.
"We went into James' place in January last year" says Lar. "There was no messing about. It was very much head down let's make this happen." These sessions were followed up by some time in Herbert Place Studios to complete "real drums and vocals".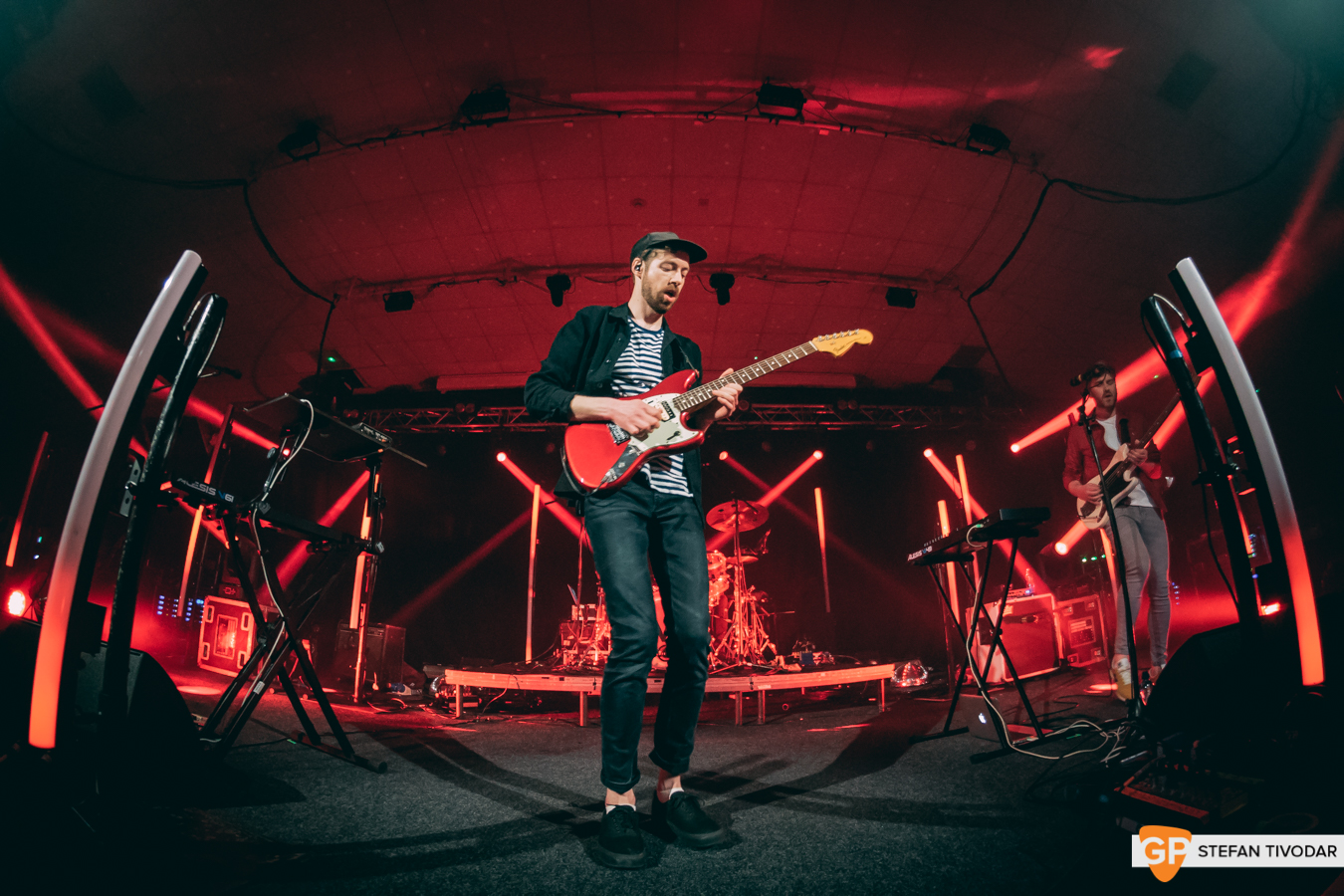 "I always thought me and Conor worked hard at what we do, but then working with James it was like alright, I need to up my game by one million percent," says Lar. "You're meeting somebody who's properly on top of their game."
"I think it's working hard, versus working smart," adds Conor. "I utilise my time with more care now. I realised there's no time to waste. Since this time last year, I don't really do anything other than music. Before that I would play computer games as downtime. Now as downtime, I just do more music. I started learning piano. That's my downtime. If I'm not doing that, I'm on logic looking up new sounds. That's my spare time."
Despite all the praise for James Vincent McMorrow you may be surprised to learn that they didn't hesitate to leave Alone Together off of their new album. "No," says Lar. "Because the initial goal to working with him again was to beat that. Everything needed to be better than that".
"There's three singles between the album, none of them were ever considered next album, they were always just us exploring new sounds," adds Conor.
"In-between an album you don't want to leave too much space where you're not doing anything. You're always doing things behind closed doors, but you don't want to leave it too long for people outside the band." Noting that one of those singles, Crash, is "way more different than our new record and I think our fans accepted that quite easily."
All Tvvins' new record 'Just To Exist' is a groovier amalgamation of the sounds presented on their debut album – with more emphasis on synths than distorted bass and guitars.
"We went with our gut," says Conor. "An album is a snapshot in time. The first album is how we felt about music at that time, when we got into a room that's the kind of music we wanted to make. And this time it's 2-3 years later, we're in a different place musically."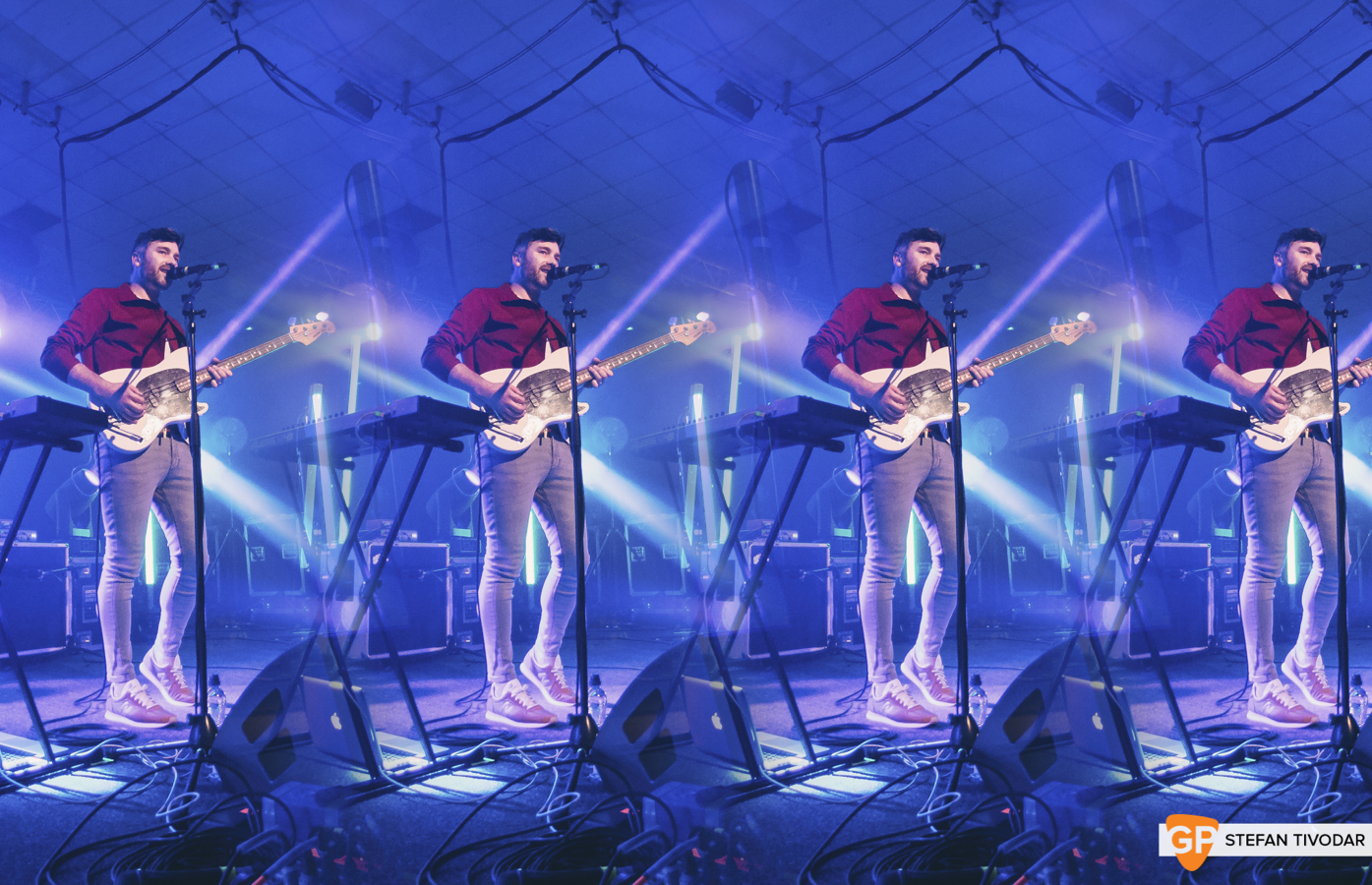 "We didn't want to do the same album again there's nothing about that that seemed exciting to us" says Lar. "There's nothing radically (different), all the same elements were used to create it. Maybe it's a little less distorted but that's what we were gravitating towards – we didn't bring in all this extra equipment. I think it was more the combination of what was being written in the room and we trusted our instincts. It's definitely got a different feel and a different atmosphere about it, but isn't that what people want from an album?"
Conor describes 'Just To Exist' as being "cleaner, more textural" than its older brother, and explains that main difference in approach is "we used a lot more synth," adding that "James played a lot of Prophet on it and it definitely colours it in a different way."
One of the standout track on the album is Warm Crush. "Warm Crush is the most unlike us we've sounded," says Conor. "I find that one of the most interesting songs on the album."
"I think it's a track that if we heard it from someone else we'd be like:'fuck I wish we'd have done that,'" adds Lar.
Apart from the increased amount of groove present in the current incarnation of All Tvvins one other notable addition to the band's sound is their willingness to embrace acoustic renditions and reimiaginings of their material – a process which has thought them things about their own music they never previously understood.
Conor admits that learning piano gave him a good excuse to say: "Hey let's piano up a song or two" but explains that the process can "colour in another dimension to a song."
"I think it shows of the song when you strip back the elements of production, the layers." says Lar, before explaining that you learn more about the song by re-examining it from a different perspective. "…recording it you're focusing on your part, what you're adding to it, but stepping back from it afterwards you get to see it as a different thing." However, they are quick to note that it is not as simple as transferring chords from one instrument to another, it's a more intricate and considered process.
"For Hell of a Party I shifted it down from the original key a tone or two, so I'm singing with a completely different part of my voice.  If you A and B them they sound absolutely different" adds Conor, before going on to explain the thought process behind recording these acoustic versions. "We do acoustic sessions sometimes for radio and you spend all this time and effort making these versions and then we play them for a few people and nobody else hears them. So why don't we record them?"
One of the other standout tracks on the album is their collaboration with Sorcha Richardson, No One Is Any Fun.
"There was a period in the album (process) when we knew that we needed a different type of track," explains Lar. "It was always something me and Conor talked about that it'd be really cool to have a female vocal on a track."
As Conor previously stated in this interview his down time is now music time and one of these outlets in tandem with recording 'Just To Exist' was writing songs with Sorcha Richardson, "just for the hell of it."
"As Lar said, we'd 8-9 songs for the record, but it was missing an element of delicacy. So, I went home that night and I was listening to the songs I'd written with Sorcha and I was like – shit, this song. I sent it to the guys and they both said yes this is the thing we were talking about. Lar and James got into it and reimagined it. It's one of my favourite tracks on the album
"We didn't want to do that duet thing 'cause our voices are very different, so a duet would be very off putting, but our voices together work like me and James on Alone Together."
Having successfully collaborated with both James Vincent McMorrow and Sorcha Richardson to date, surprisingly the duo are both open but simultaneously hold some trepidation towards working with others.
"I don't think it's something we'd be against, there's only certain people who would suit you but you don't even know who they are until they try," says Lar. "We've both done writing sessions with other people and sometimes that spark's not there and it's tough to drag a song out."
We suggest Bono might be a good bedfellow as he's on record as being a fan having sent both members personalised messages during their recent shows in the 3Arena.
"It was really weird, but nice thing to get. I was blown away by mine. 'Conor thanks for coming or whatever' I'm like wow this is deadly and then the Lar went the next night and sent me text saying check out my message."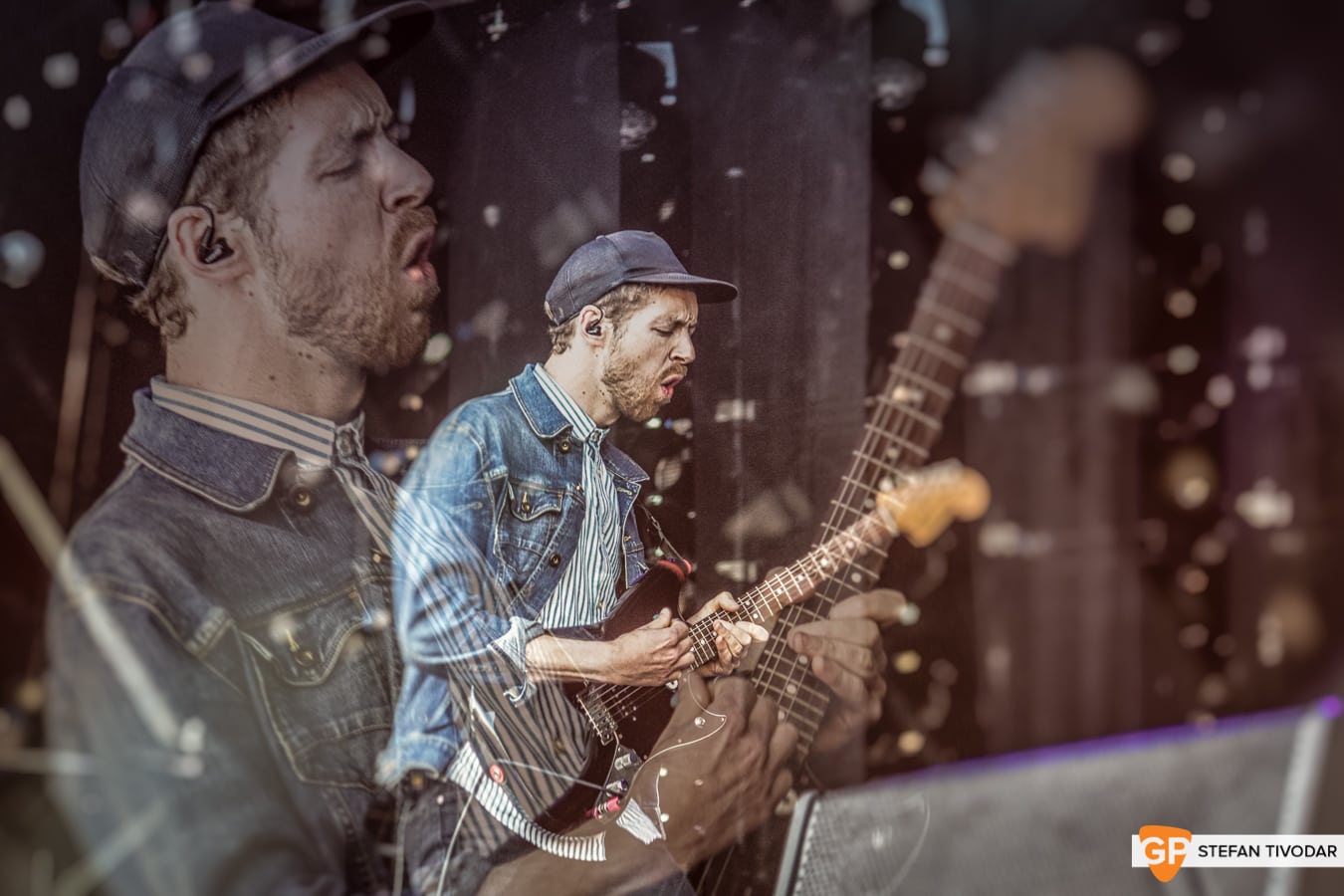 "To Lar, I feel a presence in the building is it you? – Bono" says Lar, laughing in disbelief. "It was definitely a moment, just thinking back the route you take in life starting these bands, spending hours alone working on computers. A moment like that, you don't expect. It's wild (to be on someone like that's radar) It's just something that you can't anticipate. It's also a cool moment to stand back and take it in, I'm doing something right."
"I think it was quite simple. The album was self-titled and that was our logo," says Lar, still slightly baffled at people's inability to pronounce their debut album LLVV. "You just call the album All Tvvins," says Conor. "What confused me about people being confused about it is our logo is LLVV and the two Ls are from All and the two Vs are from Tvvins. We were kind of playing off of the roman numeral, but there is no Roman numeral LLVV we checked. It definitely confused people, but it looks cool as shit.
"We still have people asking how to pronounce the name of the band. So, it's nice this time to just be able to say the album is called Just To Exist."
All Tvvins - Live:
May 16 Thu - Oslo Hackney London, United Kingdom
May 17 Fri - The Deaf Institute Manchester, United Kingdom
May 18 Sat - King Tut's Wah Wah Hut Glasgow, United Kingdom
May 19 Sun - Hyde Park Book Club Leeds, United Kingdom
May 22 Wed - NOCHTWACHE Hamburg, Germany
May 24 Fri - Gare de Lion Wil, Switzerland
May 25 Sat- Zehner München, Germany
May 26 Sun - Chelsea Wien, Austria
May 27 Mon - Kulturhaus Karlstorbahnhof (K-Klub) Heidelberg, Germany
May 28 Tue - Blue Shell Köln, Germany
May 29 Wed- Paradiso Amsterdam, Netherlands
Jun 22 Sat - Irish Independent Park Ballyphehane, Ireland
Aug 3 Sat - INDIE19 Festival Cork, Ireland
Oct 10 Thu - The Spirit Store Dundalk, Ireland
Oct 11 Fri - INEC Gleneagle Hotel Co. Kerry, Ireland
Oct 25 Fri -Wexford Spiegeltent Festival Wexford, Ireland
Tickets here.