Here's a Beginner's Guide to this Year's Longitude line-up, from the perspective of a so-called Millennial.
Almost as unsurprising as the Grammys caving to corporate greed, clamouring echoed and outrage sparked immediately after the first wave of Longitude acts were announced. Dad and lad rockers bemoaning the glaring lack of guitars, social media posts lamenting the harrowing banality of anything that isn't four mostly average white male musicians strutting about a stage with guitars, and, of course, scissors.
Since Longitude's inception in 2013, the popular music landscape has shifted considerably, drifting evermore towards a hip-hop dominated mainstream. This including pop and EDM that derives elements of hip-hop - namely drum patterns, atmospherics and aesthetics. The inaugural Longitude line-up was from top-to-bottom devoid of a hip-hop or rap act, with 2014 offering just Joey Bada$$. Though indie-rock was still considered to be the festival zeitgeist, it was on an irredeemable downwards slope.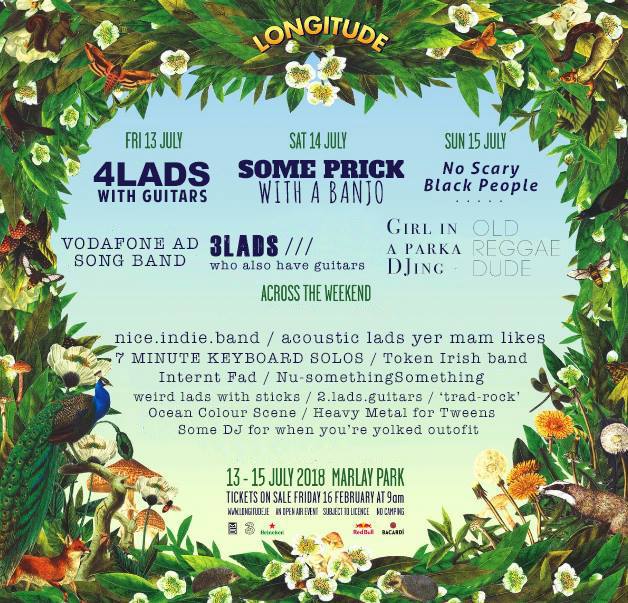 This summer's line-up and its heavy rap and R&B flavour are not surprising, it's quite the opposite. Three out of five of the world's most streamed artists last year on Spotify were categorized as hip-hop or R&B; Kendrick Lamar, Drake and The Weeknd.
Compared to most forms of modern rock, hip-hop is still in its infantile stages - continuously splintering and sprawling outwards - with untitled corporeal sub-genres born every other month in the murky depths of Soundcloud. A new-wave of trap and Soundcloud rappers are being heralded as the new punk, though, rock purists are likely to disagree. Their unfiltered, blithe approach to music is analogous to the early beginnings of punk-rock, a new generation of rap-stars with no affiliation to rap's founding fathers, their lyrics or their sounds. As a matter of fact, they're often apathetic and distance themselves from the culture.
What Longitude has arrived with, however, is an approachable, chart-oriented gallery of modern pop-culture, where ticket-sales, youthful fandom and common-sense have commissioned the entire collection.
Trap music, if you're unacquainted, is the gritty Atlanta take on gangsta-rap defined by heavy, snarling, and sometimes stuttering 808 kick-drums, complemented with stark piano keys or eerie synths. This enveloping sound is now ubiquitous, whether Kaiser Chief stans want to admit it or not. Three of trap's bona-fide stars will take over Marley Park in July.
No group has commanded pop-culture's gaze since the turn of the decade more so than the Migos, a trio of magnetizing Atlanta trap-rappers whose indent on hip-hop culture, and mainstream culture at large, is irreparable. Their sophomore album went platinum within months, hits such as Versace, Bad and Boujee and T-Shirt spun viral, Donald Glover heralded them as the "beatles of this generation" during a Golden Globes acceptance speech, they deconstructed and repopularized the now played-out stoccato triplet-flow and, of course, they made famous the indisputably god-awful dab craze.
Helping to usher in the commercialization of an entire sub-genre and producing unshakeable hit-after-hit-after-hit is not something to be snuffed at, even if their full-lengths have left much to be desired. Expect flamboyant designer garments, layers of lead-heavy golden chains and crowds of young people in a trance. 6lack is another Atlanta artist that you can expect to draw crowds. The singer-rapper will spoil the crowds with his moody, emoji-generation brand of airy hip-hop.
One of last year's most popular songs, Rockstar, is attributed to Post Malone, who coyly balances an accessible blend of country melodies and pop with trap atmospherics. Post Malone himself sprang from YouTube stardom to stamp his mark all over modern hip-hop. His meteoric rise is telling of the encroachment of rap in the Top 40. Malone remains a cross-section of some of the more easily digestible hip-hop sounds and tropes, his catchy brand of pop-rap will likely provide for one of the festival's larger turn-outs. 
Headliner Solange is one of this oft-beleaguered generation's most expansive artists, no longer reserved to simply being 'Beyonce's sister', she has arguably out-scaled her famous sibling's artistry. Her colossal, lung-puncturing live set stokes ethereal fire into her stunning album, 'A Seat at the Table'. It's a seminal piece of work, and Swan Lake levels of mechanized choreography terraform her heavenly album for earthly consumption.
Travis Scott, who has transcended underground autotune-drenched ennui-trap for pop-rap balladry, is another of the weekend's headliners, spearheading Saturday's list of acts. An associate of Kanye West, the producer, rapper and autotune crooner is renowned for anarchic live performances.
Less animalistic and more socially conscious is Jermaine Cole. Just months after playing to a sold-out 3 Arena, J. Cole, as he's better known, returns as the Friday headline act. One of mainstream rap's most celebrated lyricists, he treads the line between the thoughtful and the didactic over traditional sounding and self-produced beatscapes.
One of the most attention-grabbing first-wave acts is Anderson Paak. Joined by his band, The Free Nationals, Paak & co will transport you to a myriad of different musical eras and moods; funk, neo-soul, buttery R&B and soul-inflected hip-hop. There's feverish anticipation for his upcoming album and he's shown to be a steadily improving as an artist, and luckily for Irish crowds, as a performer. This after all, is an artist who sold-out Dublin's Academy (a side gig when he was touring support to Bruno Mars) to perform only 3-songs during the summer, something ticket buyers knew upon purchasing.
Closer to home, there are some other UK acts worth checking out. Viral rapper Big Shaq makes an appearance, along with deadpan spitter and grime mainstay Giggs. J Hus is a must-see, more robust than much of his grime rivals, he is multicultural London as an open-ended instrument. He broke into popular consciousness after the release of his debut album 'Common Sense' last year, an unsanctimonious splash of dance-hall, hip-hop, afro-beat and R&B. This charming, polyrhythmic mixtape has hits that will catch your ears, and swindle your feet, as you dawdle inebriated across Marley Park.
Sampha is James Blake if he ditched much of the glitchy electronica and dived further into skeletal singer-songwriting. Each time you listen to his full-length debut 'Process', you peel back further layers of his tender-hearted genius. His voice is singular and fans will hope his shatteringly beautiful vocals, with the aid of a grand piano, will help transcend the festival setting to make you feel warm, and comfortable, like a Sugar Club show.
In a similar vein, Birmingham born Jacob Banks possesses a rasping, full-bodied and meditative soul voice. Mabel makes sultry electro-R&B and will be the ultimate show for those looking to shower in sheer pop bliss as they, hopefully, bake in the Irish sun.
The unintentional hilarity of Lil Pump - modern hip-hop's most memeable persona, from his pink dreads down to his unapologetic hedonism - makes his show, without doubt, one posed to make waves. If not for the unbridled adolescent (yes, adolescent, Pump is just 17-years-old) fury and energy then for irony, or strange morbid curiosity if you think "real" rap is dying or dead.
Trap-flavoured super-hit single Bodak Yellow helped see Cardi B become just the third act – and the first rapper – to place her first three Billboard Hot 100 entries in the US charts top 10 simultaneously, joining only The Beatles and Ashanti in achieving the feat. The new queen of chart rap will be on the radar of most attendees.
Refreshingly, there is much greater gender representation in this year's line-up, and Princess Nokia and Ibeyi may well be the weekend's unmissable beneath-the-banner acts. Ibeyi construct boldy expressive and harmonious R&B from the outer-reaches of the soul, drawing from Afro-Cuban roots, their soulful, soothing jazzy soundscapes have enough modern electronic nuances to beguile.
Destiny Nicole Frasquieri, as she's known to her parents, is a idiosyncratic New York based rapper whose '1992' mixtape was reissued last year on renowned indie-rock label Rough Trade as a full-length. What resulted was one of the most honest, geekily fantastic tapes of the year, pirouetting with ease from dusty, soul-sample '90's beats to gleaming trap production, all the while rapping with a stirring self-confidence about mysticism, her local Bodega, and gender politics, specifically Tomboy where she repeatedly quips, "With my little titties and my fat belly". Her riotous live-shows are well documented; don't miss it.
Tyler, the Creator is Saturday's must-see act. His latest album signalled a newfound maturity, emotionally rich and texturally beautiful, the de facto leader of the now-defunct blog-rap collective Odd Future found a new lease of life. A combination of heartfelt lyrics and warm synth-rap will shine, along with some of his older more deafening shock-value tracks, ones which earned him the attention from the British government in 2015.
Former Odd Future crew member Syd fronts The Internet, a talented group of multi-instrumentalists. Music writer Craig Jenkins referred to their last album's sound as "tight, hooky hip-hop soul", and its difficult to navigate their sound without understanding their hip-hop and soul fundamentals. They constitute the closest thing resembling a guitar-band over the weekend.
Pop prodigy Khalid, recently turned 20, will also feature during the weekend. He visits Ireland off the back of a breakthrough 2017, which saw his music video for Location amass over 200 million views on YouTube. His take on R&B is not quite as intricate or nuanced as Sampha, but his endearing and buttery voice will make for a exuberant live-set full of sing-alongs.
There's something for hip-hop and R&B fans across the spectrum; quiet to brash, the fun to the socially aware.
Longitude and its organizers, MCD, have taken a well-informed gamble in an effort to curb irrelevancy, and have delivered. Younger crowds will, for the most part, elude catching the latest LCD Soundsystem or Vaccines' releases, they won't flock to immerse themselves in deep oeuvre cuts from Interpol or The National.
For a generation that holds iPhones aloft instead of lighters, this is a stellar line-up brimming with soaring vocalists, colourful personalities, huge hits and even bigger Instagram potentialities.
Don't underestimate the power of youth.