Welcome to the latest edition of 'Golden Vault', where we delve into the annals of music to bring you a classic album. You'll know some like the back of your hand and nothing of others. We hope to get you reacquainted with old friends and create new favourites. The album to be taken out of the Golden Vault for reappraisal this week is 'The Biggest Prize in Sport' by 999.
It was a hard-edged rhythm 'n' blues and rock 'n' roll lineage that led to the birth of what was known as pub rock, a singularly British phenomenon. Dr. Feelgood constitute the archetypal pub rock band for many, a band that brought with them a bit more musical muscle than the punks and who also looked like the toughest bunch of hard bastards you've ever seen. They were also an outfit that proved highly influential to both their mid-seventies contemporaries and a slew of bands that followed.
Pub rock was predominantly a 'live' scene - not to mention a skin-toughening apprenticeship - with reputations made and maintained onstage more so than on record. Let's face it, most people are more familiar with the subsequent careers of Joe Strummer and Nick Lowe than they are their fledgling pub rock days with The 101ers and Brinsley Schwarz respectively, bands whose reputations have proven more resilient than their record sales. Pub rock then, while a seemingly disparaging term, proved a fertile seeding ground for what was to come. Without pub rock, we wouldn't have 999, and we wouldn't have 'The Biggest Prize In Sport'.
999's singer and guitarist Nick Cash previously played in Kilburn & The High Roads, Ian Dury's first band before he went on to form the more successful Blockheads. The Kilburns were one of the more prominent groups on the pub rock scene along with the not-to-be-fucked-with Dr. Feelgood, although as Dury later admitted, "The Kilburns made two albums, but they were both the same". Guy Days had a more peripheral engagement with The Kilburns, playing as a session guitarist on occasion, but it was through Dury's band that he and Cash joined forces, recruiting bassist Jon Watson and drummer Pablo LaBrittain to complete the quartet.
After dispensing with some potential band names - 48 Hours (a self-fulfilling prophecy of failure waiting to happen), The Fanatics (not bad), and The Dials (used by a Brighton band 26 years later, whose Gordon Russell, incidentally, had tenure with Dr. Feelgood in the '80s) - the band settled on something more aesthetically eye-catching and already ingrained in the public consciousness: 999.
After the I'm Alive, Nasty Nasty, and Emergency singles were fired out in quick succession over '78/'79, the '999' and 'Separates' albums followed, similarly speedy, by which time the group were well-established on the live circuit. The turn of the decade kicked off with a bit of bad luck for Pablo LaBrittain, though, who broke his arm in some form of automobile incident, leaving the drum stool free for the then-seventeen year old Ed Case (sadly, not his real name) to ably occupy.
With a sleeve featuring the band - with both drummers accounted for - strewn about a school gymnasium, at first glance 'The Biggest Prize In Sport' exudes a sense of mischief and youthful arrogance, but its songs contain some much darker themes alongside those initial primary-coloured  impressions. Upbeat pop punk, new wave and reggae influences come together in what actually comes across as quite an austere sounding record – there's little flab on these skeletal tracks; no over-production, no frilly drumrolls or fret-wanking guitar solos. This is the work of a band who play what's required and no more – taut, crisp and concise in the way that XTC's 'Drums and Wires' was. Pub rock audiences won't stand for any pretentious fucking around.
English Wipeout seems to take the baton from The Clash's apocalyptic London Calling, expanding the geographic parameters - it's not socio-political strife blitzing the territories, though, it's 999. Inside Out is a more overtly paranoiac tale of life on the street, "Living out instead of in/ Drinking tea and paraffin", whose dying shout leads into the ska-inflections of Trouble and an equally suspicious "Always looking over your shoulder." Menacing in tone, they're executed with a lean intent.
The band look beyond the UK with the post punk guitar of Hollywood, tracking back east across the States with Boiler - an ode, apparently, to "transsexual shemales in Detroit" containing the untouchable line, "When she talks, it's in the wrong key." Fun Thing moves from a slightly sinister verse into one of those melodically infectious choruses that dot the album, before crumpling in a rattle of snare rolls. Stranger takes them on a more existential route set to one of the record's racier tunes, "Here I go/ Oh no no no/ I'm a stranger/ In a strange land."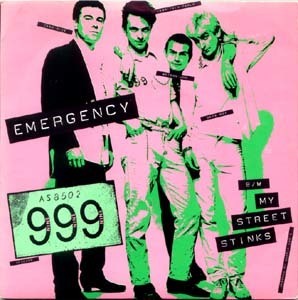 The album's title track has the band ostensibly singing about hard ons ("When I wake up in the morning/ Or when I go to bed at night/ Suddenly without warning/ You know it makes me feel alright"), although we're fond of the song's entry on misheard lyrics site kissthisguy.com, where a guy's girlfriend has 999 surmising that "Jesus Christ is borsch." And you thought Stranger was philosophical? There's a thread of humour that runs through the entire record, permeating practically every song and melody, accentuated by the delivery of Cash and Days' vocals. "And you don't even like my music/ And you say I'm much to rude" is tossed dismissively with a chuckle to the headwrecker on a playfully constructed Stop! Stop! It's a middle finger to the naysayers – actually, two fingers, that's more 999's style.
LaBrittain got his drumming arm and his drum stool back for the 1981's 'Concrete', while young Ed Case joined Hazel O'Connor on her 'Cover Plus' album that same year after his first rate apprenticeship with 999. 'The Biggest Prize In Sport' is no sloppy entry on any drummer's CV. 999 continued to release music through the following decades but subsequent albums couldn't match the crackle of their 1980 classic. That's the pay-off for touching on pop punk perfection.