"Welcome to Deerfield, welcome to the United States, and welcome to Creative Minds."
Such was the introduction given by Kevin O'Malley, American Ambassador to Ireland, to those gathered in his Phoenix Park residence for the latest event in the Creative Minds series. The series, which has previously featured John Prine, Glen Hansard, Paul Williams, and Ben Folds, aims to continue fostering warm relations between America and Ireland, according to O'Malley. The interview and performance show played host that afternoon to Grammy-winning singer-songwriter Patty Griffin, hailing from Old Town, Maine.
The audience was composed of an eclectic mix – music students, music industry types, and music journalists – each dressed with varying levels of adherence to the smart-casual dress code. In addition were the numerous sound-checkers and camera-carriers, recording the event for RTE Radio's Arena and a documentary on Phoenix Park, respectively. The residence, with its architectural grandeur, its collection of donated sculptures and paintings, and its truly staggering quantity of photographs of Barack Obama, was one of the stranger locations for a folk/country gig you could think of.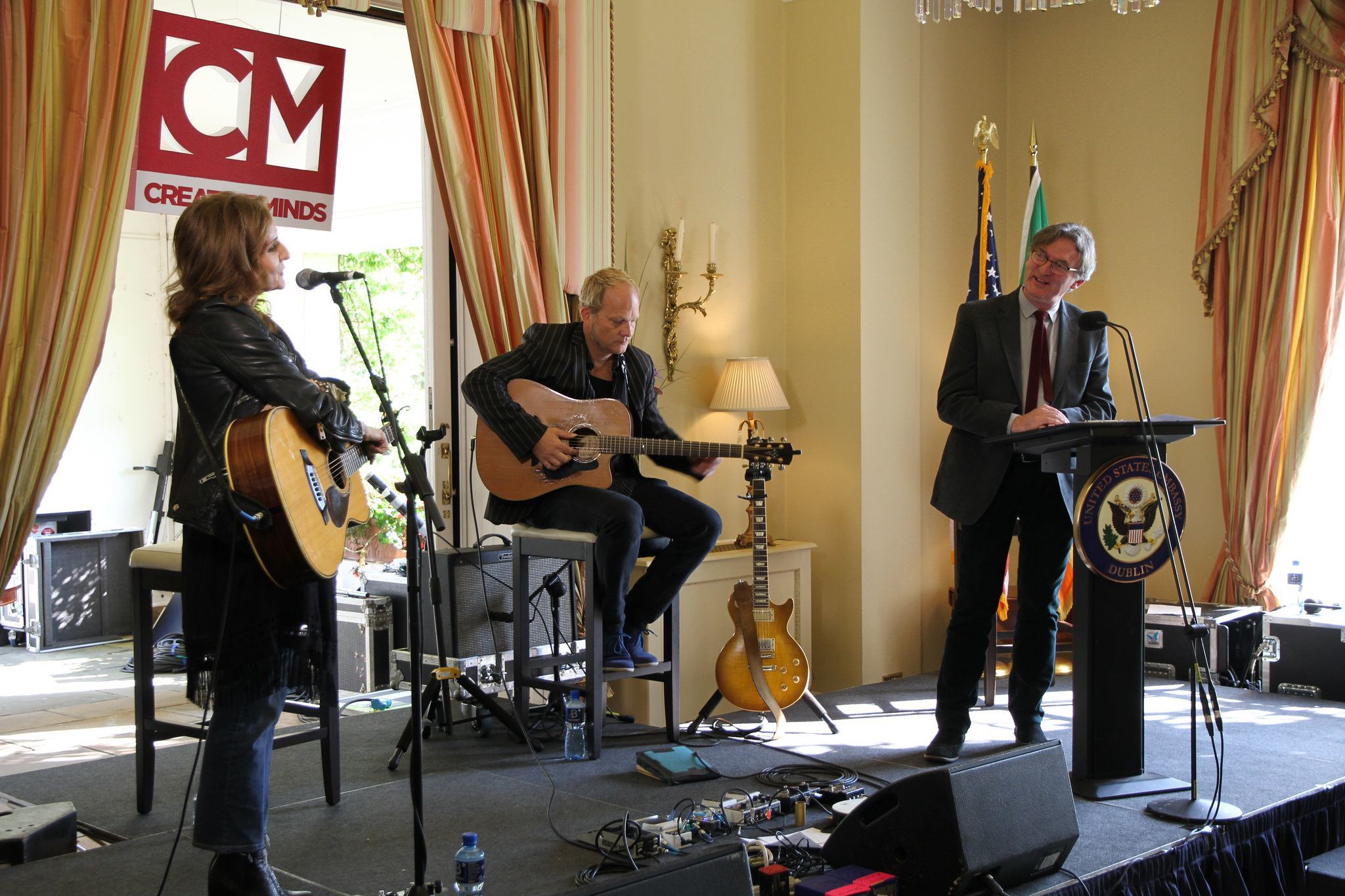 Patty Griffin, the star of the show, has been releasing albums and touring for the better part of twenty years. While she's lesser known in Ireland, she's recognised as a major icon in the folk scene. If the number of times you've been covered is indicative of your artistic credibility, Griffin has it in spades, having had her songs covered by a myriad of acts, including The Dixie Chicks, Bette Midler, and Kelly Clarkson.
The opening of the show was slightly marred by typical set-up confusion. Patty got on stage, before being informed that she was to remain seated until the introductions had finished. Once on stage, she began to play before realising that she and her accompanist were out of tune. Further upsets occurred throughout the show, as they started and stopped playing for the MC to inform her that they were in the Q&A portion of the show, according to the rigid timeframe assigned by Arena. These complications were laughed off with the laid-back confidence of a veteran performer, and only served to add a warm atmosphere to a show that might otherwise have seemed ostentatious or pretentious, given the setting.
Once the technical kinks were worked out, the interview was enlightening. After elaborating on the details of her Irish-American credibility, having two grandparents from Kerry who met eachother after getting the boat to Boston, Griffin spoke of a strong connection between her music and her parents. She described herself as one of the last of a generation that learned how to sing from her parents rather than the radio, as her mother constantly sang. She described her father, to whom she dedicated her album 'American Kid', as a "deep" man, who grew up a smart kid but was always getting into trouble. He went on to be part of the Normandy invasions, after which he became heavily invested in his spirituality; joining a Trappist monastery before getting kicked out, then going on to have seven kids over seven years. Griffin believed her father to have suffered PTSD during the war, saying that he "carried home the trauma" from the battlefield.
As the questions moved on from her personal history to her songwriting, Griffin was remarkably candid. When the MC noted that her recent work cited inspiration from the writings of classic American writers like Emerson and Whitman, she bluntly replied, "That was the biographer's choice. I haven't read them since my 20s." When asked about the depressing and sometimes unpleasant subject matter of her music – she was turned down for advertisements for a detergent brand and Diet Coke for sounding "too sad" – she said that she never intended "to hit raw nerves." Rather, she attempted to be honest about her emotions, admitting that "getting to that place can be a shock." One thing that she hoped was that her songwriting had become progressively more honest: "I hope to get my real self into everything I do."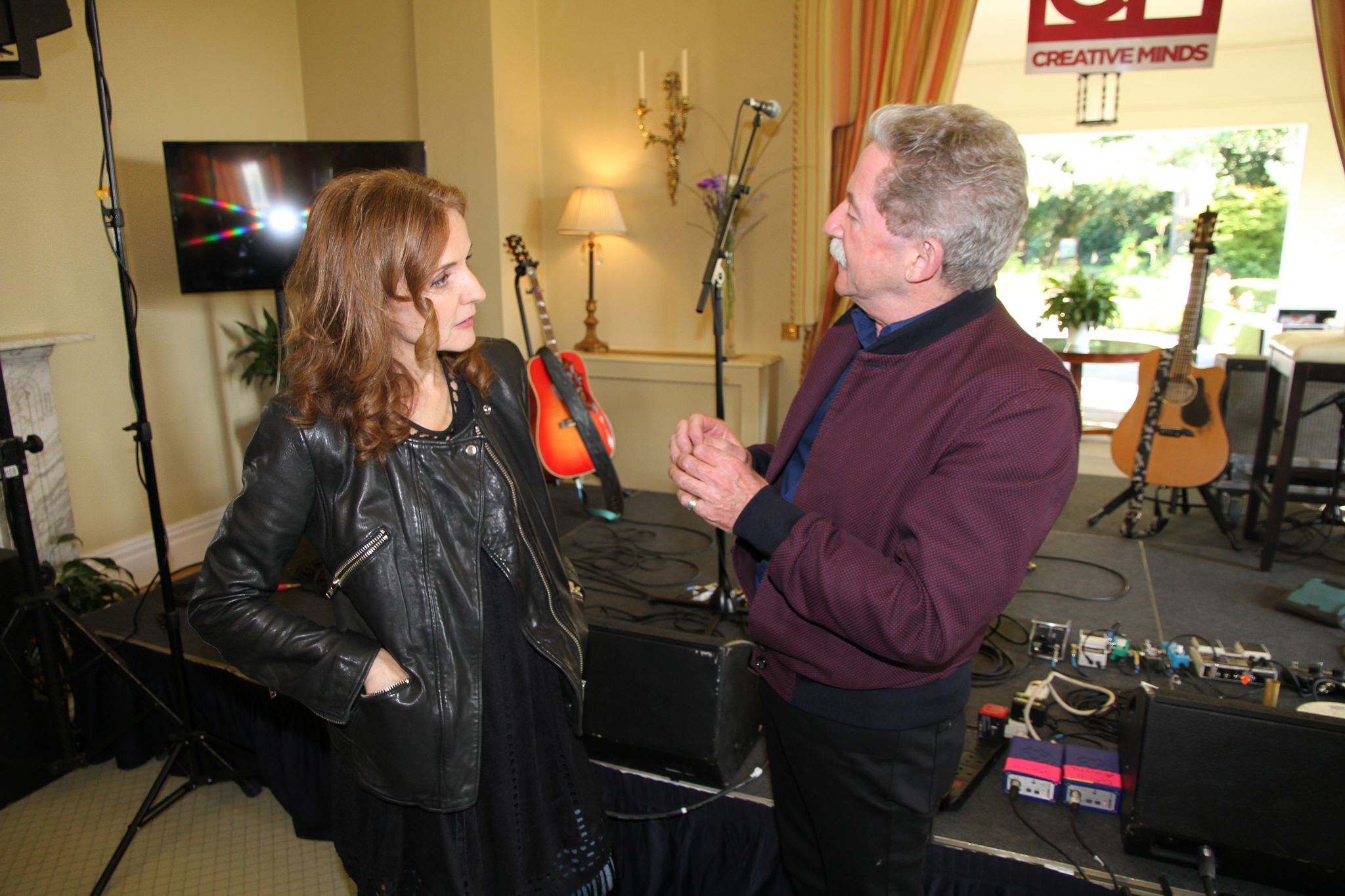 Griffin backed up these claims in her performances of There Isn't One Way, Made of the Sun, and Good and Gone, pulled from her forthcoming release 'Servant of Love'. While the first was a driven, attitude-heavy ballad, the latter presented a more melancholic side to the singer, presenting her powerful vocals, undiminished after so many years performing.
Some tough topics came up as the interview went on, specifically race and religion. When asked about the political content of her songs she responded, "race in America is back on the table in a way I haven't seen since I was young." She claimed that if the United States failed to deal with its history of slavery, it was going to die as a culture. When asked whether folk musicians had a responsibility to speak out about the problems in society, she replied, "I don't know if folk musicians have a responsibility to do anything. I wouldn't want to be telling them what their responsibilities are." Though she did mention that fear was a major reason that some folk musicians refused to talk about these issues, and that she no longer cared about the things that made her afraid to speak out before.
In the context of her grammy-winning gospel album 'Downtown Church', Griffin was asked about her own opinion on Christianity. She explained that she had a lot of problems with the current state of the church: "The terminology of Christianity has been taken by – I can't even call them Conservatives – self-serving groups. And also there's a patriarchal aspect to them that, as a woman, I have problems with." However, she was interested in exploring that kind of music, and particularly enjoyed experimenting with African gospel music. Griffin remained ambiguous about whether, like her father, she had discovered in herself a latent spirituality.
Griffin remained tactfully non-committal on the topic of royalties and musicians' rights: "I don't like the idea of the already-wealthy making money by exploiting musicians, but I also think that music should be shared and listened to."
In response to requests for advice from the gathered students in the room, Patty simply said, "Have an idea of what integrity is to you, and stick to that. I think integrity is personal and you have to discover that for yourself."
Following this, she closed the show with Mary, a song written about her grandmother from Dingle; a woman she never actually knew, but whose memory inspired her.
For an afternoon of music dedicated to building Irish-American bridges, it was a fitting conclusion.