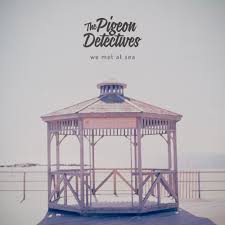 A lot of things happened in 2007. In one year the world said goodbye to the adventures of Harry Potter, while at the same time welcoming the technological milestone that was the first generation iPhone. The Live Earth concerts promoted environmental awareness. In amongst these events, The Pigeon Detectives released their début album 'Wait For Me.'
Back then The Pigeon Detectives' music was fresh and exciting. Their in your face brand of indie pop was perfect, gelling well with the musical ethos of the time. However, six years later the world is a very different place. Many things have changed. Unfortunately, as shown by their new album 'We Met At Sea', it seems The Pigeon Detectives have found it hard to move on.
In a way you have to admire them for sticking to their guns. A lot of bands who make it to a fourth album end up changing their sound so much that it sounds nothing like the music they originally started making. This record however shows a band that has hammered home the same message since 2007.
Everything is still there, the lively tempos, the jangly guitars, and the chant-like vocals. It's simple and straightforward. Nothing has been added or taken away. The only flaw in the consistency is that the material on this album just isn't as good as the band's earlier work. There are no terrible songs here. Lead single Animal and Hold Your Gaze are probably on a level above the rest, but not by much. However, while the calibre of song writing on show is good, nothing stands out as great.
What is also noticeably absent is the energy of the performance. While in their early days the band were overflowing with excitement and energy, the performances here would suggest that they're just going through the motions. Overall this is not a bad album. If you are nostalgic for the guitar pop of the mid/late 2000's, then this album is for you. It is genuinely a solid compilation and a valiant homage. However, if you're looking for something more current, you might be better off looking elsewhere.