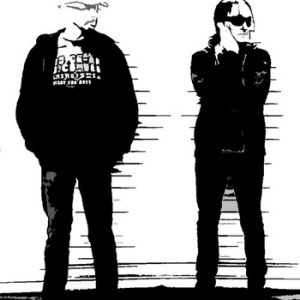 The Federation of Light have dedicated themselves to a strict mission with a solitary goal. They aim to invoke one thing in their listeners – movement. As they say themselves, they try to make music that does nothing but "hit you on the hips".
From listening to their debut album 'Innocent At Last', it can safely be said that the band are definitely on the right track. The quirky six song offering could cause a body to move in ways that I didn't know were physically possible.
Opener and title track Innocent At Last immediately takes the audience in and fills them with a need to shimmy and shake. By the time the fist lyrics kick in, the listener is already on their feet; using every embarrassing dance move they know.
The song has a great summery feel to it. It's light and uplifting, with clean guitar and vocal harmonies. The sequenced drum beat and repetitive melody should cause annoyance but bizarrely seem to be the key to the song's likability. They create familiarity and something that the listener can latch onto.
There is an ongoing theme of repetition throughout the album.  Whether it's the looped guitar lick in the verses of Shine, or the recurrent chorus of Rapture, there are easily recognizable aspects to every song.
However, this is not to say that the album all sounds the same. With these six songs, The Federation do an excellent job of showing how they're not afraid to experiment with their sound. With Rapture and Loaded, they ditch their synths and electrics and replace them with twangy, acoustic instruments. The stripped back arrangements give the album depth and complexity, while still maintaining the bands signature groove.
Shine also shows a darker side to the band's songwriting. The verses are full of unsettling, echoing vocals and organ sounds that help to create a sinister atmosphere. The theme of darkness bleeds into the lyrics too, creating the albums best tagline "You're made of light but you refuse to shine".
The only disappointment of the album is final track Kicking and Screaming. It starts off with such promise, with a huge a cappella melody reminiscent of Talking Heads' Road To Nowhere.  This unfortunately transcends into a half-hearted, Kaiser Chiefs-esque, distorted guitar driven ditty. The in-your-face attitude seems forced. Also, while it will still get you gyrating, it displays none of the charm that The Federation seem to implant in all their other songs.
This album embraces the weird and wonderful. Nothing about these songs is mainstream. But quirkiness is not the only thing that The Federation of Light have going for them. They prove here that they are more than capable of making music that is catchy, enticing, and above all, dance inducing. Mission accomplished!