Irish/Malaysian electronic artist and producer Yunè Pinku aka Asha Yunè is one of the most exciting artists to emerge from London's club scene in recent years, remixing the likes of Biig Piig and Charli XCX alongside an impressive run of singles.
Whereas most electronic music is aimed at taking you higher, Pinku's music often explores the existential dread of club culture.
From the Carrie inspired prom queen disaster of Affection to the London skate scene and nightlife inspired DC Rot this isn't your average approach to dance music.
"Loads of people talk about getting this weird feeling suddenly when you're in a club. It just feels quite dark and weird," she tells us over Zoom.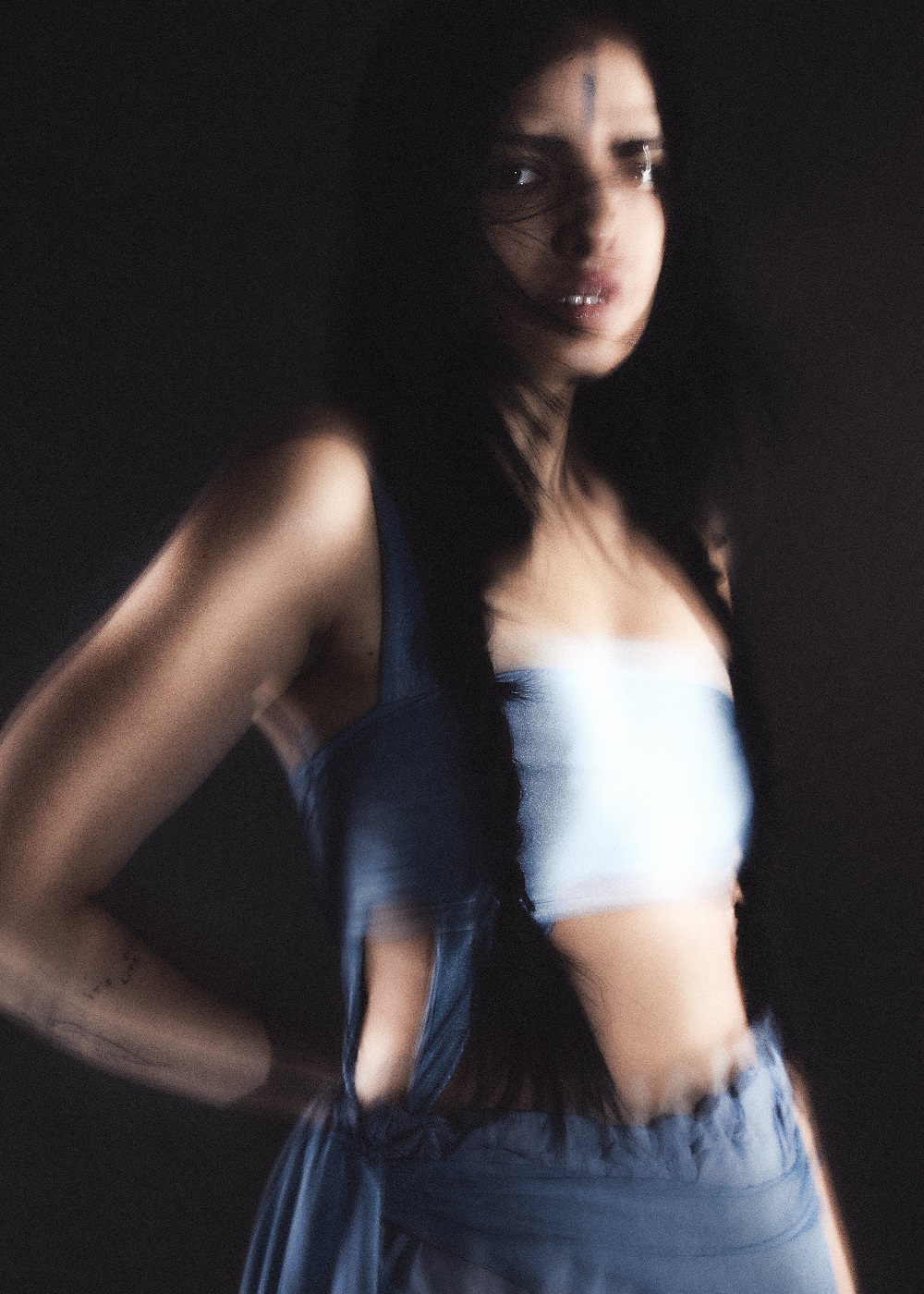 "I'm not very good in crowds anyway so I always found clubs really intense. I can't hear anything, I can't really see. It's sort of like a weird maze sometimes."
"I think the contrast part was always fun to work with in terms of that (crying in the club) vibe," notes Yunè, whose dark take on club culture has won her comparisons to the likes of Radiohead in the UK music press. "I'm really happy with that. Radiohead are lyrically one of the bands I love the most."
With her debut EP 'Bluff' drawing such plaudits, it is perhaps surprising to learn that up until recently, Yunè Pinku didn't even like electronic music.
"I thought all electronic music was trance for ages and I was like, 'I hate trance music', and then during lockdown I started looking into the various forms of electronic music and I was like, 'Actually, this is good, I like this'. I don't know why I was bashing it for so long."
Up until his point, Yunè focus was on sad boy indie rock until slowly but surely, she began to join the dots and realise that she liked much more electronic music than she realised.
"There was a lot of music that I was already listening to that I hadn't registered as electronic music 'cause it wasn't dance music – people like Grimes, Eartheater, Interplanetary Criminal."
"It opened my eyes to what you can do with electronic music," she recalls.
Freed from her preconceptions of what electronic music is, Yunè threw herself down the YouTube rabbit-hole, teaching herself how to create music in her bedroom.
And it wasn't long before she had a completely unplanned body of work on her hands that eventually become her debut EP, 'Bluff'.
"Affection and DC Rot were the only ones that I think weren't started in my bedroom but the rest of them were made during lockdown on a side table with a lamp on it," she tells us, laughing, still seemingly slightly in shock at how everything transpired.
"I was very blown away by the fact that people liked any of it because I was like, 'I'll put it out but nobody's gonna like it, so it doesn't matter', but it's been great."
"That whole EP was very much before I even thought anything was going to come out," she notes.
"It was really weird, out of my family I definitely wasn't the one I expected to start doing this type of thing. My Irish family are quite musical. There's always instruments or something happening somewhere. My Malaysian family aren't hugely musical, but music has always been around – it's always been a big part of things."
"Watching somebody DJing can be like watching somebody play chess sometimes"
Growing up, Yunè Pinku was a regular visitor to Ireland, spending lots of time with her family in Dublin, Cork and Limerick, and those experiences have influenced her music both visually and sonically.
"I guess not so much on the nose culturally, but I think the music culture in Ireland is definitely something which has nurtured my music.  Even in the visuals for Fai Fighter… we brought in old Celtic symbols. That was quite cool to sort of put in these little Easter eggs."
Yunè has a lot of time for the current crop of Irish sad boys and dance acts but there is one that trumps all for her.
"I'm a giant fan of Fontaines DC. I was quite early to them so it's good to see them doing so well now. There's loads of bands actually, but Fontaines are one that I've always been rooting for."
"Oh, very much so," she replies when we enquire if they are on her hitlist to remix. "I'd love to write a song for them."
Having remixed the likes of Biig Piig and Charli XCX, such aspirations don't seem lofty at all.
"I thought it was a joke at first: 'Charli XCX wants me to remix?" says Yunè , explaining the story behind how she came to remix Charlie XCX's Used To Know Me.
"It was fun because I'd never really worked with anything poppy before. It was quite fun working with something so built and pulling things away from it."
"It was like talking to the queen or something," she notes of the experience of working on the remix. "I was mainly talking to people who were around her and they would pass on that she said she liked it."
Following on from Yunè's recent remix of Biig Piig's Fun, she will open for the Cork artist on her Irish dates this month.
"That'll be really cool. I'm looking forward to it. It's perfect actually because we're playing Dublin, Cork and Limerick and I've got family in all of those places so I can catch up with them all individually."
The experience of working on remixes has been really positive for Yunè, giving her more confidence to be braver with her own music.
"I guess with Bluff I was really unsure whether anyone would even like any of the music and now I'm aware of the fact that people actually do and how much support there's been.
"So, I think I felt more free to experiment and change the sound and play around with stuff. I think doing live shows has helped me to see music in a slightly different way in terms of how it fits into a space, which is something I just didn't think about for 'Bluff'."
Bringing Yunè Pinku out of her bedroom and into the real world has allowed the artist to bring in a myriad of visual influences from her upbringing and her love of Cyberpunk and fantasy fiction.
"Watching somebody DJing can be like watching somebody play chess sometimes," notes Yunè, who is keen to ensure that her live shows have a certain sense of intensity by getting the balance right on stage between technology and humanity.
"It's quite gadgety, but I do a lot of live stuff and the singing so it's a quite compact, which I think is quite fun."
The success of the 'Bluff' EP led to Yunè being on the receiving end of the remix treatment for the first time with Yeule and King Leonn reworking the EP's title track.
Being on the other side of that equation has been an exhilarating and eye-opening experienced for the artist .
"I've been a giant fan of Yeule. I went to see them years ago play in Dalston in this tiny underground venue. They had this really interesting sound so I was super excited when they said they would do it."
"I was still working at a pub when I got the remix back. I pretended I had a nosebleed and I ran into the toilet and put the earphones in and was like, 'This is so good'.
"When I first listened to it, I was like, 'Wow… I didn't expect her to sing, this is cool'. It's like a completely different song now even though it's using all the components of the original song. 
"I went to see her live recently and she played that song, and it was really cool to see your own song performed when you're not doing it. It was like being a fly on the wall."
"I was still working at a pub when I got the remix back. I pretended I had a nosebleed and I ran into the toilet and put the earphones in and was like 'this is so good'
Yunè Pinku will follow-up 'Bluff' with her second EP 'Babylon IX' this spring, featuring recent singles Night Light, Fai Fighter and forthcoming single Sports.
Yunè's summer is booking up fast with a number of festival appearances throughout Europe and Scandinavia confirmed. She's also confirmed to appear at The Great Escape in Brighton, but she's really excited to do her own shows.
"I should be having a lot of headline shows this year," she says, adding that she'd love to fit some Irish festivals in this summer. She would like to get more involved with the Irish scene and is open to working with anybody who peaks her interest.
"I'm very curious about music so anyone that comes to me with a good song, I'm always like maybe, maybe."