Music media interviews can be a clipped, slightly withdrawn experience. Many artists prefer not to give too much of themselves, or to stick to carefully curated angles when talking about their art. As is their right. Future Islands frontman Samuel T. Herring is, refreshingly, no such interviewee.
"I do blabber on a bit. Journalists love it," he tells me as we connect via Zoom.
Future Islands are now 16 years and six albums old, so you could forgive them for being a little jaded, at least with the industry side of things, but far from it. Herring quickly engages on a new record he has obvious pride about, one that represents yet another change in direction for a band that have always worked firmly outside the box.
"The new album is done," he states. "We haven't finalised a date for it, but we've got one last tour to do, including the show in Dublin in August, and then we're going to take three or four months, and then it's probably going to drop early next year. But I won't promise, we want to take or time with it and make sure it's just right."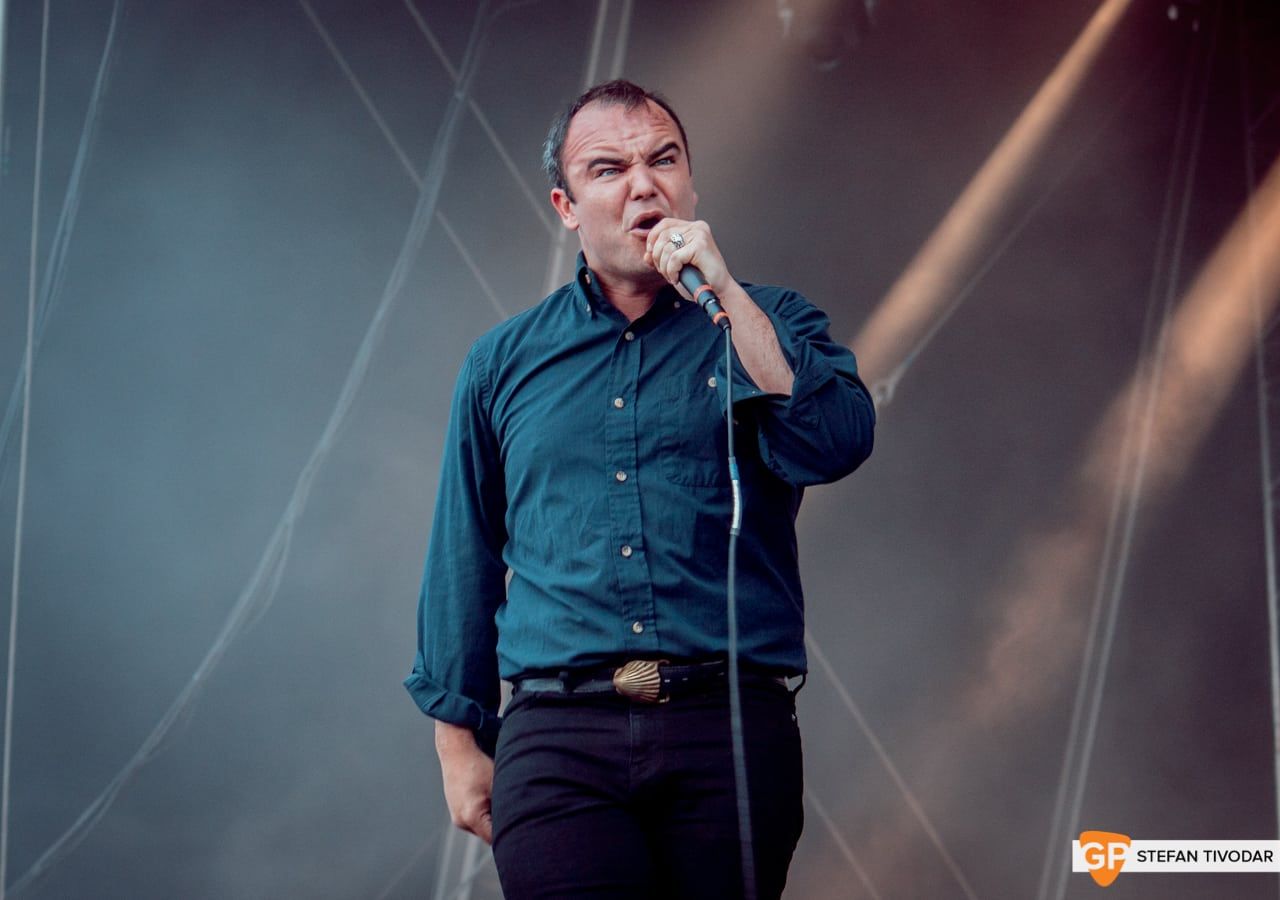 The record will reflect the period of its creation, naturally. "It's an intense album," Herring says. "Definitely classic Future Islands. You can probably imagine the album Future Islands would write after the whole world is put through an existential crisis. It definitely led to a lot of struggle, strife and inertia that's great for song writing. We're putting all the pieces together to do something really special next year."
"'King of Sweden' and 'Peach' are going to be part of that new record, and we play both live already. We played another song back in the last tour we did overseas, and then I think when we come to Dublin we'll be playing another new song again. I don't want to promise, as I might be wrong, but it may be dropping before that Dublin show, and I'm really excited for that track. There are little hints going out there."
One of the most compelling thing about Future Islands can be their tendency to drift between genres and feelings, creating a different feel for each record and a different angle to each tour.
"I love causing confusion about the genre we are," Herring laughs when I ask about the changes. "That has always been a part of my art. Even before Future Islands. Future Islands has been around almost half my life now. Two or three more years and have half my life with Future Islands and half without. In art, I think it's always been a thing…
"As a young kid I felt I didn't really fit in," he continues, "so as I grew up and got into art and performance, and became more sure of myself, I got into freestyling and performing on stage, and those things became a part of defying people's expectations. When people see me on stage, I think still to this day people don't know what to expect. I hope to trigger something in their brain, to hit their chest, and make them feel… to stir up emotions."
"That confusion goes into all of it. I think we are a strange mix. When we started, I was a hip-hop head, Gerrit [keys] was a metal and punk kid, and William [various guitars] was into 80s synths music."
"So William won," he laughs. "He got to be in the band that he wanted to be in, But that stew of different genres and loves for different kinds of music really did create a love for something different, and I think that persists. We sound like us. When you hear Future Islands you know you're hearing a Future Islands song, and that's a good feeling."
"When you hear Future Islands you know you're hearing a Future Islands song, and that's a good feeling"
Herring's background in hip-hop is in fact quite extensive. Outside of Future Islands, he produces music as Hemlock Ernst, a hip-hop led project that sits a million miles from his role as frontman of the genre-bending art-rock act.
"There's no mixing of hip-hop and the band," he says. "I'm very much a purist with hip-hop. I will sing on my own rap songs, but not in a Future Islands way. I like to do a Bill Withers  bit, where there's a hook, but they're very different art forms for me. People sometimes ask me why I don't rap on Future Islands songs. That wouldn't be a Future Islands song."
The band, in fact, write in a very specific way. "We try to write in synergy," Herring explains. "I would say that 95% of the time I write directly to music, not pulling from a journal entry or a sketch. In the old days I might do that a bit more, but it's really important for me that… so many of the songs are really personal to my life anyway, so I don't want to make it more personal where I bring an agenda to the table, like I just went through a thing, and I get the guys to write music for that."
"I want to let the guys write the music and then see what that pulls out of me. It seems more natural, more organic than trying to fit music to words, or words to music with an idea in mind. Fitting words to music with an idea in mind can be a great challenge, but I think letting the music lead you can lead to an unexpected conclusion or an unexpected theme that I haven't really touched on before."
"There are a couple of songs on the new record that have different themes than we've talked about before, and that's really exciting for me. It comes from the guys pushing into new spaces that I don't think we touched on before, and that pulled something new out of me, which felt really good, airing feelings I hadn't delved into before."
"That [method of songwriting] comes from growing up with freestyle. You kind of ride the beat you're given, going with what you get to unexpected places. It's kind of the joy of creation for me, the serendipity of it all."
That technique has also introduced a sense that the records tell a tale of the band's many years together.
"Anything looks different through the lens of time," Herring argues. "Something that happens in your life looks different five years down the line, and twenty years down the line you might be thinking why was I mad then, or why did I ruin a possible friendship because of my own hurt or vanity or embarrassment or paranoia, you know. That's something I've learned, and what I saw when we released 'As Long As You Are'".
"When we released it, I realised it was more like book six, the next chapter of our lives. I really see it now as we get deeper. The next record is a three year period of our lives, and I think you can really look into that. The audience really cares about us now, and it's them that are saying "I need the next chapter." The connection between the audience and the art, plus being free in emotions, is so much of our shows. I try to be free and to be in touch with myself from a place of strength."
That connection is at the heart of how Future Islands present themselves in a live setting.
"People, I think, are drawn to that idea of being free in an open space, in a big environment where they can be with friends," Herring says. "There's now a network of our superfans – one is in Ireland, and she comes to shows all over the world – and they've all met that way. It's such a beautiful thing to be part of, and they're part of our lives now. It feels an important thing to continue to share that. Every great thing has to come to an end, but I don't want to stop sharing that."
"I love causing confusion about the genre we are, that has always been a part of my art."
With that self expression and that sense of sharing comes a peace that Herring finds above all when he's on stage.
"There's no stress stepping out on stage now," he says. "I mean maybe sometimes, dealing with a torn ACL and advanced arthritis, which I have from what I do for a living. There's stress in preparing for a tour, and repairing between shows, but the stage is the easiest part. That's the joy of it all."
"It's  a great responsibility. People work really hard, and they're taking their hard earned money to go and see you play. So that's time for me to work hard. There's a responsibility in that to do our best to connect, so that they want to come back and experience again."
"Walking out on stage is like a release, that's when everything gets to come out, and when the limbs start flying and I don't feel the pain anymore. There's a great freedom in that feeling, and it's why we're still doing it."
Future Islands play The National Museum of Ireland, Collins Barracks in Dublin on Thursday 24th August as part of the Wider Than Pictures concert series. Support is from Just Mustard and Sprints. Tickets €62.45 including booking fee on sale now from SingularArtists.ie and Ticketmaster.ie