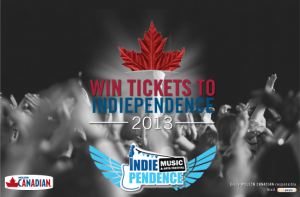 The adventure starts here… Molson Canadian, proud beer pouring partner of Indiependence 2013, is giving you and your best mate the chance to win weekend camping tickets to Indiependence Festival 2013 in Michelstown, Cork, from August 2nd – 4th. So dust off your wellies and air out your tent cause Bastille, The Fratellis, Kodaline lots lots more are coming to Cork.
We thought we were done with our Indiependence giveaway and then the legends at Molson told us they wanted to send along another one of our readers to have a quality weekend down at Indiependence 2013. All you have to do is support the site or answer a simple question. Use one of the entry methods below and you'll be in the draw. Answer a simple question about Indiependence and if you're not already a supporter of Goldenplec you can like us on Facebook, follow us on Twitter, subscribe to our newsletters (both general and competition only) for extra entries.
You can share the post via Facebook or with a Tweet on Twitter and any of your friends who enter via your link, is another entry for you (up to a maximum of 10 referral entries bonuses)
Each task is an individual entry and counts as a separate entry to the competition.
Already follow or like us?, just complete it as normal and it will verify all these details and enter you in the competition.
Entry Form