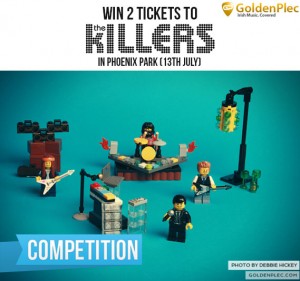 On the day Justin Timberlake announced he will be popping his head into Phoenix Park, we can also announce that we have tickets to see The Killers in Phoenix Park. They join our list of huge competitions that include both Eminem and Bon Jovi tickets at Slane. We've got more huge tickets to give away in coming weeks to make sure you're glued to GP for some more huge shows.
The Killers last visit to Dublin sold out The O2, and while we couldn't take photos (and made lego figures of them instead) the review was nothing but glowing of a superb live act in their pomp. So we're delighted to be able to send one of Goldenplec's readers along with a friend to this super show. They will be over to the big park in the city on Saturday 13th July 2013 to play with Frank Ocean, Two Door Cinema Club and HAIM all on the billing. Tickets for the show are €61.50 inclusive of booking fee and are on sale now from Ticketmaster.ie and outlets nationwide.
All you have to do is use one of the entry methods below and you'll be in the draw. Answer a simple question about The Killers and if you're not already a supporter of Goldenplec you can like us on Facebook, follow us on Twitter, subscribe to our newsletters (both general and competition only) for extra entries. You can share the post via Facebook or with a Tweet on Twitter and any of your friends who enter via your link, is another entry for you (up to a maximum of 10 referral entries bonuses)
Each task is an individual entry and counts as a separate entry to the competition. We've also added the ability to share our Killers picture on Facebook for more entry options. We will also put another entry in the draw for you if you retweet this tweet.
Already follow or like us?, just complete it as normal and it will verify all these details and enter you in the competition.
Entry Form