"I mean, it's crazy…" says Holly Humberstone at the mention of being crowned the Brits Rising Star of 2022. It's an accolade that sees the Grantham songwriter follow in the footsteps of artists such as Adele, Sam Fender, Florence and The Machine and last year's recipient, Griff.
"I was looking at the list of previous winners and it's just bizarre; it's so strange. These are people I really look up to and I really respect," she says, still trying to wrap her head around the situation as we chat over Zoom just prior to the ceremony in February.
"I can't even believe I was nominated and that I get to even go, let alone that I get to take home the award. It's quite crazy, I think, after a year of a lot of self-doubt… it's just really affirming and so inspiring. It makes me want to write more music and play live."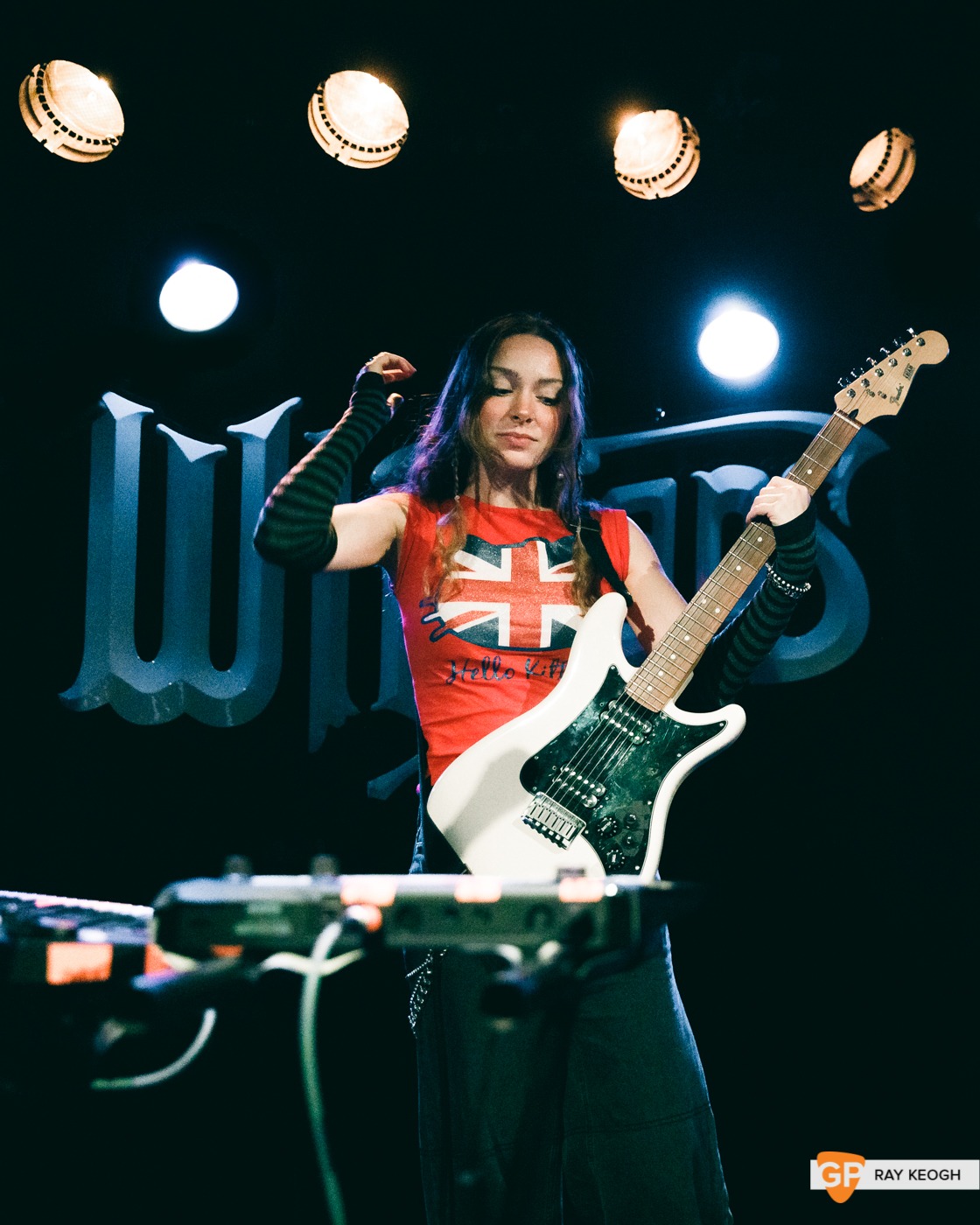 Essential Listening
London is Lonely

The Walls Are Way Too Thin
Humberstone's rise since her debut single, Deep End, in 2020 may have been meteoric but she isn't letting the pressure of such recognition steer her off course. Rather, she sees it as a sign to double down on the process that has served her so well to this point.
"I love the people I work with, and I think the pressure that I get is the pressure I put on myself, you know? I think that's probably the case with most artists. I'm only as good as the last song I wrote and I'm just constantly wanting to be better," she says, adding, "To have this kind of recognition from the Brits…I'm just really honoured. I feel so lucky that I've been able to work through the pandemic, come out of the other side of it and actually have a career and get to go on tour and release music. I just feel really lucky."
At the time of writing, Holly Humberstone is only as good as London is Lonely, her fish out of water ballad which examines her difficulty settling in London as her career started to take off. The track simultaneously journals her feelings of isolation but also the unexpected pull of her hometown, Grantham.
"When I was growing up there, I definitely wanted to be somewhere a bit more stimulating and a bit more interesting. Grantham was voted one of the crappest towns in the UK a couple of years ago. I grew up in the countryside outside of Grantham and I think there's just such a stark contrast between the environment I grew up in and being down here in London."
Walking down the street was exhausting, you know? It was just a sensory overload
Humberstone moved to South East London and like a lot of young people ended up in a house share with complete strangers and the track was inspired by these early days in the Capital.
"I just found it really, really isolating. London is the busiest place ever and there's so much going on and it's so chaotic, but it was so strange to me that I just kind of didn't really know how to process it and wanted to just stay inside. Walking down the street was exhausting, you know? It was just a sensory overload."
London is Lonely came together quickly after Holly Humberstone moved back into her parents house during the pandemic.
"I think it was something about being back in Grantham – back at my childhood home – that just brought all of these feelings out that I felt had been weighing me down for quite a long time, and it just felt like it needed to be written," she says, adding that she maintains a frenemy relationship with London.
"A lot of the time, a song takes a lot of hard work and a lot of persistence but this one just kind of wrote itself really – it was already kind of there. And I still kind of feel the same way about London two years later. I still feel like I love it some days. When I go away, I miss it, and then when I'm here a lot of the time, it just makes me exhausted. It's weird."
It is this ability to not only face up to but capture complex emotions and weave them succinctly into songs that is the backbone of Humberstone's songwriting repertoire.
Capturing the universal untold moments that other songwriters disregard and utilising them to make people feel seen requires you to absorb a lot of heartache, something that isn't always easy due to the hectic nature of the music industry.
"I write about my relationships and stuff that I'm going through and the people around me. When I'm on tour it's hard to switch into that mindset of writing because I'm not really seeing my friends and I'm not really having much of a social life, to be honest," explains Humberstone.
"I can't complain because I'm doing what I love. I'm doing my music so I can't complain but sometimes it's kind of tricky to dig deep and figure out what I'm feeling and what I want to write about."  
I'm only as good as the last song I wrote
Fans of Humberstone will be glad to know, however, that they won't have to wait long until they can hear how good her next batch of songs are.
"I've had the last few months to just do loads of writing and I'm hoping to put together an album at some point – hopefully, some point soon because I know that I've got enough songs, but I'm a perfectionist. I don't think I'll ever be satisfied with what I've got. I don't think I'll ever feel like I'm ready to put out an album, but I think at some point somebody's just got to say, 'stop writing now, we've just got to put it out now', she says, half-jokingly.
"I'm just really enjoying it. Writing is my favourite thing ever. I just live to do it. I love it so much and it's so good for my mental health. It's so important for me to do, so yeah, I definitely feel it when I go through periods of touring. I mean I haven't done a lot, but when I have done it, I can feel it that I haven't been writing…it's so important….but I'm also looking forward to going on tour as well."   
Although Humberstone my never be satisfied with the material she is assembling for her debut album, she is leaning towards including as much unreleased material as possible.
"I think I want it to be all new songs. I don't think I want to recycle them. The cool thing about releasing an EP, which is what I've done so far, is that it's like a little time capsule and I don't have to overthink it," she says, noting, "I think it would be weird for me to release 'Falling Asleep At The Wheel' again just because I'm not the same person as I was two years ago when I wrote that song, and why wouldn't I write more, you know? I love writing songs. 
"I think London is Lonely will be on the album but I'm excited to write more. I'm excited to put the album together. I don't know if I'll use any of the songs again. I think they are good as they are in their EP, you know? That's where they belong in the story."      
Although honesty is the central tenet of Holly Humberstone's writing, that doesn't mean the frank nature of it isn't scary to reveal to the wider world.
"The night before a song comes out I'm like, 'oh my gosh, I'm really, really exposing myself this time', but it's really empowering, to be honest, to be able to share so much of myself."
This process has become easier for Humberstone as time has gone on. "I think as I've released more music, I've become more comfortable with the fact that a lot of people can see the inner workings of my mind in the songs. I'm exposing myself massively in these songs but also I think it's important…"
Humberstone is proud to be part of the new wave of songwriters such as Mathilda Mann and Girl In Red, who are actively 'Oversharing'.
"I think there's been a group of artists recently really oversharing and it's a lot of young female artists who are just not filtering anything and saying and sharing so much of themselves. I think it's amazing."
"We don't talk about mental health enough as a culture and I think it's great that I can be vulnerable and tell strangers that I'm struggling and that it's okay if you are as well, you know. We're all going through the same stuff."
I'm a perfectionist. I don't think I'll ever be satisfied with what I've got.
It is important for Humberstone to deal with these subjects directly in her songs, even if it eventually gives her the release night jitters
"A lot of the time when I write, I'm writing for myself and for my own mental health so that's why they are so honest. I don't know why I wouldn't share it, you know? I'm not trying to hide any part of who I am – I'm just trying to be real like the rest of us."
"it's okay to be emotional," notes Humberstone. "It's okay for us all to be emotional. We're human beings. We've all been through the past two years. We've all been through the pandemic. We've all had our own struggles what do you expect? We're not all gonna be totally fine all the time.
"I think it's just important to be transparent about it. I have some kind of platform and I'm able to influence people, maybe, in some small way, and if I can make anybody feel like they're not alone or provide some sort of comfort for somebody then that's amazing."
"And it works the other way around for me when people reach out to me. People are listening to my songs and it's like 'Okay, that must mean that I'm okay to feel these things as well. Other people feel the same way that I do so it's fine'. I just think it's important to be vulnerable."
"I'm not sad all the time. As I said, my writing is so important to me and I think I go into the studio to get all of my frustrations out and all of my stresses and worries and the things that are bringing me down.
"And I'm really lucky that I've got that space to be able to do that and for me, that's kind of like my therapy. That sounds really cringe but it is and it's sort of what I know and my way of working through stuff. I guess I am a sad girl sometimes but that's okay."
Holly Humberstone is currently on tour with Girl In Red and is set to open for Olivia Rodrigo on her US tour throughout May before returning to Europe for a series of dates throughout June. There is no Irish date confirmed as yet but no doubt she'll be playing a much bigger venue than Whelan's when she returns.  Her debut album is available to pre-order here – release date TBC.