Primal Scream legend Bobby Gillespie sits in front of a bookcase loaded with academic-looking titles – books covering everything from the human body to the body politic – when we catch up with him over Zoom, ahead of the launch of his new record with Savages frontwoman Jehnny Beth.
Gillespie is contemplative and considered in the way he engages, a sparkling but somewhat self-conscious speaker who tells stories through a lens of thoughtful self-awareness. In particular, he's aware of where he fits into the modern day music scene, and that his political comment can be controversial: he firmly believes in his publicly expressed, left-leaning take on the UK's troubles, but also sees it as the outcome of a certain lifestyle privilege.
His journey to working with Savages front-woman Jehnny Beth stretches over the last six years of a 30-year career, and the new co-penned album 'Utopian Ashes' seems to blend their style and influences, though it's more toned-down than either Primal Scream or Savages in their own right. Blurring the two distinctive vocals, the record can be a gut-punch of subtle anger, the kind of record that sounds calm and gentle until you truly let the lyrics sit, at which point it flourishes with shades of sometimes bitter grey. It's also contemplative and considered, emotive and something of a stylistic throwback.
As Gillespie recalls their pair's journey to this point – ultimately, drawing in members of their respective bands to record and then head out and tour the record – the organic feel of it all, in particular, stands out.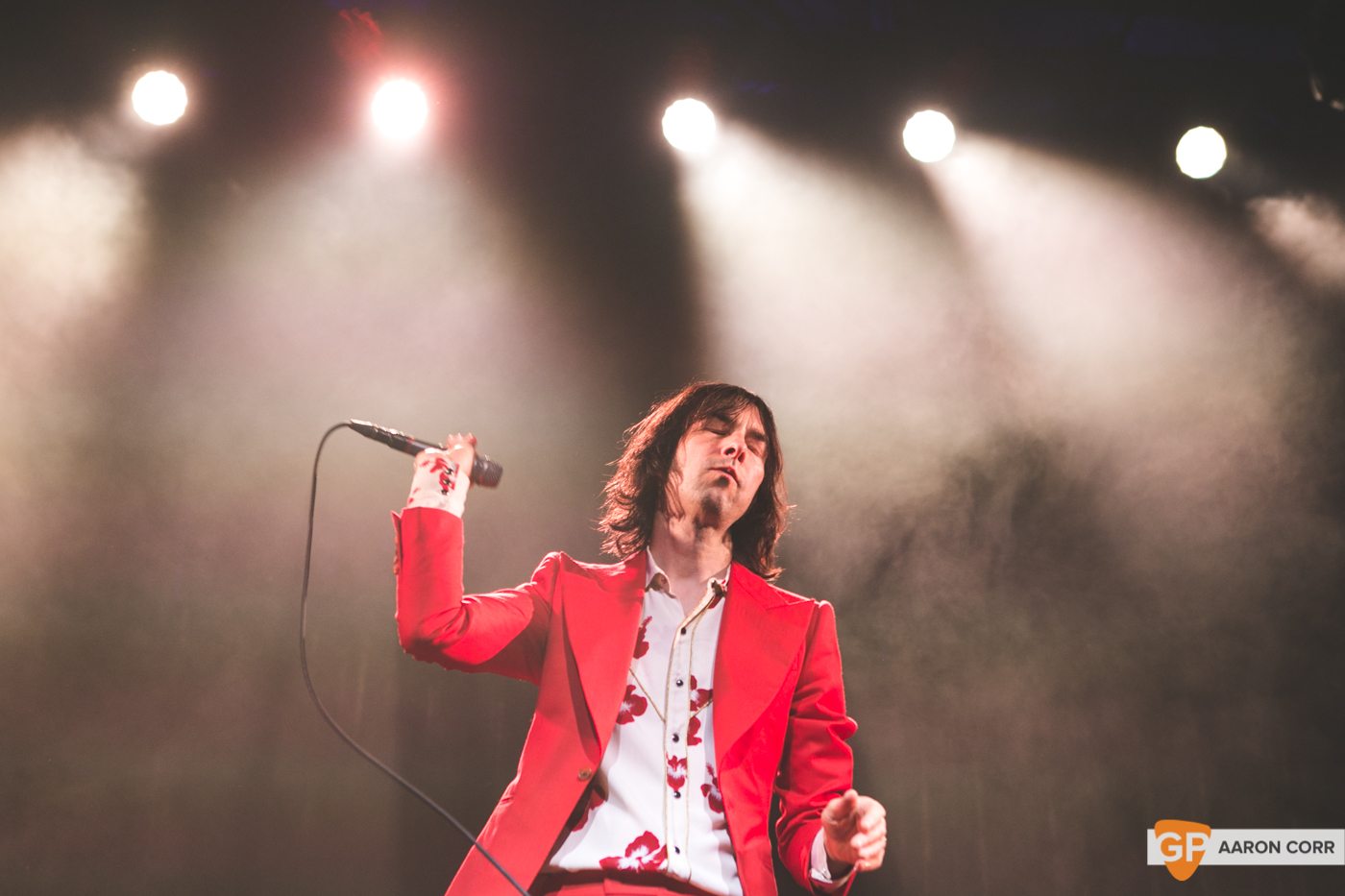 "I did a gig in 2015 where I sang at the very last Suicide concert, and Suicide's manager Paul Smith asked me to sing on 'Dream Baby Dream'," he remembers. "When I got down there, Jehnny Beth was there. I'd met her once before. Paul Smith had asked her if she'd sing on the track as well, so she asked if I was okay with that."
"So we got on stage and sang together, and it was total chaos, but I guess we made friends that night. A year later, Primal Scream and Savages opened for Massive Attack at a big homecoming show they had at the Downs in Bristol, and we did 'Some Velvet Morning' with Jehnny singing.
"There was great chemistry, and afterwards Andrew Innes suggested we work with Jehnny Beth. Her and her boyfriend were both into this idea, and so, fast forward to February 2017, Innes and myself went to Paris and jammed with Jehnny and Johnny [Hostile, Jehnny Beth's regular musical foil], in two five-day sessions."
"Out of those two sessions, I thought there were a couple of really interesting ideas. One of those ideas became 'Remember We Were Lovers', which started out with a backing track a bit like Kraftwerk, very icy, with a string machine and drum machine.
"When I took the idea of the song back to London, I was writing the lyrics to the verses, and I did it on an acoustic guitar. I started to see it as less Kraftwerk type thing, and more like a 60 or 70s soul ballad, with piano, bass drum and strings, and Phil Spector type production."
The record is a move away from Primal Scream's rockier edges, then, delivering it's force instead through its lyrical bite and deeply personal feel. Nevertheless, the male vocals, in particular, could be nobody but Bobby Gillespie. The express a certain hurt, which is something he feels is lacking more broadly in his usual genre.
"I feel like there's not enough pain in rock music," Gillespie says. "There's plenty of pain in black music, but rock music is very… I don't really know what people are singing about anymore. It seems so lightweight. I think the problem for rock is that it very much sounds like it did 50 years ago. My kids are 16 and 19, and they love contemporary black music, because it's the newest thing. The singers, the lyrics, they relate to their lives. My youngest son loves Iggy Pop and Jimi Hendrix, but he knows everything about modern black music. My other son doesn't listen to rock."
"I'm a guy in my 50s and I'm not going to mock new artists. I like quite a few modern guitar bands, like Black Country, New Road; Fat White Family; King Krule… I just don't see that meaning there so much anymore."
"I feel like there's not enough pain in rock music,"
Returning to 'Utopian Ashes', Gillespie reveals how even the authors can view a record differently. Jehnny Beth, for example, talks about how she sees it as being heavily character-based in the album's press release. Gillespie doesn't entirely agree.
"I think I wrote the majority of the lyrics. I know the concept came from me," he says. "When you write songs, it's a mixture of autobiography, fiction, observation and life experience all mixed up to tell a story. Jehnny Beth's background is in theatre, so she sees it as characters, I think.
"My aesthetic comes from somewhere else, I like to sing about things that I've experienced, I sing about pain, suffering… I think I have poetic license, to use an old cliche. I can take incidents from real life and dramatise them."
"There are many literary techniques that can be used to cover your tracks. I want people to hear it and know that I mean it when I sing, that there's a meaning, a lived experience and a pain behind it. I hope that other people can relate their own experiences to the songs."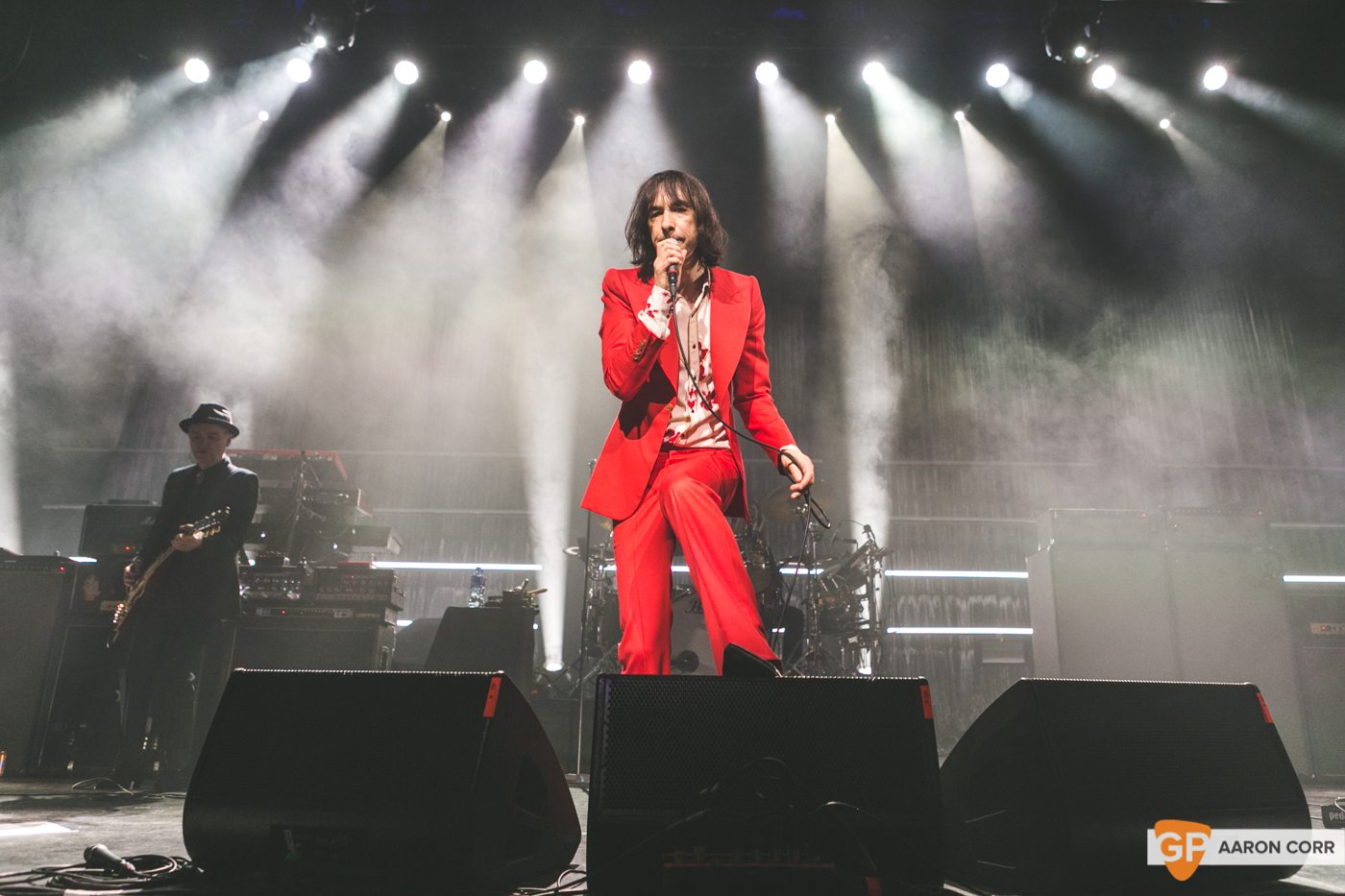 Gillespie's own experiences recently have included being increasingly outspoken on Twitter, where his frustration with Britain and British politics is clear. He doesn't hold back, and it doesn't always win the Scotsman popularity points, but to those who've followed his career closely, the political angles should be anything but surprising.
"When I first started out with Twitter, the record company set it up, advertising records and gigs and stuff," he says. "I thought maybe we could put some interesting political stuff up there, and make it informative. You're in an echo chamber, though. I have had some people who were fans unfollow me because they don't like my political views. They say things like 'more music, less politics, I didn't come to you for politics.'"
"I sometimes wonder, don't they know our history? It's all political, you know? I don't know if it's effective, but I try to spread knowledge about certain situations, political corruption and so on. At the moment, in England, the Tories are in the ascendancy, and we're stricken by the curse of English nationalism.
"There doesn't seem to be any way out of it any time soon. The Labour party offers zero opposition. Keir Starmer is a disaster. I was a big supporter of Jeremy Corbyn and John McDonnell, you know, those guys represent my political views, and I did everything I could to help."
"When I was a teenager… you think you know everything when you're young. You think in really black and white terms about stuff. I think the majority of people are sleepwalking into disaster. I don't think much critical thinking is going on. You need to engage with literature, history, and engage your mind, question the way things are. Look at both sides of the argument. I'm not sure what part of the demographic of these islands actually engages with political thinking that way."
"Maybe most people are just working really hard, trying to get through the day, work, pay rent, feed and clothe the kids. I'm lucky, I'm a guy who's been in a successful rock band for 30 years, I've got a very privileged life. I don't want to mock anybody, I've got a lot of time on my hands to read about that stuff. I don't want to judge people."
"When you write songs, it's a mixture of autobiography, fiction, observation and life experience all mixed up to tell a story."
Gillespie is a lifelong Celtic fan, and says that has fed into a heartfelt connection with our own island, including its politics.
"I have an affinity with Ireland, maybe because of the Celtic connection to begin with," he says. "I went to a lot of games in the 1970s and early 80s, that was really my main attendance home and away at Celtic matches. Obviously I've been interested in the history and politics. I've been watching programs about partition recently, and I have a real interest in Irish history."
"Gillespie is a Scottish and Irish name. The very first band I ever saw was an Irish band, Thin Lizzy. He [Phil Lynott] was a very glamorous Dublin rock and roll poet. I've got a real affinity with the Irish for sure, there's even a Seamus Heaney reference in this album, but I'm not going to tell you what it is."
We've had a good hunt for the Heaney reference, but we're no experts on the author's work and haven't found it just yet. Let us know if you do! Meanwhile, as 'Utopian Ashes' heads out into the world, Gillespie is filled with nothing but confidence about his latest work.
"I'm not nervous about releasing records anymore. I hope I don't sound like an egocentric prick, right, but I really believe it's a very strong piece of work. It's good art, I'm very proud of it, and I'm just glad that it will finally be released, out in the world, where I hope people enjoy it, and it means something to people.
"It's the music that I should be making at this point in my life. It's a serious, grown up record and I'm very proud to be involved in it, and of everyone else involved in it. It's stellar work. I can't wait for it to be out. I was able to express a lot of the stuff that I really wanted to say."
And what Gillespie has to say, clearly, is still plentiful and engaging. When all is said and done, they'll be a classic moment to celebrate next year, as 'Screamadelica', perhaps Primal Scream's defining record, turns 30. There are plans, but they remain under wraps.
"We've got a few things coming up for Screamadelica. I can't talk about them yet, but it's really exciting to commemorate the anniversary. But yeah, there will be  some announcements made soon. I hate being a tease, but there it is," he says.
For now, the beautiful aside that is 'Utopian Ashes' effortlessly charms.