Up-and-coming R'N'B sensation Amber Mark has led a nomadic existence compared to most. Growing up with a German spiritualist mother, she lived in Berlin, India and Nepal before settling in New York with her grandparents.
Her roving upbringing exposed her to lots of cultures, viewpoints and music which nourished her curious nature as a child. It also led to her questioning her place in the world and attempting to define who she is exactly.
This multifaceted quest is explored across her debut album 'Three Dimensions Deep' an R'N'B triptych which examines what's within, what's withheld and what she is without – or, more to the point, what we are all without.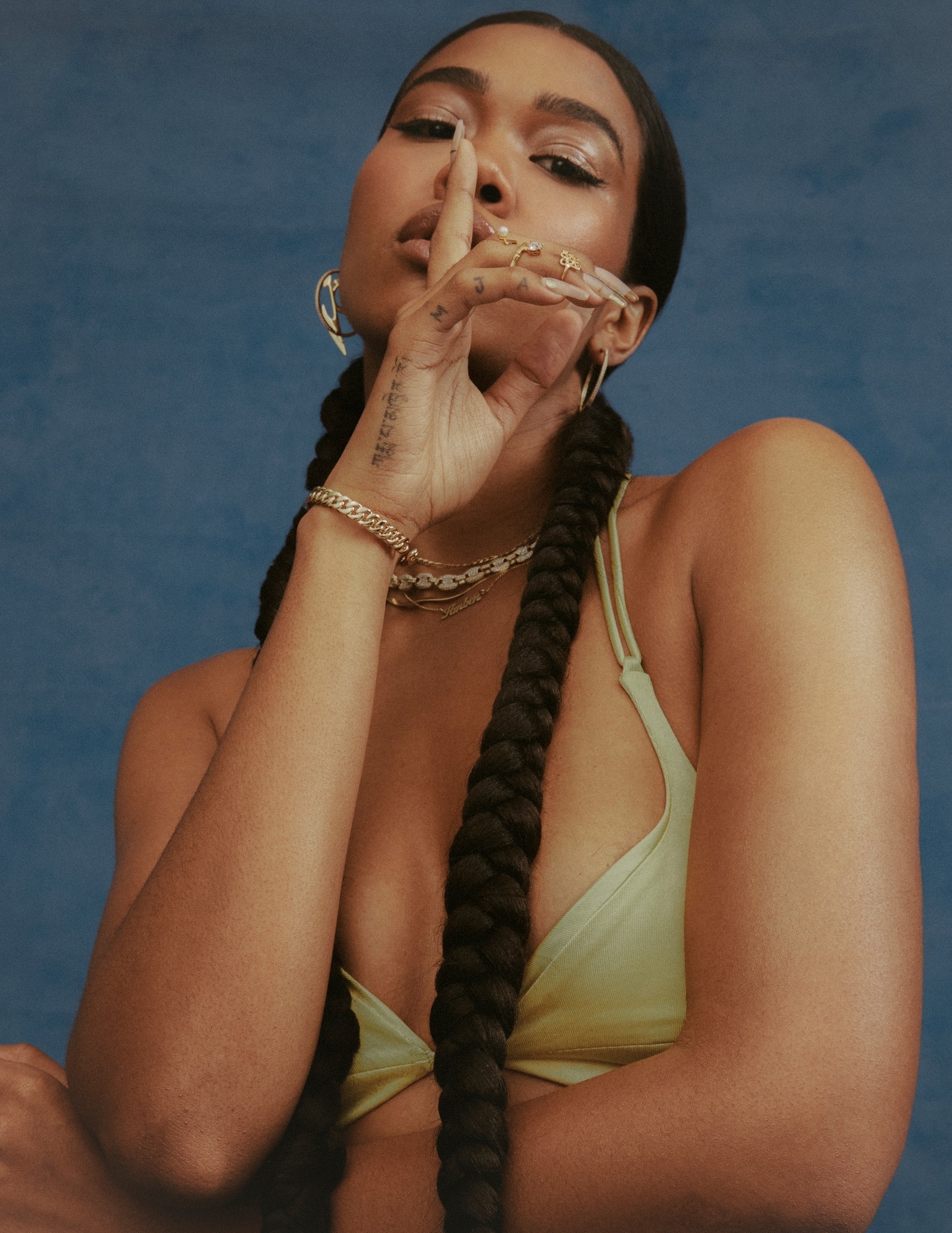 Essential Listening
What It Is

Foreign Things
This hunger to quantify the meaning of life drew her towards science fiction literature and eventually she began looking to the stars in search of answers.
"I'm really into Sci-Fi," she tells us over Zoom. "I think that really got my intrigue into the universe around us and what theories we have about our celestial surroundings. Obviously, sci-fi takes a lot from what theories there are out there, so it's all really exciting to me. I just find it so interesting and trying to further understand what we are…"
"I love astronomy, not astrology." she states firmly clearly perturbed at the common mistake people often make confusing the study of the universe with fortune telling. "…everyone always thinks I'm saying astrology, they're like: 'wow, so what is the zodiac sign in your songs?' and I'm like: 'No. I'm a Capricorn, but that has nothing to do with my music."
When we enquire if she'd ever consider jumping into the sci-fi world for an acting role, she's clearly intrigued at the possibility but fears she may be too tall to claim the roles she'd be interested in.
"I'd want to probably play Grogu, or Groot. I like all those really adorable characters, but I think I'm too tall for either of those characters, so unless I'm Groot when he's tall." she says laughing
"I also really like the Avatar Universe, Avatar: The Last Airbender but that's a cartoon so that would be more voice acting. But I'd still be down, unless there was a live action version, I'd be a part of that hopefully."
"I'm sorry to Craig David, but I had to go buy his albums bootleg because that's the only place I could purchase CD's"
When we point out that splitting her album into a trilogy is such a sci-fi nerd thing to do, she agrees but as we soon find out it was an unintentional but necessary by-product of attempting to pinpoint the concept of the album after fours years of writing material.
"I think I had 30 songs at that point – unreleased – and so I kind of just sifted through a lot of them when it was time to start thinking about what the project would be.
"I found a bunch that I felt were really strong ones that I loved and really connected to and then it was really just about trying to figure out what is the concept here. What are these songs trying to tell me?
"And so, when I did the three parts to the album it was really more so for my own sanity of trying to understand conceptually what I was trying to get at. I never really had the intention of putting it out into the world that this album is sectioned into three parts."
"I got really 'Rain Man' about the album," she says, noting that she utilised a whiteboard to go through numerous track listing options for the album before landing on the perfect sequence.
"I came up with those three parts and then explaining it to the label they were like: 'we love this, this is amazing, we should definitely share this with the world. '"
With Three Dimension Deep's four-year journey it would be inconceivable to consider that its creation had not been impacted in some way by the onslaught of the pandemic. For home-bird Amber Mark, it allowed her to slip into the familiarity of her home studio and "get weird" something which she struggles to do in sessions with other artists
"I personally like to work on my own, not just because it moves faster, it's mainly just because I feel like I get a lot of anxiety in thinking about what other people are thinking about what I'm doing in sessions.
"I think [my] creativity gets a little stifled because I'm distracted and kind of focusing on should I say this? or if I say this maybe it will be bad, or it's going to be embarrassing or it could be a stupid idea.
"and those thoughts just run through my head, so I won't express myself [freely] you know, I'm afraid to get weird, whereas when I'm on my own I can be weird and not think about what other people are thinking, but I love collaborating as well, but working on my own is the main one for me for sure."
"I definitely took every opportunity to stay in and work on music. I'm just such a homebody and I love my space… my own space not the website" she adds laughing.
Ever vigilant and realising that she perhaps loves working on her own a little too much, Amber Mark had already decided to try and face her fears and get weird in front of other writers by attending a songwriting retreat in 2019.
"I was very nervous prior to it," she admits. "[when they] came to me with the idea of doing a writing retreat I was like I'm definitely not about that at all. It just seems like my worst nightmare, those situations. Being in a room with a bunch of writers is not my ideal, but it ended up being so amazing and so exciting."
The retreat saw Amber Mark working closely with John The Blind and Julian Bunetta who would go on to co-executive produce the album. And the results speak for themselves with tracks such as Bliss, Competition and Foreign Things emerging from those sessions.
"I came out of the writing retreat so emotional because I never experienced sessions like that with other collaborators where I'd felt so proud of what we'd made. It didn't feel like we were working, it felt like we were having a good time together… I'm so thankful for those experiences and I can't wait to do it again."
Amber Mark namechecks the likes of Stevie Wonder, The Bee Bees, Prem Joshua and surprisingly Abba who "came into the mix weirdly towards the end," as well as the subconscious influence of her mother's record collection (Michael Jackson) as being contributing factors to the album's opulent tapestry. But she is also quick to praise the contribution of her most played artist in the last few years, the aforementioned, John The Blind.
"I would say he was a huge influence because he was a part of writing the songs and he's someone that I look up to for his artistry and he's such genius."
"I really feel like the album would not be what it is if it wasn't for What It Is."
Perhaps the best illustration of the importance of throwing off the shackles and collaborating with people is the album's key track What It Is, which Amer Mark had first worked upon with Julian Bunetta way back in 2017 in the pair's first ever session, but discarded, probably due to anxiety and self-doubt on her part as much as anything else.
"We had met briefly prior to the session like 'hi, nice to me meet you, okay bye', at an event or something so when we had the session it felt like we were just meeting each other for the first time which is always weird going into a session…"
In an attempt to scope each others vibe out, Mark and Bunetta played their current favourite jams both new and old.
"I think Michael McDonald was heavily played in that little session," recalls Mark. "and we just started playing around with some instruments and I kind of let him do his thing mainly and then when he felt like it was at a place that I could record I ended up just asking if I could take the song home and try to write something to it on my own."
"And he was like of course do whatever you want and so I ended up taking the beat home with me and I like forgot about it and didn't do anything with it for years"
That was until last February (2021) when Amber Mark decided that 'Three Dimensions Deep' was missing its north star. "…one thing I really felt was missing was a song that really encapsulated the concept of the album," she says adding.
"You know how sometimes artists will title their album off of a track on the album and that's kind of the track of the album… I felt like I needed a song like that without it being the title track of the album."
The search for this track brought her back to that initial session with Bunetta. "I was just sifting through old beats and listened to that one and was like 'holy shit, how have I never done anything with this?'
"and I immediately wrote vocals the same day and wrote lyrics and sent it to Julian and was like: 'hey do you remember this beat that we worked on literally the first session….and he was like this is fire, we gotta put this on the album.'
"It just felt so full circle," she recalls. "because this is somebody who I consider now a music sensei, who I really look up to musically and now we're working on this album together…It just felt like it was perfect and I'm so happy that it's on the album because I really feel like the album would not be what it is if it wasn't for What It Is."
Although Amber Mark had found her key track to hang 'Three Dimensions Deep' upon, this new addition to the fold wasn't easy to integrate into the project as the record company wanted the song to be a single but thought it was too long. After many failed attempts at trying to shorten the song the solution presented itself via the rarest of things: a guitar solo.
"I honestly didn't realize how long it was… I was like wow, you're right, the song is really long, it's like 4:40. So I was like shit, I don't know how we are gonna make this song shorter?"
After weeks rejigging the song to no avail the solution presented itself like a page from the songbooks of one of Mark's subconscious influences. When the record company asks for less give them more.
"I get a call from Julian, like after we're all stressed out trying to figure out how to shorten this and he was like: 'so, I kind of have a problem. I don't think it's gonna solve what we're going to do here, but I think it sounds amazing. I got my guy to do this guitar solo at the end of What It Is and it sounds so fire." she says recalling
"I listened to it and I was like: 'holy shit, this sounds amazing. We have to keep this in…"
After toying with the idea of splitting the track in two and doing a reprise featuring the guitar solo Amber Mark decided that she would never forgive herself if that track was changed in any way shape or form.
"I was like, 'okay guys, I think we have to just keep the song the way it is and also add a guitar solo', so sorry that I did the complete opposite, but I'm really glad it turned out the way it did."    
"I definitely took every opportunity to stay in and work on music. I'm just such a homebody and I love my space... my own space not the website"
Another throwback influence upon the album is Craig David whose track Rendezvous is heavily sampled on single Softly.
"I fell in love with Craig David at the age of 10 years old, my Mom and I were living in Nepal at the time," she recalls, lamenting the lack of a proper CD stone in the country at the time. "I'm sorry to Craig David, but I had to go buy his albums bootleg because that's the only place I could purchase CDs"
Young amber discovered David via the song What's Your Flava? which was on a Twix commercial at the time in America. "I was like okay, let me check him out and immediately just fell in love with his whole roster of music and was convinced at the age of ten that I was going to marry Craig David, I had the biggest crush on him it was a whole thing," she remembers fondly.
"And to this day I always come back to his music and listen to it and I'm like damn… I feel like it was such a significant sound." Don't be scared Craig, but if you're up for it she'd love to perform a mash-up of both tracks live someday.
Throughout our conversation it's incredibly clear that Amber Mark values family, both chosen and given extremely highly in her priorities. So, it was fitting that she got to celebrate the release of her debut album with an NPR Tiny Desk Concert in her grandparent's restaurant in New York which she has called home since she was a teenager.
"I was mostly really nervous the whole time," she explains. "I think I had lots of anxiety about it because we had to pull it together pretty quickly."
"We got asked really last minute, which was exciting, because it's NPR Tiny Desk and it's always been a dream of mine… I didn't have my original band… so it felt a little like: 'oh my god, how are we gonna pull this together in less than a week, but we ended up doing it and it came out really beautifully, it sounded amazing and I'm really proud of it."
"It was so hard for them," says Amber of the audience made up of friends and family. "because we didn't want them to clap in between songs…but at the end I think they were able to get everything out of their system."
Amber Mark plays The Academy Dublin March 18th 2022 Tickets €20.00 on sale here