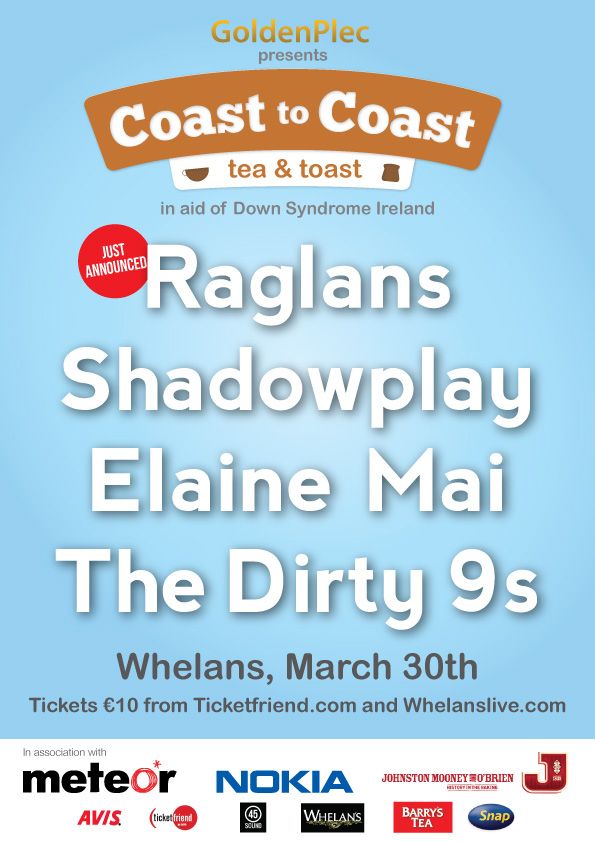 How does winning a few tickets for you & your mates to our Coast to Coast: Tea & Toast charity event finale gig in Whelans featuring Raglans, Shadowplay, Elaine Mai and The Dirty 9's sound?
Good? Good! Just keep reading and you'll be there in no time!
So, what's going on here?
Coast to Coast: Tea and Toast is our cross-country charity promotional event which pairs promoting Irish bands with raising money for Down Syndrome Ireland, culminating with a finale gig in Whelan's Dublin on March 30th 2013. Team GoldenPlec crosses the country, Coast to Coast from Dublin to Galway on Good Friday 29th March meeting a band in every county we pass through for a cup of Barry's Tea, a slice of Johnston Mooney and O'Brien toast and a one song gig recorded on Nokia Lumia 920 phones. We leave Galway on Saturday 30th March, stopping at Ennis and Limerick, before heading back to Dublin. We will be finishing with a finale showcase in Whelan's featuring Raglans, Shadowplay, Elaine Mai and The Dirty 9's.
Anyone who buys a ticket to the Whelans show will be put into a raffle for some great prizes including a Nokia Lumia 920, tickets to upcoming gigs including Daley, Gabrielle Aplin, Young Wonder, The Vaccines, Josephine, One Republic, Enter Shikari and Bressie, GrabOne voucher, bread and tea hampers & more. We have a second Nokia Lumia 920 (worth €700) for online donations, so every €5 donation is a raffle entry! (For example, a €20 donation would be four entries to the raffle)
Tell me more!
Well, we've a few pairs of tickets to the finale event to give away to some lucky winners! Answer a simple question about the event and if you're not already a supporter of GoldenPlec you can like us on Facebook, follow us on Twitter, subscribe to our newsletters (both general and competition only) for extra entries. You can share the post via Facebook or with a Tweet to gain even more entries. Please consider doing this as it helps spread the word and gives you an extra chance to win. What's not to like? :)
Each task is an individual entry and counts as a separate entry to the competition so the more you do, the higher your chances of winning.
Already follow or like us?, just complete it as normal and it will verify all these details and enter you in the competition.
Ah, G'wan…
So please do help us raise money for Down Syndrome Ireland by buying tickets or donating. All donations, however small, are welcomed. We would love if you could share this on Facebook and Twitter with your friends so they might join us for a dance in the name of charity. Cheers!
Enter here: